Arrecife vibrated with the Disco Night Urban Race 2022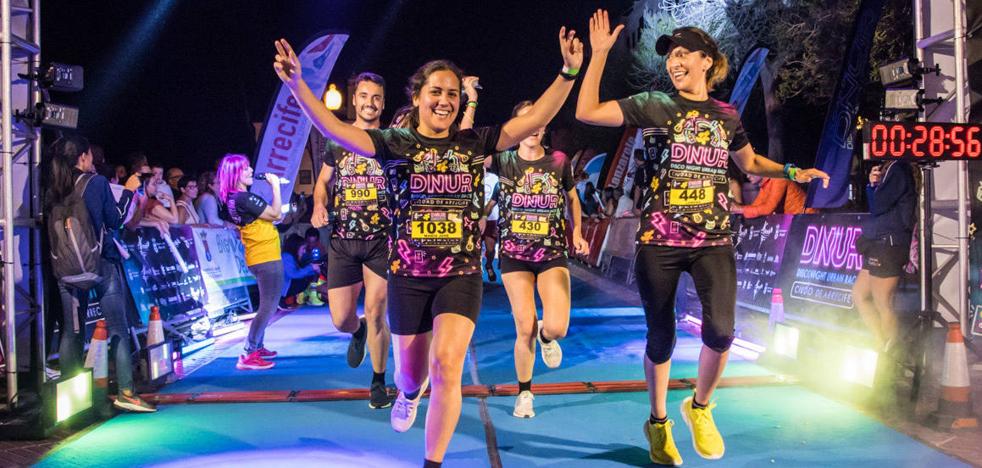 athletics
Francisco Cabrera Galindo and Aroa Merino took the victory in the 10-kilometre queen modality, on a magical night
The funniest race in Lanzarote toured the streets of Arrecife with its two modalities of 5 and 10 kilometers, filling the city with music and colors.
The night began with the warm-up by Zumba Lanzarote with a masterclass for the test participants and anyone who wanted to sign up. Immediately afterwards it was the turn of the comparsa Los Cumbacheros, who with their dances and rhythms began to accelerate the pulse of the runners in the minutes before the start. At 9:00 p.m. there was
the starting signal in the José Ramírez Cerdá Parkaccompanied by a multitude of onlookers who did not want to miss this new appointment with sport.
The whole test ran with total normality touring the Charco de San Ginés area, the perfectly lit maritime avenue and enlivened by several DJs and this year,
As a great novelty, part of the circuit passed through the Islet of Fermina. At the finish line, the participants were greeted with a corridor full of light and color, enlivened by the music of DJ Ángel Pérez and the speakers Carmen Nieves and Collin Roach.
In this 9th edition,
the victory in the 5 kilometer test went to Yerove Rodríguezfollowed by Aníbal López and Antonio Jesús Atienza, respectively.
In the women's category, the victory went to Mia Leadbeater. Cristina Capitán was second and María Cristina Díaz took the third position.
In the queen modality of 10 kilometers, Francisco Cabrera Galindo from Gran Canaria won the title ahead of Aladdin Bouhania and David Viera, respectively.
Aroa Merino won the female category ahead of Ali Hardie and Elizabeth Perdomo.
As a final touch to a spectacular night, the great concert of Treintytantos was enjoyed, who with their eighties style captivated all those present, prior to the award ceremony.
The race director, the Olympic José Carlos Hernándezwanted to thank once again all the people, entities, volunteers and companies that made it possible for the event to go ahead in the best possible way in this new edition.
Thanks to the different sponsors and collaborators of this edition Arrecife City Council, Lanzarote Island Council, Lanzarote European Sport Destination, Club La Santa, Hercio, La Rústica Pizzeria, Alsolajero.com, Más Deportes Lanzarote. Hercio, Videoactive, Dj Ángel Pérez and his team, CD Lomo Volunteers, Zumba Lanzarote, Doislanz, Faycan Station, Arrecife Local Police, Los Cumbacheros Comparsa, Civil Protection, Grubati Volunteers, Efímera, Cronoline, My Little Prince, Barceló Teguise Beach and JCHRunning.