Armengol asks Escrivá to reassess the protection mechanisms of ERTE in the Balearic Islands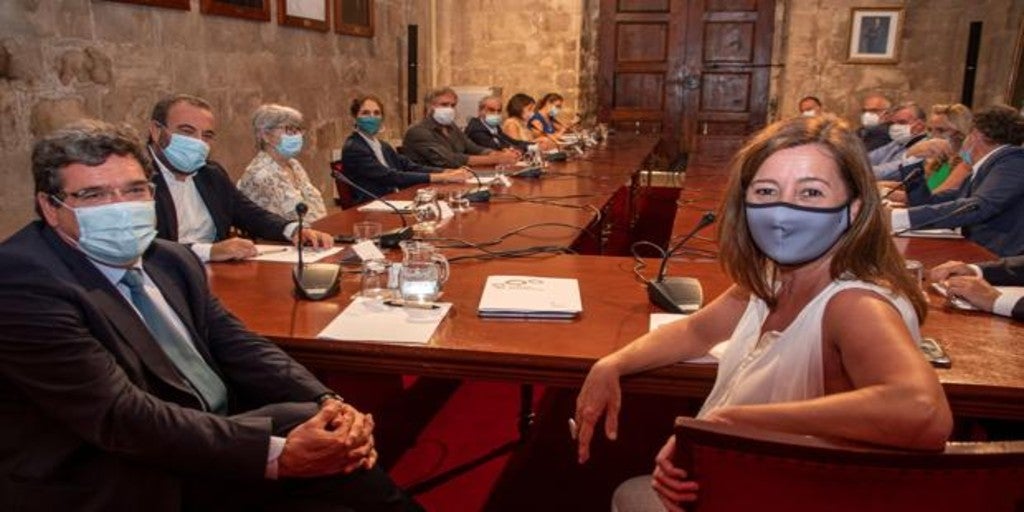 Palma de Mallorca
Updated:
save

The Minister of Inclusion, Social Security and MigrationsJosé Luis Escrivá met this Thursday in Palma with the President of the Balearic Government, the socialist Francina Armengol, and with the Minister of Economic Model, Tourism and Work, Iago Negueruela, to discuss the difficult situation in the tourism sector in the Islands and to study possible specific measures to increase the protection of companies and their workers. After the meeting, they held a working lunch with the main economic and social agents of the Community.
In his appearance before the mediaArmengol thanked the "support" of the Government of Spain before "the days of complexity that the Autonomous Community is experiencing in economic terms." Along the same lines, he explained that Escrivá had been asked about the need to clarify some issues to make the Temporary Employment Regulation (ERTE) files more flexible, as well as their extension, to give guarantees to companies so that they can keep open throughout the season.
For his part, the minister has indicated that the meeting has served to learn first-hand how the crisis caused by the coronavirus pandemic has affected the unique economic reality of the Balearic Islands. In addition, it has promised to study how to reassess the protection mechanisms of ERTE in the tourism sector of the Islands. "We are facing a Community that, due to its productive specialization, is particularly affected by this crisis and requires specific responses and treatments," he pointed out.
Joint work
Armengol has also highlighted the importance of working together. In this context, he recalled the visit made last week to Palma by the Minister of Labor, Yolanda Diaz. At that meeting, the next holding of a tripartite table in the Islands to discuss solutions for the tourism sector was announced. The Balearic president recalled this Thursday that for the Balearic Islands it is essential to improve the treatment of ERTE, collecting the specificities of the tourism sector. It has also reiterated the need to find solutions together with employers and unions.
Regarding the ERTE, Escrivá has stated that the Islands have 8% of the million workers who are now in that employment situation, which is an important fact, although the Balearic Islands are 20% below other communities in economic activation, due to its productive specialization.
For all these reasons, the minister has marked "two horizons", one in the short term, to find solutions that require technical solutions, and the other in the medium term, when the mechanisms of the ERTE. In this sense, the minister has emphasized the work that may come out of the tripartite table for social dialogue that the Minister of Labor proposed last week and that will be held in Palma in September.