Arianna Aragón, Carlos Sobera's stepdaughter who has overshadowed him in the return of 'The fair price'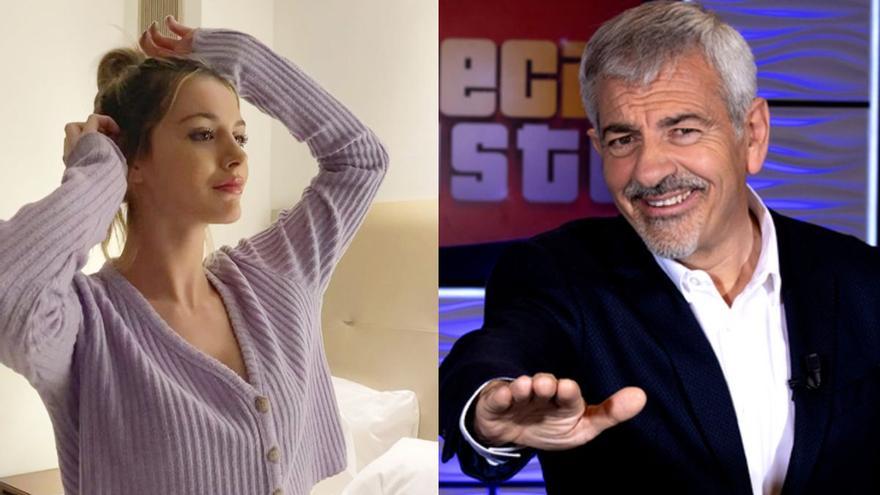 "Let's play!" With this invitation, the mythical contest 'The fair price' started on TVE-1 in 1988. The hand of Joaquin Prat described a wave while repeating the catchphrase with which he began one of the most successful programs on television, and which he also presented later Carlos Lozano and Juan y Medio, and from which, in addition, they came Ivonne Reyes, Beatriz Rico and Mónica Hoyos. Fifteen years after its last broadcast, in 2006, and already in euros and not in pesetas, Mediaset has rescued the format with Carlos Sobera in front, and making triplet in the chain, because it also drives 'First Dates' and 'Survivors 2021'. Taking hold of his celestino experience, the one from Barakaldo has brought out the colors in the premiere, this Monday, of one of his hostesses, Arianna Aragon, And of course, he asked if he had a partner. "You still haven't introduced me to your boyfriend, Ari," she blurted out without warning. Playing shy, the young woman replied that she was single, and Sobera replied: "Your mother doesn't think the same, Ari."
Who is that girl with whom Sobera has taken so many trusts on set? At 22 years old, Arianna Aragón may be a great unknown by the general public, but not for Sobera. The girl is the daughter of his wife, Patricia santamaria, and of Rodolfo, 'Rody', Aragon, the youngest son of the mythical Flabby, the grandfather Arianna never met. His father is the nephew and grandson of one of the most famous clown sagas and one of the members of the program 'Los clowns de la tele'.
Together with his companions Aitor Ferrón and Paula Gomez, who has recently been linked to the model Andres Velencoso, your mission as a hostess on the show will be to present the objects to the contestants so that they can guess their price. It's about your debut in the television world, in which Arianna hopes to find a place, as well as in the cinema.
For Sobera, Ari, as she is called at home and by friends, she is like a daughter. Met her when she was only 5 years old and Sobera fell in love with his mother, the lawyer and theater producer Patricia Santamarina, whom he married in 2015. They form a very happy family, which they both boast about on their social networks. "Nothing is cut, the screen is eaten," the stepfather proudly boasts.
A childhood in the circus
In addition to carrying it in the blood, Aragon wants to prove itself on its own merits. He studied Law at the Francisco de Vitoria University and, in addition, he trained in dramatic art at the Cristina Rota School of Interpretation. The girl follows in the footsteps of her parents. "At first I was not sure what I wanted to be, that's why I signed up for Law (like her mother), which in the end serves many things. I continue with it and I am going to finish it. But the vocation was there. I have spent my childhood in the circus and I have grown up surrounded by film and television people. Like it or not, that world is trapping you because it is part of you. Although people see only the glamorous side but do not know how sacrificed it can be, the hours work and the effort behind, "explained the stewardess.