Argentina: Lorrie Moore: "With Trump, the United States lives an incredible setback" | Culture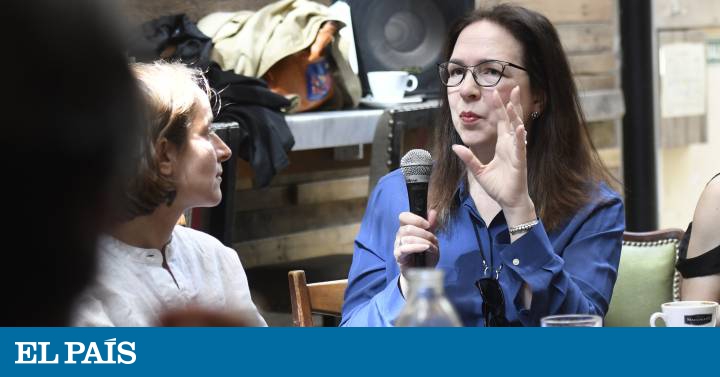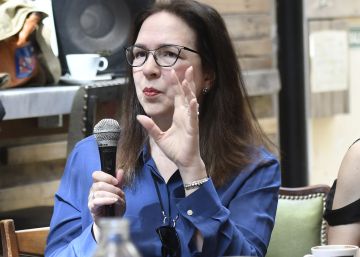 When the American writer Richard Ford He returned from his trip to Buenos Aires last year and told his colleague Lorrie Moore that he should visit that city located at the opposite end of America because they were reading it there. "No, I don't think so," Moore replied. Soon after, a colleague from the University of Missouri who travels frequently to Argentina told him the same thing. "No, I don't think so," repeated the author of Self help. Intrigued, he asked his editor. "No, I don't think so," he also told her. But his landing in the reading capital of South America to participate in the eleventh International Literature Festival of Buenos Aires (Filba) It has exceeded all expectations. On Thursday night the organizers watched the long line at the Cervantes National Theater and feared that the 400 headphones available for the translation of the public interview would run out.
Hours earlier, Moore had breakfast with a score of journalists at the Eterna Cadencia bookstore, the publishing label behind the Filba and which has reissued some of his works this year, such as Who will take care of the frog hospital?, already for the third edition. In that novel, written in 1994, the protagonist evokes a powerful adolescent friendship while her marriage crumbles in Paris between dishes of whiskey and truffle.
"Not much had been written about teenage women. A stage that people used to see with shame, but that moment in life is important because friendships are very powerful. I wanted to portray it because many times adolescence is despised. I found adolescence a powerful element to narrate, "he emphasizes. He speaks so low that soon after he gets a microphone.
In that book, set in the early 70s, the protagonist and her friend have to travel from New York to the neighboring state of Vermont in order to abort, despite the fact that the Supreme Court had just approved its legalization. "With (Donald) Trump, the United States is experiencing an incredible setback to those times when it was difficult to perform a legal abortion," Moore emphasizes, remembering that in some states, such as Wisconsin, there is only one authorized medical center and professionals face threats of death. "I wish the men and women who are giving this important battle in Argentina good luck," he says in reference to the green tide in favor of legal abortion, "We also need luck because the United States is going backwards."
Moore (Glens Falls, New York, 1957) puts a hand on his glasses and thinks before answering some questions. In front of others burst out laughing. "Everyone likes music, who doesn't? I think Leonard Cohen was wrong in Hallelujah when in a verse it says 'But you don't really care about music, right?' I don't know who he is talking to and why he would write that song, "he says with a laugh when asked about the abundant music that lives in his books." My childhood was like that, with lots of music. We all played some instrument, I played the guitar and the piano, "he continues. Growing up he has kept that company - although never while writing, not to be distracted - and he gives an example to his father, who at 95 gives concerts in the nursing home .
Moore jokes both in person and in the pages he writes, full of humor that "does not cure but expresses survival" in the face of obstacles in life. "Even in the midst of tragedies there are funny things," he reiterates and leads to thinking about stories like People like that are the only ones around here, where he starts smiles in a story about a baby with cancer born from an autobiographical seed - a disease of his son - that when he fictionalized it grew in another direction.
Without fear of being wrong
He also finds humor in mistakes, which he considers essential to learn. He advises him in his classes at Vanderbilt University in Nashville and also to all those who want to be writers: "I ask you to write, there is no magic potion. Sit in a chair, grab the notebook and start. Do not be frustrated by committing mistakes, you can rewrite. And read, read a lot. "
"I ask my students to write something they would not teach their mothers, but I think it does not work," he says, again laughing, after explaining his surprise to see that students take pictures with their mobile phones of the exams that they correct to send them to their mothers.
Among his favorite readings are the stories of the Canadian Alice Munro, which he never tires of recommending. He has read little Latin American fiction, but expresses his admiration because Argentina is "a country of storytellers", with Jorge Luis Borges at the head, unlike the rest of the world, where the novel is at the top of the pedestal. During the public interview with Santiago Llach, he quotes Argentina's Samanta Schweblin, whom he considers "very bold" for having written a story of "woman cut into pieces and tucked into a suitcase", referring to The heavy suitcase of Benavidez, one of his first stories.
Like their marriage, which ended in divorce in 2001, many of the bonds of the leading couples in their books agonize. "I am a strong defender of love, although in my stories there are so many broken hearts," he says. "Everyone should live at least once the experience of falling in love," he says. "Or two," he adds instantly with a mischievous smile.
Moore, with seven books published in three decades, is little known among the general public, but the Argentines who have read it have been waiting for this visit for years. "I love her!" One teenager tells another when she leaves the theater. "It's like a rock star," jokes one of the workers before the fanaticism of those present. A journalist renames her as Rollie. Another like Lorriestone. Once the desire to see it is fulfilled, his Argentine readers ask for others: the reissue of his first story books, inhalable for years on paper, and the publication of the novel he is working on. "I am very slow writing," warns the protagonist of the festival.
(tagsToTranslate) lorrie moore with trump (t) united states (t) live (t) unbelievable (t) American (t) writer (t) be (t) star (t) eleventh (t) filba ( t) buenos aires



Source link