Are you sure you want to publish this ?: Instagram's new features to combat 'bullying' | Technology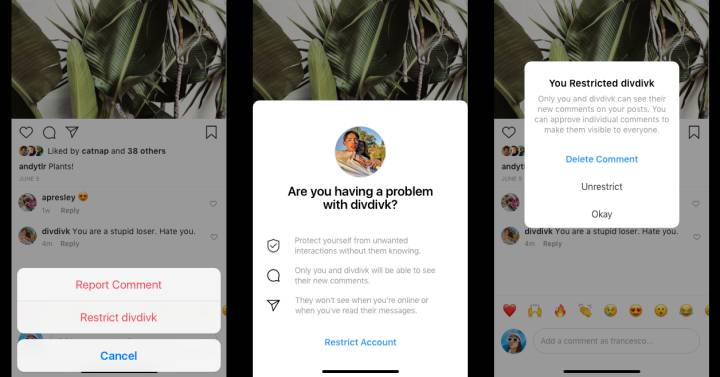 Instagram is the most used social network among young people. It is also the platform on which they are most at risk of harassment, according to the British anti-drug organization. bullying Ditch The Label. 42% of young people who have suffered harassment on-line they have done it in this social network, according to a study carried out by the same entity to 10,000 young people between 12 and 20 years old. The company owned by Mark Zuckerberg aims to tackle the problem with two new functions: to warn users when they are about to share an offensive message and to restrict the comments of certain users who may be performing bullying in certain profiles.
"Our mission is to connect you with the people and things you love, which only works if people feel comfortable expressing themselves on Instagram. We know that bullying is a challenge that many face, especially young people, " has explained in a statement Adam Mosseri, Instagram boss.
In recent years, the company has used artificial intelligence to detect harassment on its platform in comments, photographs and videos. Now wants to go further and, in addition to detecting this content, wants to warn users when their comments may be considered offensive before they have been published. In this way, it is intended to give people the opportunity to reflect and reconsider their harmful publications. In the first tests of this function, the company says it is a good way to encourage users to delete their message and share less harmful content.
The other function is to classify users as offensive to restrict their comments in your posts. "We have listened to young people in our community who are reluctant to block, stop following or denounce their aggressor because it could aggravate the situation, especially if they interact with their aggressor in real life," the company says. In addition, some of these actions also make it difficult for the victim to track the behavior of their stalker. To address the problem, the company seeks to create a feature that allows victims to control their Instagram experience without being harassed by anyone who is aware of it.
This last option is called "restrict"And will begin to be tested soon. People considered offensive may continue commenting, but the messages will only be visible to them. The victim may choose to make the comments of a restricted person visible to other users by approving them. Restricted people will not be able to see when the victim is active on Instagram or has read their direct messages.
It's not the first time that Instagram takes action to combat the bullying. The company already allows to denounce any account, photograph or comment whose purpose is to make bullying tosomeone. "You can delete a comment from a photo that you have shared and report the situation of bullying and harassment through the help service ", affirms in a web of tips to be protected in Instagram. In addition, it encourages users to think if they want block that person and to ask for help "from a relative or a teacher you trust".
In 2018, the company presented an artificial intelligence based on machine learning to scan photos and identify "problematic" content. The objective of this tool is to detect any signs of harassment and automatically report the content that must be reviewed by a human team, as explained by Mosseri it's a statement.
"Online harassment is a complex issue," Mosseri acknowledges in the latest statement. The two new features take into account "how people intimidate each other and how they respond to Instagram intimidation": "But they are only two steps in a longer way". The company recognizes that it is possible "to do more to prevent intimidation from happening on Instagram and so that victims of bullying can defend themselves."
(tagsToTranslate) secure (t) want (t) publish (t) new (t) new (t) function (t) instagram (t) combat (t) bullying (t) company (t) notify (t) user ( t) be (t) share (t) comment (t) offensive



Source link