"Are we going to pay for the Spanish strike?" This is how the German press reacts after Scholz's proposal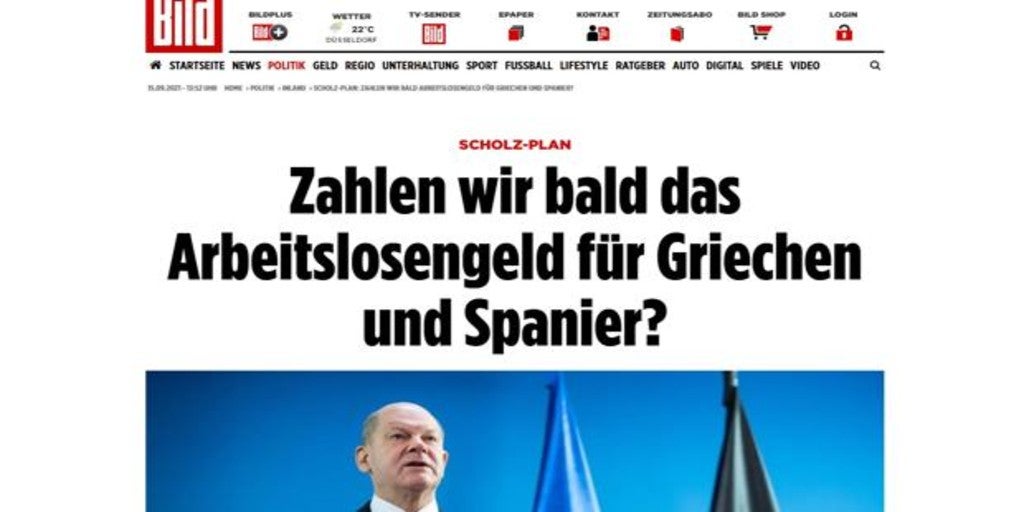 Updated:
Keep

The
electoral program of the German Social Democratic Party (SPD), entitled "Program for the Future" contains on page 57 the creation of a "permanent European unemployment reinsurance". Refers to
a project in which EU Member States make contributions to a common fund that can later be drawn by countries whose system of assistance to the unemployed falls into a situation of imbalance. The SPD already made a timid attempt to promote this idea in Europe in 2018, but then it ran into stiff resistance from the conservative German Finance Minister Peter Altmeier, who shot down the project. Other European governments, such as Austria, also showed a decidedly opposite position at the time and, as soon as this point of the current electoral program has been made public, the German press also reacts with concern. "Are we now going to pay for the unemployment of the Greeks and the Spaniards?"
the daily Bild Zeitung.
For the creation of that common fund for unemployment, which would end up resulting in a kind of common European unemployment insurance, the EU treaties should be amended and the principle that the EU should not be a transfer union would be called into question. As early as 2018, the Kiel Institute for the World Economy (IfW) called the idea "a wrong turn" and "legally impossible in the current state of treaties." 'There is no doubt that the EU has to fight for cohesion. However, a European unemployment insurance plan like Scholz's would be counterproductive and relieve the pressure to adapt to structural change, 'said the Institute for the German Economy (IWD), which alleges the large differences in the data of unemployment of the different member countries.
Why should employees and companies that pay taxes in Germany be responsible for the imbalance of unemployment funds in other countries? Europe needs more jobs and no more redistribution ", the financial expert of the Liberal Party (FDP), Florian Toncar, immediately responded.
But the Social Democratic candidate, the number two of the Merkel government and Minister of Finance during the last legislature, has already shown signs in favor of "Tackling new integration steps" in the EU and declared that "Germany must take responsibility for further integration progress". In addition to the idea of ​​a European strike, Scholz has repeatedly expressed himself in favor of a modification of the European regulations of the Stability Pact regarding the public debt of the member countries.