ARCO kicks off this Wednesday with the participation of more than 1,500 artists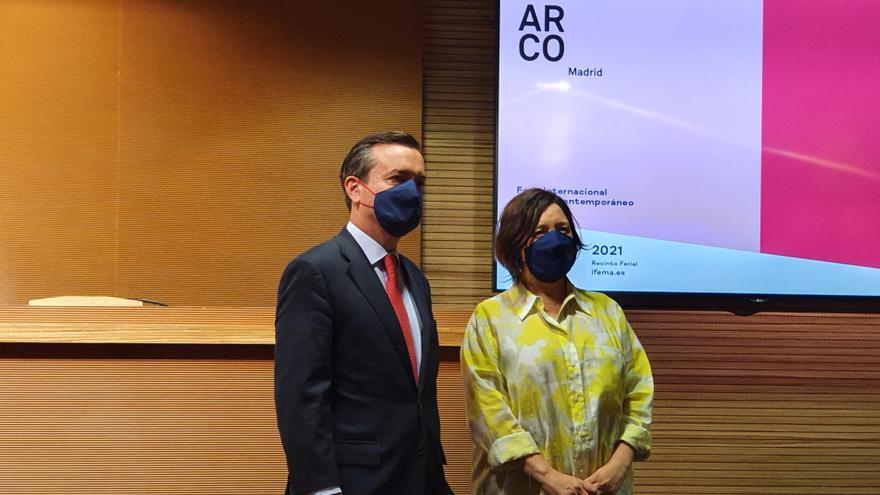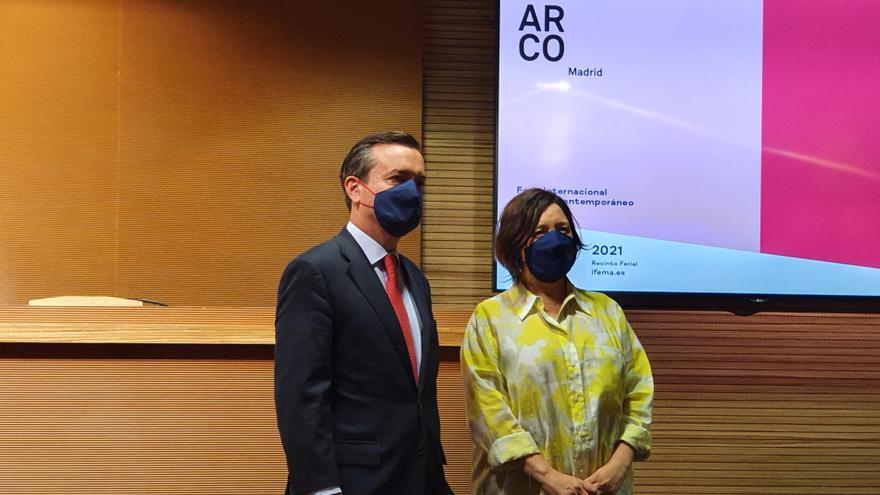 ARCOmadrid 2021, organized by Ifema Madrid, will celebrate its 40th edition from July 7 to 11 with the aim of marking a turning point to relaunch and reactivate the contemporary art market.
In this edition more than 1,500 artists and a total of 130 galleries from 26 countries participate, of which 105 make up the 'General Program', adding to them the curated section 'Opening', with ten galleries, and 'Sender. Latin American Art ', with representation from fifteen galleries.
The fair will be held in pavilions 7 and 9 of Ifema Madrid, in an "absolutely safe" space due to the measures against Covid-19, with a capacity reduced to 50%. "This special edition adapts to the current socio-sanitary context, we have proposed a new redesign and redistribution of the space," said the general director of Ifema Madrid, Eduardo López-Puertas, during the presentation of ARCOmadrid 2021 this Friday.
"We wanted to be very scrupulous in complying with all the measures, among which is that the maximum capacity in person will not exceed 8,000 attendees, which represents 50% of the total capacity that could exist ", has assured López-Puertas, who, making a balance between security measures and quality, believes that the project that has come out "is very important and very good."
Even if has regretted the "small rebound" in the incidence of Covid-19 in Spain, has highlighted that the group of over 40 years, which is the "public potential" of ARCO, 87% have at least one dose of the vaccine. "We have to manage the moment in which things happen and see what measures we have to take," he said.
As a novelty this year, the fair concentrates 25 'Artist Projects', all of them women, which will contribute to give greater visibility and prominence to the creators. All this will be reinforced by the intervention of different architects and designers to create a more architectural fair and build a new format for ARCOmadrid.
For Ifema Madrid, according to López-Puertas, holding this fair "has been a job of responsibility to boost the artistic market, promote artists and encourage collecting". "Without a doubt it is an exceptional single call", he celebrated.
ARCOmadrid 2021 will have, once again, the presence of Kings Felipe VI and Letizia, which, in the opinion of the general director of Ifema Madrid, "represents the firm support of the Royal Household for contemporary art."
During her speech, the director of the fair, Maribel López, explained that, due to the special situation caused by Covid-19, the ARCOmadrid 2021 space is "very different in terms of circulation, adapted to the security situation. ":"The fair is built on the desire to support art, work for art and get better options for artists".
40 years, in 2022
Likewise, it has advanced that the special celebration for the 40 years of the fair will be carried over to next year Because all the galleries have not been able to attend: "We will make the birthday in 2022, we will call it 40 plus 1, when all the galleries can be there because a celebration cannot be held if all your friends are not there."
When asked about the sales forecast in this edition, the director of ARCOmadrid has indicated that they hope to "exceed all expectations", although she added that they cannot know for now. In addition, he pointed out that in the number of visitors they cannot think in terms of previous years, since the capacity has been reduced by half by own decision of security and protection of all visitors.
In your opinion, ARCO is a platform "to generate opportunities, a unique institution for its ability to offer business and visibility". To do this, this year they have focused on anchoring three principles "very well": quality, internationality and the support of local and international collectors.
"Another important point of the fair is the Forum, a unique place for ARCO where questions are launched that this year we have articulated in three main themes: sustainability, the future of art fairs and the future of creation", explained López , highlighting that, although it is necessary to "defend the encounter", this year it will have a hybrid format to take advantage of the possibilities offered by streaming tools used during the pandemic.
Artistic programs
ARCOmadrid will once again have its main axis this year, the 'General Program', which together with the Spanish galleries will also be made up of an important European representation top-tier such as Carlier Gebauer, Chantal Crousel, Georg Kargl Fine Arts, Jérôme Poggi, Krinzinger, Lelong, Mor Charpentier, Nachst St. Stephan Rosemarie Schwarzwalder, Nadja Vilenne, Nordenhake, Pedro Cera, Peres Projects, Perrotin, Peterchman, Thaddaeus Ropac , Vera Cortês or Wilde.
To these are added some from other regions such as Dvir Gallery (Tel Aviv) or Movart (Luanda), as well as Latin American galleries such as El Apartamento, Galería de las Misiones; Ultraviolet Projects; Parallel Project; Gaga; The Raft Art; Piero Atchugarry or Walden.
In this edition, the presence of Latin America takes a "different role and adapted to reality". In this way, the fair incorporates the section 'Sender. Latin American Art ', produced by the complicity of Mariano Mayer, a proposal that will show the importance of Latin American art and whose essence is to facilitate and support galleries that this time cannot travel to Madrid.
The section, in which fifteen galleries participate, raises the possibility of including works that were already in Spain or Europe; that can travel through digital formats; that can be produced through instructions; or even works that may be present in this edition through the support and collaboration between galleries.
'Sender' will star sculptures, drawings, paintings, photographs, videos, installations and graphic works by 19 artists from Latin America, such as Raúl Zurita, Felipe Mujica, Mauro Guzmán, Héctor Zamora, Jimena Croceri or Natalia Iguiñiz, among others.
On the other hand, through the 'Opening Program', whose section has been carried out by Övül Durmusoglu and Julia Morandeira, the fair will be a space to explore galleries such as Jahmek (Luanda); The Pill (Istanbul); Balcony (Lisbon); or Eugster Belgrade (Belgrade).
Furthermore, as a novelty this year, ARCOmadrid concentrates its 25 'Artist Projects' exclusively on women, including Johanna Calle, Dominique González-Foerster, Fernanda Fragateiro, Isabel Villar, Sophie Ristelhueber, Jessica Stockholder in dialogue with Almudena Lobera, Rebecca Ackroyd , Maja Bajevic or Anastasia Samoylova.