Aragonès: "We have to sacrifice social activity to guarantee health"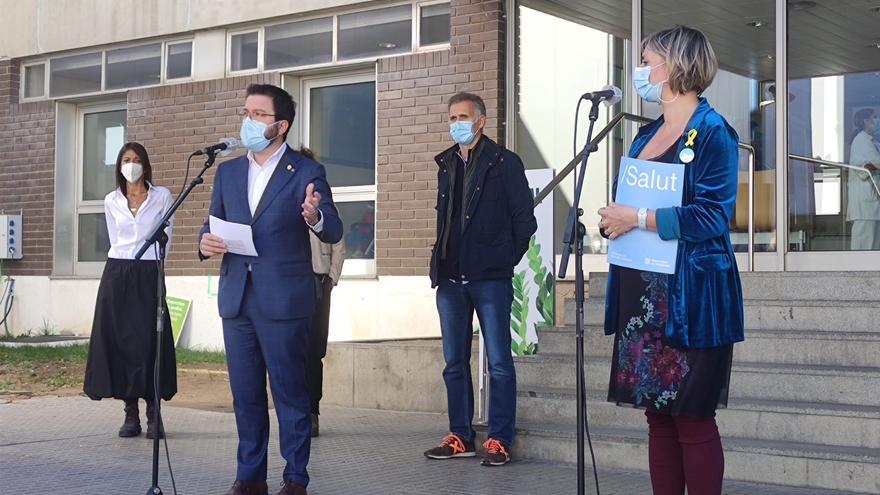 The vice president of the Generalitat acting as president, Pere Aragonès, explained this Monday that the measures against the coronavirus will be hardened this week in Catalonia: "We have to sacrifice social activity to guarantee people's health in the coming weeks."
In a press conference in front of the Germans Trias i Pujol hospital (Badalona) together with the minister Alba Vergés, he said that they will explain these measures throughout the week and that "the perspective is to have time until the weekend for everyone to the world can be organized ", although it has not specified when they will be published in the Official Gazette of the Generalitat of Catalonia (Dogc) or what they will be.
The measures will go "along the lines of lowering the pace" of social activity, said Aragonès, who asks to avoid encounters that break the bubble groups in schools, stay with friends and weekend getaways.
STOP THE VIRUS
"Either we multiply our actions against Covid-19 or Covid-19 multiplies; or we strengthen responsibility and individual commitment to stop the virus or it will cost us much more to stop it," the vice president warned.
He assures that the population respects the safety distance, the washing of hands and the mask, but now – he says – one more step is needed in the commitment of the citizens: social activity must be sacrificed to "guarantee the response capacity of the health system in the coming weeks. "
"It is not easy to give up the meeting with friends, or visits with family, but precisely because it is with whom you love the most, with whom you have to be more careful", and has warned that with family members is created, literally, a false security space, because with the virus it is not.
ANTICIPATION
He also stressed that "the map is increasingly colored by the high level of transmission", in terms of affected European countries, in view of which he considers it essential to continue maintaining the capacity for anticipation, diagnosis, response and hospitalization.
And he added: "It is better to make strong, clear decisions and actions that involve a sacrifice today, because if we wait too long, we reach a level of contagion with which we must have a reactive position: think about how we expand the ICUs."