Aprilia does not wake up from her sleep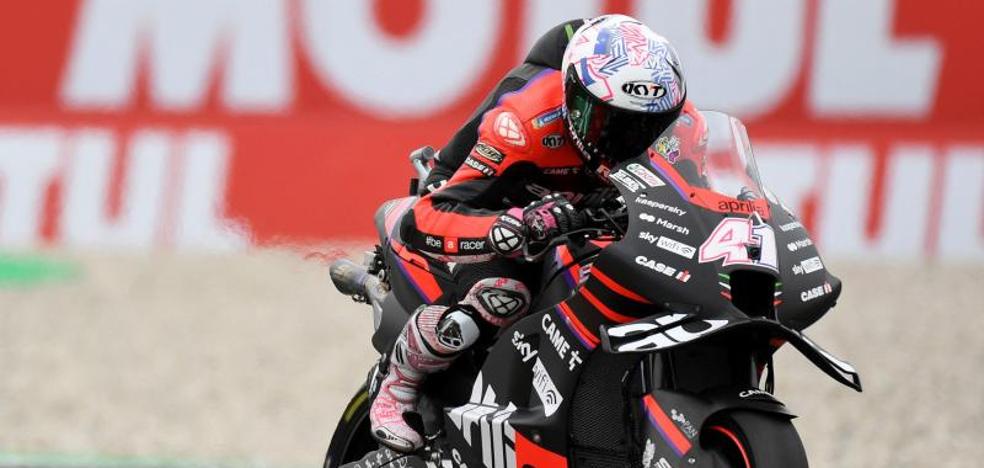 Analysis
Maverick Viñales climbed to the MotoGP podium for the first time with the Italian firm in Assen, where the leading role of the race fell to Aleix Espargaró
Maverick Viñales relaxed with the media that had traveled to the Assen Circuit to cover the Dutch Grand Prix. The Catalan sat down to chat relaxed and confident four days after the race in Germany, the first Sunday in which he appeared in the front positions with his Aprilia, although in the end a mechanical problem forced him to return to the box. «It can come here in Assen… It can come in Silverstone, or it can come in the race that I least expect, because Sachsenring was not a circuit where I thought I could and I was going for it. You have to be open-minded and ready for the opportunity. This is how I am, ready for the opportunity", he expressed himself about the possibility of achieving his first podium with a very competitive motorcycle in the hands of Aleix Espargaró, with a brand that trusted him after his abrupt break with Yamaha, to the point of renew his contract for 2023 and 2024 when he had not shown anything remarkable. And his prediction / wish was fulfilled this Sunday. Viñales crossed the finish line third, after starting eleventh.
"Many things have happened, but right now I am the happiest man in the world," he acknowledged after this year of so many changes. "I can not ask for anything more. I have a very competitive bike, a very good factory team, Aprilia is supporting me, I have a wonderful family… I couldn't ask for more. I have everything I've ever dreamed of and I'm ready to go all out. I'm going to improve every day to be stronger, and it's not easy because the competitive level in MotoGP is very high, but I already know what I'm capable of achieving. We'll see where I am in the last race of the season », he pointed out about a factory that is going through an exceptional moment, to the point of leading the team classification, something unthinkable before the season started. In fact, in 2021 they ranked ninth among the eleven competing squads in the premier class.
"Of course I want to win, but at this point in the championship it is very important to stay ahead of Fabio and cut him off. I would very much like to go on vacation with less than a grand prix difference, a lot", Espargaró expressed on Saturday, after placing fifth on the starting grid, three places behind the leader Fabio Quartararo, whom he had 34 points behind in general.
On Sunday, the one from Granollers was the absolute protagonist of the
motogp race. After almost falling to the ground due to an error precisely by Quartararo, he returned to the track fifteenth, and with two more gears, he was passing rivals at a devilish pace, to the point of culminating his feat with a double overtaking in the last chicane to two tough guys like Brad Binder and Jack Miller. Fourth, which allowed him to add thirteen points and leave his disadvantage at 21, below the barrier of 25, to fulfill his pre-holiday wish.
a fantastic year

A performance that shines a light on a fantastic year for a driver whose sports career seemed to be tracing the downward curve, for years in the category, for the age and drive of the young people who come from below, and for being enrolled in a factory. which had few chances of success. Eleven Grands Prix later, Espargaró is second in the World Championship, has won one race and been on the podium in four others. And he does not give up in his efforts to be champion against the odds.
"We did it. I lost a victory, because I think I could win, but for me the most important thing, apart from the difference with Fabio, and I said it a few days ago, because consistency was very good, was feeling the fastest, having the speed to fight for the championship, because if not, even if you're constant, you can't. And today I got him back. I think that today I was the fastest on the track and that for me is very important. They don't give points for that, but it tells me that I can win the championship, "said Espargaró. A few words accompanied by facts, of what he shows on the track every day, which gives him the right to continue dreaming of being a champion. To him and to a brand that does not stop growing, that acts like a real team, and that is putting other constructors with much more pedigree in serious trouble.