"Any Canarian coach always dreams of being on the Las Palmas bench"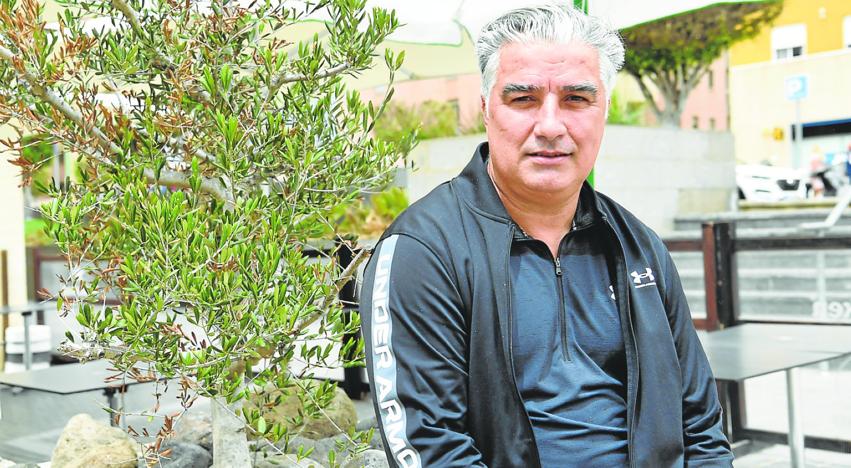 football
Víctor Afonso, the new coach of UD Tamaraceite, faces a new stage as coach. Trained in the UD subsidiary for seven years, his stage with Simeone at Atlético stands out.
Twelve seasons as player and captain at UD Las Palmas. Seven years at the helm of the yellow subsidiary, being an important figure in the decision to promote players like Jonathan Viera and Vitolo to the first team.
Youth soccer defender. A coach with international experience at Lincoln de Gibraltar -he played in the preliminary phase of the Champions League and Europa League-, in Saudi Arabia, China. "The Canarian coach is usually valued more abroad," says Víctor Afonso. He has had offers from Oman, Egypt, and was among the candidates to manage the Dominican Republic team.
-Why the UD Tamaraceite project?
-I received a call from its president, Héctor Ramírez, and he told me that he would like me to take charge of the team. I told him yes, that I would like to train again. He had some things from outside, but they did not materialize. I have been away from Gran Canaria for many years, where I have a better poster, and he appealed to me about the project they have for next season.
-Was he demanding in the negotiation or was he clear?
-No, the only condition I set was to work together with José Luis Padrón as a technical assistant. The squads have to be done by the clubs and our job is to try to get the most out of them.
-David Garcia will return?
-I don't know, the club hasn't told me anything. I would like to have it, of course, but it belongs to Arucas.
-What is the goal set by UD Tamaraceite?
-I say it very clearly, it is the promotion of category.
-You have commented that you have a better poster outside, don't you feel valued in your land?
-In the experiences I had abroad, they highly valued our work and that opens many doors for you. The culture of football is not the same in all countries. Spanish coaches are very popular in places like Saudi Arabia.
-How do you like to be identified, by the results or by your football model?
I think both things can be combined. There is always debate about style. I like that my teams always win, and I value the process and the way to achieve it. The goal is to win, that's my idea. It is true that when you lose you speed up the path to learning. I like my players to be attacking, but a coach has to manage all aspects of a game. Playing well is not the same as doing things well.
-
Seven seasons at the helm of the UD Las Palmas subsidiary, are you tired of waiting for the call from the first team?
-No, I understood that it was time to leave. I don't blame anyone for anything. I will always be grateful to UD Las Palmas, especially to president Miguel Ángel Ramírez, Nicolás Ortega and Tonono, who were the ones who gave me the opportunity to learn and grow as a coach. I don't like looking back. It is true that we did things very well and I think that moment could have happened, but the club preferred that it be other people.
Do you close that door permanently?
-Any Canarian coach always dreams of being on the bench at UD Las Palmas. I'll have it until the day he dies.
-A year in the Atlético de Madrid subsidiary under the orders of a top coach like Simeone, what message stuck with you from this experience?
-He taught me to win, win and win. There is a motto of Luis Aragonés that reminds you of it every day. That is the DNA of Atlético de Madrid. Everything that was done there was to win. They trained much better than how they played. The trainings were very prepared with an impressive quality. No detail escapes him. It was a stage that made me learn and train as a coach.
-What do you understand by quarry football?
-Training is seeing in advance what a talented young player can give you. And for that you need a good scouting department. It is necessary to bet in a convinced way for the quarry footballers. UD Las Palmas has always been a selling club rather than a buyer and except for some foreign signings such as Brindisi, Morete or Conteras, it was always the Canarian players who stood out; Germán, Guedes, Tonono, Molowny, Alexis Trujillo, Orlando, Valerón, Jonathan Viera, Pedri.
-How do you analyze the season that UD Las Palmas has had?
-The change of coach was very good for him, because Pepe Mel's message no longer reached the footballer. He had a great end to the season, but in my opinion Tenerife was better in the tie. They defended well, it's how they know how to live. Las Palmas without the ball suffers a lot. García Pimienta's work has been impressive, and I am sure that he will continue to do so. He is clear about the concepts he wants for his players. He now has time to work and improve the way of playing that he understands is more suitable to reach victory.
-You know Vitolo well, is this the right time for him to return to UD Las Palmas?
-As a fan I would say yes and hopefully he can come, but I think he has many years left to compete at the highest level. He has to value it very well. It is clear that in the Second Division he would form a lethal pair with Jonathan Viera and García Pimienta's system would come in handy.