Antonio Rivero Súarez dies, a lifetime dedicated to the book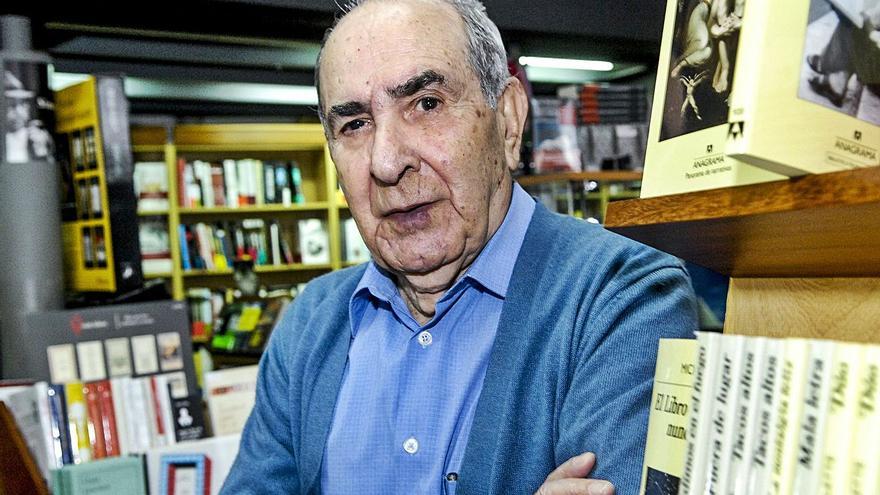 Antonio Rivero Suárez was born on March 10, 1926 in Las Palmas de Gran Canaria. At the age of 14 he began to work as an apprentice, as a delivery man, in what was then the Paquita Mesa bookstore (where the Cicca is now located), the origin of the Selecciones bookstore. This first contact with the world of the book will be decisive in the development of his life. His son narrates that Rivero always said that "in the basement of that bookstore, Pancho Guerra wrote the Tales of Pepe Monagas on a machine that was written very quickly. My father later took them to be published in the newspaper by installments. At the age of 19, he was already in charge of the bookstore ".
In July 1951, time of Canarian emigration, he traveled to Venezuela, like two brothers, where he worked in a sports store, began to distribute "stamps, by bicycle through Caracas and took two trunks of novels from the Canary Islands that began to sell in bookstores, until he creates one, which begins in a warehouse and then grows ", says his son," and thus begins what years later would be one of the main book distributors in Caracas, Distribuidora Rivero Suárez, which distributes the large Spanish, Mexican and Argentine publishing houses in Venezuela. My sister and I were born in Caracas. We returned to Gran Canaria in 1976, 25 years after my father's arrival in Venezuela, from where he had very good friends and memories ".
"He has always been a very active, advanced and resourceful man," says his son
In 1977, already settled in Las Palmas, he decided to resume his vocation as a bookseller by opening a small bookstore which he named Canaima in grateful memory of a country and people to whom he felt very close. "It was a very small place in Tomás Morales, near the Clínica del Pino. After three years the second and a third were opened where the College of Medicine was located when the ULPGC was created, on Avenida Marítima. In 1993, the place we have now opened, the only one we have today. My father had not gone down to the bookstore for two years, but from above, from home, he continued to instruct my sister and me on the sale, distribution and handling of books. He has always been a very active and advanced man to have no training. He only had basic general education because he came from a family in the San Roque neighborhood with many siblings. He was very fond of instilling a love of books. He enjoyed when parents came with their children to the bookstore and being able to help them love reading from a young age. It was very early. He was always with the times. Our bookstore was computerized as one of the first in Spain, we immediately obtained advanced programs and web pages with sales ".
"I don't know exactly where his love of books came from. Perhaps because a teacher encouraged him or because he started working as a delivery boy and went through the different booksellers. He was a brave man because he left everything behind and embarked for Venezuela on a fifteen-day voyage on a ship where he got very seasick. He was a very ingenious man because in the first stage in that country, to visit the bookstores, he did not carry the works in hand but took the back covers, put them in plastic sleeves and created a sample book. Commercials that came from Spain on their way to Argentina, Brazil, etc. and they made a stopover copying the idea. He was an enterprising person, with an innate capacity for work, with the school of life ".
"I enjoyed instilling the love of reading in the children who came to the bookstore"
His son points out that "he had a stroke two weeks ago and he was recovering well the mobility of his arm and leg, but he caught a very resistant bacteria that affected his lungs and kidneys and age prevented him from recovering. Until a few days ago, he got up, stood in front of the computer, went on the Internet, sent news to friends in Venezuela and from here, he took care of his garden and his birds ".
Currently the bookstore has a regular collection of 35,000 titles, of the more than 350,000 in its database classified by subjects and sub-subjects. Fifteen professionals make up the business. It has this website www.libreriacanaima.com, which facilitates access to information and request for books by removing barriers from business hours.