Antonio hangs up his pajamas - The Province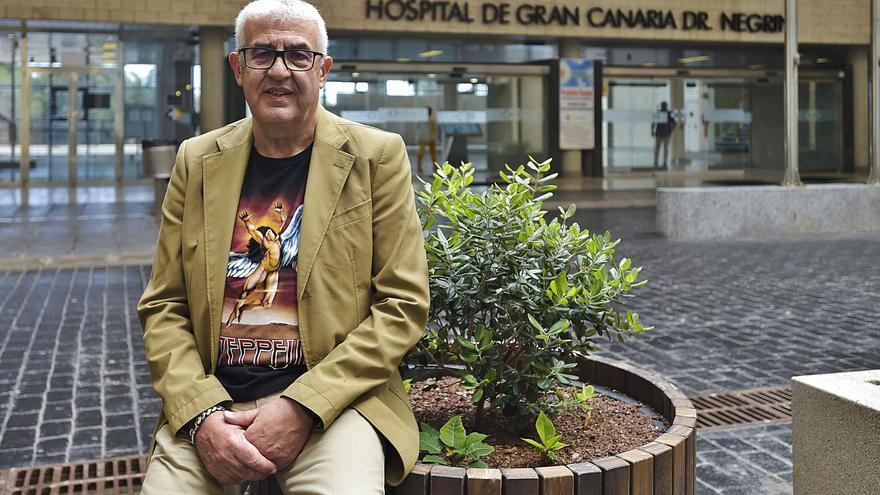 He fell in love with the Canary Islands and the Canary Islands, so Antonio Jurado decided to settle on the island where his wife, Alicia Navarro, is from, after having lived with her for a few years in her native Almería. There he began working as a guard in his twenties, shortly before joining the military in Gran Canaria. It was "by accident", he tells about the profession that has led him to serve in the two reference hospitals in Gran Canaria since 1986. More than 30 years later, he has permanently hung up his pajamas to start the holidays prior to his retirement. It was a little over a week ago when he put an end to his professional career with his wife, who is also a health worker, and he did so surrounded by his colleagues with whose expressions of gratitude and affection he claims to feel "spongy."
The year of the pandemic has been the worst professional stage that Jurado has experienced
When he was young, Jurado liked everything that had to do with electronics and, in fact, he did not rule out working on something related to this specialty. However, fate had other plans for him. And it is that one night his father, who worked at the Hospital Nuestra Señora Virgen del Mar in Almeria, warned him that the following afternoon he had to take an exam to work on 'the blue ball', as it was known –and it is known– to the health center. "He worked in the hospital and had sent some papers so that he could access the job as the son of an employee," he recalls. Despite being caught by surprise, Antonio decided to take the test, which, at that time, "consisted of questions, some accounts and little else." Just a few months later, he was notified that he had obtained the place.
"I feel 'spongy' with so much affection from my colleagues", he assures
"For me at first it was something temporary," says the person who spent his first days changing the old white iron tube beds for the ones with wheels. "I was discovering the work itself on a day-to-day basis," explains who was immediately immersed in the work of transferring patients and supporting nursing professionals, among many others. His colleagues contributed to this learning, as well as the nursing staff, which was made up mostly of religious. He keeps fond memories of those beginnings, as well as countless anecdotes that go through moments like the one he lived on the day when the Internal Medicine plant where he worked was celebrating and the health workers distributed roses among the patients. "There was one who was in the hallway wanting the family member to come in to eat and, when I realized it, he was eating the flower," he says.
The 'blue ball' was his home during the years in which, after marrying Navarro in 1978, they were living in Almería. But in 1986 they decided to return to Gran Canaria, where they had met while he was doing his military service, to settle on the island. It was then that he requested the transfer to the Maternal and Child where he began the fixed afternoon shift. "Then I ended up changing it at night so I could organize with my wife to raise our children," he says. He was like this for 14 years until, in 1999, after the expansion of the Insular, he was asked to become chief of the junior staff. "I told them we were going to try it," he remembers. Finally, he spent nine years in office before being dismissed and requesting a new transfer to the Doctor Negrín University Hospital of Gran Canaria. There he spent a few months as a shift manager until, again, he was offered to lead the team of guards.
Being with his family, playing the guitar and, when possible, traveling, among his main objectives
A position that he has held until a few days ago and in which he claims to have especially enjoyed human relationships. "The most difficult thing is to like everyone, and I am aware that there are people who I have been able to fail, but I have always tried to attend to the needs of colleagues and seek solutions to any problem or situation," says the person who made the intermediary between management and the group to whom he had to "harmonize the orders" that came from above.
Controlling that there was no shortage of staff in shifts and ensuring their own was also among their priorities, especially in times of pandemic. The hardest time for Antonio Jurado, as he confesses, where at first he had to deal with the lack of information and materials that made the work of the guards difficult. "The acquisition of materials made it possible to carry out the work in a safe way," he adds. The former boss also had to face the necessary hiring of staff who, in most cases, "had never worked as a warden". Although the worst was the contagion and the loss of some of the companions.
His father signed him up to take the exam without him knowing it more than four decades ago
His work has left its mark to such an extent that it was he who recently collected the award that the Cabildo de Gran Canaria awarded to health workers. The expressions of affection on the part of those who have worked side by side with him also leave latent the legacy of a career that culminated ten days ago with a "thank you and goodbye". Now it is his turn to enter the new stage in which he is clear about what he is going to spend his time mainly on: to be with his wife, his children Antonio Alberto and Aythami, his grandchildren Aythami and Sabina and his own mother. He has also set himself the goal of perfecting his skills with the guitar and, when possible, traveling.