Antonio Banderas and Stephen Sondheim, perfect company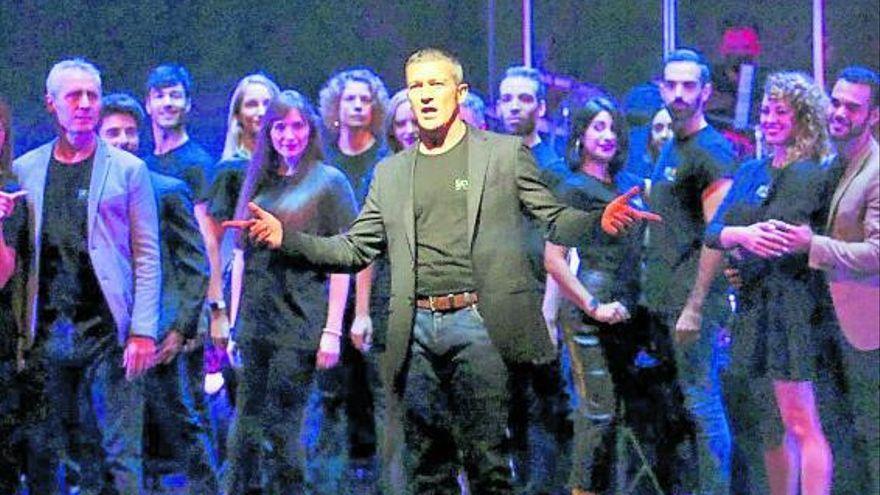 The challenge of present the Goya of masks, of the empty theater, without guests, and telematic connections, Antonio Banderas Now, of course, he is immersed in another challenge: the second musical of his Teatro del Soho CaixaBank, Company, masterpiece of perhaps the author of the most celebrated genre of all, Stephen Sondheim. Banderas y los suyos (repeats the cast of 'A Chorus Line', a large group of young people whose projection was unfortunately stopped by the outbreak of the coronavirus, and, therefore, the cancellation of a good part of the show's tour) work piecemeal to To be able to release, if sanitary conditions allow it, next October.
Banderas ordered the team that surrounds him to reserve eight months in his schedule to be able to build Company and he is on it. The process is being a lot more creative than the adaptation of 'A Chorus Line': "The holders of the rights of 'A Chorus Line' do not allow variations to be made in almost any respect in relation to the original production. We couldn't change a comma. For Company everything is going to be very different: Stephen Sondheim always wants to see new versions of his work, so much so that we cannot copy any of the montages that have already been done. We have to produce our own. And that's just what we're going to do. "
And how does Antonio consider his own Company? "I want it to be like a retrospective vision. A flashback, perhaps a dream of its protagonist, Bobby, who revisits his crazy friends traveling back to the 70s, from where the time distance makes him witness what in another time were his contradictions, his fears, his loves and heartbreaks, now confronted from his chosen loneliness, embraced by the idea of ​​being alive … and with the certainty of the relentless and inexorable passage of time and the proximity of … Her ", the malagueño tweeted.
As you could have imagined, This is not catchy ditties and spectacular dances. It never is with Sondheim. Here, a group of friends throw a surprise birthday party for Bobby, the only one of them who is not married. The show is a succession of flashbacks that reveal the links between all the characters and reflects on love, loneliness, friendship, etc. In other words, the things that really concern us. Company is one of the first musicals that brought deep, personal, mature issues to Broadway, far from spectacularities and escapes. Famous is Sondheim's phrase before the premiere: "Broadway has been supported for many years by upper-middle-class people with upper-middle-class problems; people who really want to escape from that world when they go to the theater … And here with Company we are to bring it back and put it in your face. "
Antonio Banderas shares with Sondheim the uncomfortable vision of the musical, a genre that has been living a golden age more commercial than creative for years: too many adaptations of popular films, too many rehashes of well-known icons … The man from Malaga proposed the productions of the Teatro del Soho CaixaBank from other angles. Many hoped that the Teatro del Soho CaixaBank would open with Zorba El Griego, one of those countless projects that sleep in the (we imagine) gigantic drawers of Antonio Banderas' office. But he preferred the commitment to A Chorus Line: musical of musicals, polyphony about the daily life of those who will never appear on the posters of the shows that, however, contribute decisively to lift. Banderas was smart when he chose the musical by, among others, Michael Bennett and Marvin Hamlisch: ¿What better piece than this to start a project that aims to embrace theater from within, as an experience and education, not just as an art to contemplate and applaud?
On April 26, 1970, that is, more than half a century ago, Stephen Sondheim (at 90 he is still at the foot of the cannon, installed in his legendary, absolutely individual and revolutionary aura) released Company Unbeatable Reviews ("Sondheim looks directly at the eyes of society before spitting on them ", it was read in one of Walter Kerr), Tony awards and, above all, that Being alive with that perfect chorus:" Someone who fills you with love / Someone who force you to worry / Someone who will always be there / As scared as you / To be alive. " And quotes to remember, like this one: "Don't be afraid it's not perfect. The only thing to be afraid of is that it's not." A phrase that anyone who knows something about Antonio Banderas will know that he could have written it himself.