Antonio Banderas and María Casado will present a musical program on Amazon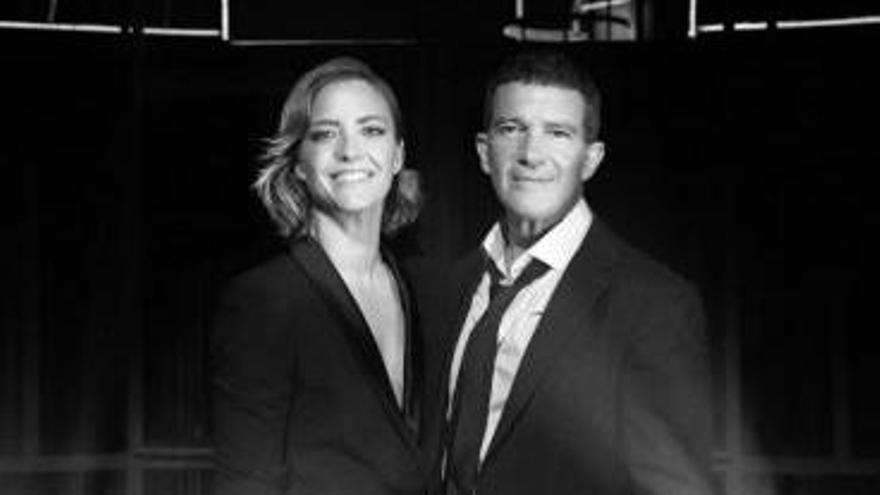 Amazon Prime Video prepare a program presented by the actor Antonio Banderas and the journalist María Casador, both masters of ceremonies of the 2021 Goya Awards gala. The two will lead 'Black and White Scene', a new exclusive production that will hit the platform at the end of this year and which will be directed by the performer himself and which will feature interviews with leading professionals from the Spanish music industry.
The program, which will consist of seven episodes will offer the opportunity to learn more about these stars, who will also perform memorable performances in each episode in an innovative way that will surprise the public.
Among the guests of this first batch will be Vanesa Martín, David Bisbal, Pablo Alborán, Pasión Vega, Rozalén, Pablo López and an additional episode with the actor himself.
Each of them, in addition to their own repertoire, will choose a song by another artist that has marked their life to perform on the program and one of their performances will be sheltered by the Malaga Symphony.
"We are creating a television space in search of excellence"The Malaga-born interpreter commented in a press release." In the midst of one of the most dramatic situations that humanity has experienced in recent times, we seek the artistic truth, "he added.
A space for live music
'Scene in Black and White' seeks to offer a space to music and its artists through a window to art and live music. The program has been recorded at the Soho CaixaBank Theater in Malaga And true to its name, it has been filmed in black and white.
Banderas will open each chapter with a monologue-like reflection on the essentiality of the arts, music or theater and close them with an epilogue, like a portrait, about each of the participating artists. Between song and song, Casado, through conversation, will help viewers to better know the person behind each guest.
"It is the most beautiful television project I have ever worked on", has declared Married. "It has been magical, a dream, a wonderful adventure," he added.
'Scene in Black and White' is a production by Teatro Soho Televisión with Alejandro Andújar as set designer and with Arturo Díez Boscovich as musical director.