Ansu Fati: "This victory goes to Kun"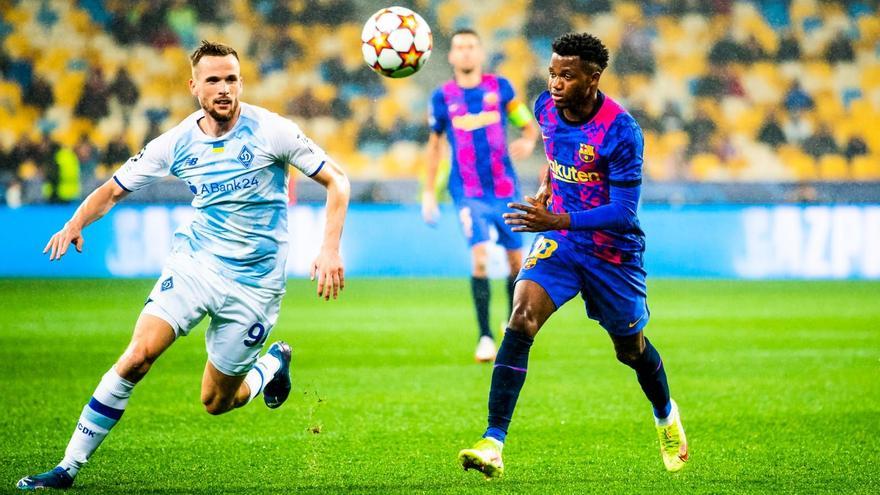 Before with Koeman. And now with Sergi. And who knows if it will also happen with Xavi? The coaches change, waiting for that desired solution to arrive from Doha, but life continues the same because Barça is an insipid team, without any aim, supported by a child who is blessed.
The club looks for that piece that provides stability and solvency on the bench when the real problem lies in the grass, as has been seen for months. There is no mordant. Nor poison, capable as it was at the beginning of intimidating (but not frightening or frightening) Dynamo Kiev until Ansu took a right hand that is worth a treasure.
A treasure of almost three million euros for the triumph. And that allows the club to access the possibility of reaching the round of 16. After the match, it took UEFA a few seconds to award the new owner of 10 with the trophy for best player of the match for that superb goal.
"I think Òscar focused," he said, recounting the play that was born from a low center from Mingueza that gave rise to the goal that has changed the European panorama for Barcelona. "Then it bounced off Frenkie and the ball fell short," said the 10th, although, actually, it touched a Dynamo Kiev defender. "I hit him with everything," he said later.
From nine to one
Barça was so bad that they survived in Kiev thanks to the stops of Ter Stegen and the lethal auction of Ansu. "It was very important to win, thank goodness we were able to win," said the German goalkeeper. "Luckily …", he snorted afterwards, indicating that Barça suffered from Dinamo's counterattacks "or from some ball in which we did not come out well from behind."
Ter Stegen does not understand that rivals need so little to harm his team. "In the second half we were better positioned, that helps the forwards. But, in the end, we were able to keep a clean sheet, that makes us happy and content," he said, specifying that Barça "must make some adjustments so that everything the world is in its place ", recognizing afterwards that" that goal by Ansu makes us all feel calmer because now we have the feeling of calm because we are living a moment that is not easy. "
Triumph with dedication
The triumph was as essential as it was valuable. It is not enough to look at the game, irregular, gray and sometimes without precision, but the significance of the victory, which had a special recipient, was above all other considerations. "This victory goes to Kun, it goes to him," said Ansu Fati, who already dedicated a right hand to him on the same pitch that provides an oasis of tranquility in a troubled club. A goal for the Argentine nine, who will be out for at least three months due to heart problems. "The first thing is the health of the people," said Ter Stegen.
Now, with Laporta staying in Barcelona, ​​an expedition of the club, made up of Mateu Alemany, the football director, and Rafael Yuste, sports vice president, will fly to Doha to close the signing of Xavi, with the anticipation of presenting him in the next and calm days after that fantastic right hand from Ansu.