Another miracle of nature: the pines of the La Palma volcano turn green again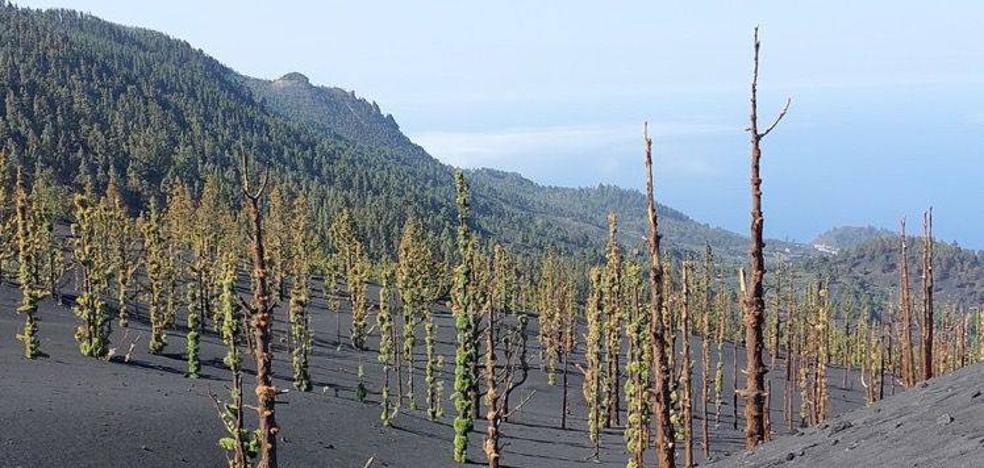 nature
The Canarian pine is a curious species, as it has certain characteristics that make it special and strong
Nature never tires of surprising. The
canary pines closest to
south crater of La Palma volcanowhich erupted on September 19, they have done so:
they have dressed in green againalthough still timidly.
The image has been shared by the volcanologist Rubén López on his social networks, where he points out that the Canarian pines "are already beginning to recover their greenness after 8 months -since the end of the eruption- of 'normality'".
The Canarian pine is a curious species, as it has certain characteristics that make it special and strong. One of them is that it is
fire resistantwhich is why the peaks of the archipelago are still populated with vegetation.
The Canary pines closest to the southern crater of the La Palma eruption 🌋 are already beginning to recover their greenness after 8 months of "normality". pic.twitter.com/r9DRf3kktq

🏳️‍🌈Rubén López 🇪🇸 (@rubenlodi) August 8, 2022
As specified in the Canari Wiki, this is so because of the
thickness of its barkas well as by the
ability to flower from the trunk, which "resprouts again even when it has lost all its leaves and branches". Therefore, it can survive serious fires.
The diameter of the trunk, according to the same source, can range, on average, between 0.5 and one meter. In addition, it can measure between 15 and 25 meters in height, although some have reached 60m in height and 2.5m in diameter.
Another of its peculiarities is that
grows quickly and has a very powerful taproot.
With the greenery of these pines, hope is reinforced towards the total recovery of those areas of La Palma most affected by the volcano, which remained active until last December 25.