Another eviction: Calvary of the parish temples of La Laguna and Todoque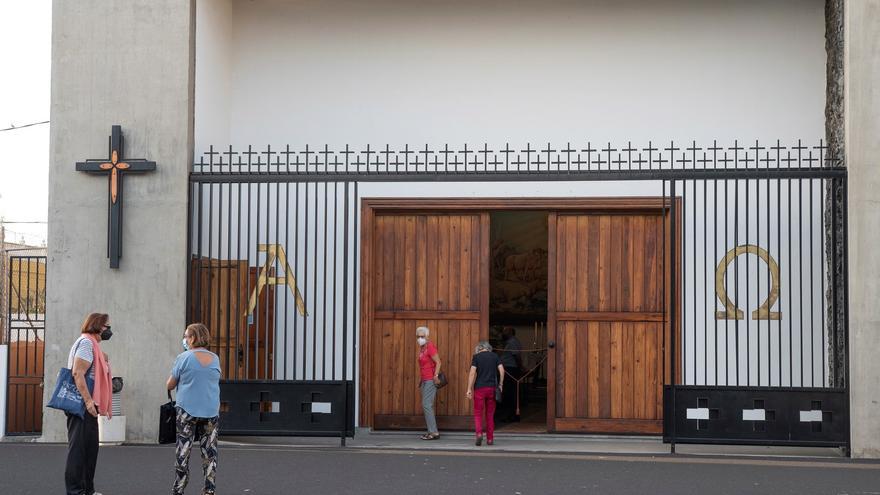 Two of these trucks were not transporting refrigerators or washing machines, or cabinets, or television furniture this Friday night; carried the banks of the church of La Laguna which has also been evicted just as it happened with the now defunct parish church of Todoque.
Also his parish priest is the same. It is about Father Alberto Hernández, who has had to make another evacuation, given the circumstance that he is also transferring all the images and belongings saved from the Todoque church.
At Argual neighborhood the parish of Saint Peter the Apostle and the Holy Martyrs that, even without completing its construction, serves as a warehouse for everything that could be saved from Todoque and now also from La Laguna.
Los Llanos City Council workers and volunteers are busy unloading the benches from the trucks. They do it by putting a lot of will and effort, despite being nine o'clock at night and after having been "a whole day dedicated to removing sand from roofs, helping neighbors in their evictions and so many other things that I don't even remember," he tells EFE one of them.
Among the volunteers is José Antonio, a military man from Gran Canaria who has taken a week of vacation to come to collaborate with the affected palm trees.
"I do it to feed my own ego, that of being supportive, because here they now need a lot of help", he argues while holding one of the heavy benches made of iron and tea wood (heartwood of the Canary Island pine). "From the first moment I signed up to collaborate because I have spent my holidays here on La Palma and it seems to me an exceptional island, with wonderful people".
José Antonio, despite his profession that may make us think that we are dealing with a person who is hardened and prepared for these events, confesses that he has seen images that are very hard and difficult to digest. "These days I have had to put up with the urge to cry, although a couple of times I have not been able to avoid the tears. It is very hard what is happening with this volcano ".
This canary assures that the palmeros are people who rise up in the face of adversitys: "I am sure that the people of La Palma will know how to recover from this catastrophe because they are a hard-working and fighting people."
The workers continue to unload the benches and among them is the priest Alberto himself, who hastens to hold one of them almost two meters high to lower it and transport it inside the church of Argual.
"I have to thank the continuous expressions of encouragement and support that are reaching us from all over Spain and the world," he says. "There are many people who have shown solidarity with our community and offer their selfless help."
"This week I received a call from a man from Valencia who is a model maker interested in sending him photos of the Todoque temple, as he is making a scale reproduction of it," says the young priest.
"Seeing how the lava washed away the bell tower, this man, who suffers from a serious illness, has decided to make a model of the temple to donate; that has moved me a lot," he explains.
Now the furniture and images of the temples of La Laguna and Todoque are stored, who knows whether or not the laundry will respect the urban core of the busy lagoon neighborhood. The wait begins to be tense as the lava is barely a kilometer away.
The councilor for Culture, Charo González, is leading the coordination of the evictions of these parish churches, who explains to EFE how complicated the heritage value of some works of sacred art that were found there has been.
"It only remains for us to dismantle the altarpiece, which we will do this Saturday, but for this the person in charge of Heritage of the Cabildo de La Palma must be present, since it is a cataloged work," he says.
"Without a doubt, the important thing is also the houses of our neighbors, but around these temples there was a very important community life for the neighbors," explains the councilor, who considers that these parishes are "symbols of these neighborhoods."
Finally, the belongings of the La Laguna temple are stored, almost piled up due to lack of space, in the church of San Pedro Apóstol y de los Santo Mártires.
The scene is contemplated by two collaborating neighbors in this Christian compound, not without showing a certain sadness on their faces. It is the image that is repeated in hundreds of stores, warehouses, garages … these days on the beautiful island.