Anna Allen: "My idea is to raise a project of mine at some point"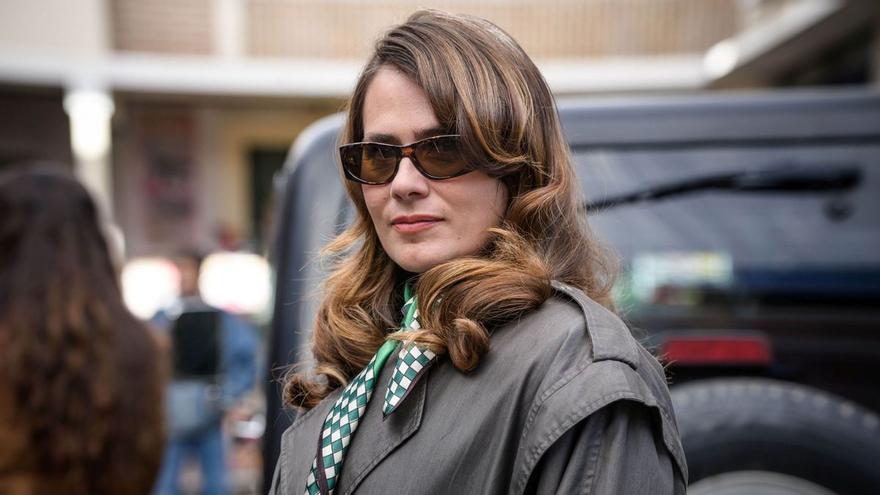 The return of Marta Altamira to 'Tell me how it happened' is giving a lot of play to the long-running TVE-1 series. the first love of Tony Alcantara He is the character that most destabilizes the son of Antonio and Mercedes. Anna Allen, the actress who plays her, is happy with her return to the series, and to acting, after the media lynching she suffered, which made her disappear from the map. Until her moving monologue in 'Paquita Salas' It showed that he still had things to say in front of a camera and made us all reflect.
Marta forms a particular triangle with Toni and Deborah. Although with him, more than love, right now there is professional competition.
It's a bit like Toni is taking it. Marta has no professional zeal.
Deborah also gives Marta some looks that kill.
She does, but I don't. It is that later how she interprets things the viewer is a fear, but in reality Marta is very clear about her position. Marta and Toni's relationship is very compact, it's as if no time had passed between them and that's very nice. It is very easy to work with Pablo [Rivero] And that shows a lot on camera. And the whole Moncloa thing adds tension because they are like political intrigues. We see how a man behaves when he is not in charge, how he always has to know what she is. Well, something must have Marta, that she is the one who has put you there!
Although he has that connection with Toni, Marta destabilizes him every time he comes to the fore.
I think Toni's character was already very destabilized, although I wouldn't use that expression.
Which one would you use?
I would say that it moves him inside. Because he is already destabilized with alcohol and with the sexual issue that he has had for a long time. Marta has power and offers her a brilliant opportunity because the character is ambitious and she says yes right away. If it were the other way around, and Marta were a man and Toni a woman, we would be speaking in very different terms. We would say that she is unbalanced and he is a guy with initiative, who opens doors. But it is enough that it is the opposite so that the one who is judged is Marta.
"If Marta were a man we would say that he is a guy with initiative. But since he is not, he is judged"
And more, in the case of the 90s, which are the ones that the series shows.
I understand that perspective of the 90s, but something that is surprising me is that now it is still being seen from a very reduced prism. We are still a bit stuck in the same.
Go the way of Marta. From running in front of the grays to Moncloa, as Toni's boss.
She is an aunt with exquisite training, very passionate, visceral, who fights for what she believes in, who comes from a position where reaching power is easier, because I believe that not all of us have the same opportunities, whatever they say. . But she is a line that has a lot of coherence. From where do things change? From inside. And let's not forget that Marta starts fighting in a country where there is a dictatorship and she doesn't want to go back to that. Sometimes such visceral leaders also make mistakes, even if their fight is very noble. And that is something that makes her a very rich character.
He is the most politicized character in the series, along with Toni.
But he was for Marta. She is a 'influencer' of his time.
An 'influencer' from the 90s, when that term was still not used as it is today.
She influences opinion, makes it move. If even Toni ends up buying a different car for a phrase from Marta! That would be the summary of their relationship: how Marta influences Toni. I really like the comedic look that the character is taking this season.
When you left the series years ago, did you think you could come back?
I knew that the door was always open because I left 'Cuéntame' very well. I left because I needed to explore other things as an actress and it was complicated being in 'Cuéntame'. Not because the production company wouldn't let me, but because when they see you there they think you're working and they don't offer you other things. So I came back happy.
After what you lived, did you doubt that you would return to acting?
It doesn't matter what I thought or not. The fact is that I'm here doing what I've always done, because I'm an actress. I don't know what I'll be doing in a few years, but right now I'm acting and I'm enjoying it.
He went through hard times.
I don't give interviews for that. So much has been said about it that tinkering with it further is ridiculous. It is something that has to be respected.
Years ago I had written plays. Didn't she think she'd do it again?
I had written and I continue to write. In fact, my idea is to build a project of mine at some point, but I think it's something that takes time and requires a lot of work. I'm writing things, but you have to think about it and it depends on many things.
Last year, we saw some characters from 'Cuéntame' aged, suffering from the pandemic in the year 2021, but not Marta. She would have liked to know what the future held?
Not at all, because I think that, in some way, you already limit the characters. You know if they will live, if they won't, and you take away all the mystery and dramatic intent. There was talk of Marta, but I didn't go out, and I wouldn't have liked to go out.