Angulo Producciones premieres the theatrical production 'Tesla / Edison' at the Cruce de Culturas Theater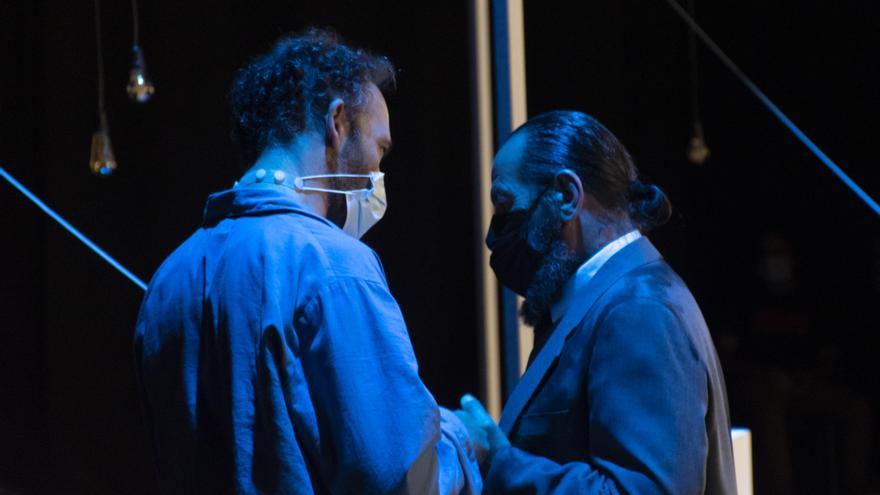 Theater lovers have an appointment this Saturday, May 8 at 7:30 p.m. at the Cruce de Culturas Theater, in Arinaga, with the absolute premiere of the theatrical montage Tesla / Edison, the fifth production of Angle Productions, production company founded in 2017 by Raúl Morán and which has premiered to date The Return of Demophon, The Lost Caress, Michelle Y What the crickets sing. Once again, Ángulo returns to bet on contemporary Canarian dramaturgy with Tesla / Edison, an unpublished text written by the QY Bazo brothers, distinguished with the prestigious Jesús Domínguez award, directed by Luis O 'Malley, with a choral cast made up of Toni Báez, Miguel Ángel Maciel, María Filomena Martignetti and Abraham Santacruz. The design of the stage space is in charge of José Luis Massó, the lighting is a careful work of Rafael Morán and the costumes and characterization are in charge of the artist Nauzet Afonso, who are the visible heads a large team of more than twenty creatives and creative.
A dreamlike and electric biography Nikola Tesla, in the last stretch of his life, lives almost forgotten in a hotel room in New York. Hounded by debts, kidnapped and sick, he makes one last attempt to go down in history. An attempt that will be continually hampered by an unwanted visit: that of his rival Thomas Edison. They claim from their production company that "Tesla / Edison it is an act of poetic justice, that of giving a great person the place he deserves in history, and it is a pleasure to be able to do it from the theater ". The proposal establishes its foundations on the one hand and based on history in "the confrontation of two worlds, of two models, of two men, of two currents and ways of thinking", and on the other "it marks an aesthetic inspired by the avant-garde of At the beginning of the 20th century, both in its scenography, wardrobe and light designs, as well as in its interpretation, interspersing these aspects with more naturalistic moments, accompanied by sound space and projections ". "There is a fine line in the whole montage between the real and the imaginary in a dreamlike environment, full of flashes of light and long shadows, and everything that happens on stage is a way of seeing or experiencing things, depending on who and when see them ", they conclude.
For only 8 euros, the last tickets for Tesla / Edison are for sale in www.entrees.es