Angelina Jolie will put on sale a painting that Churchill gave to Franklin D. Roosevelt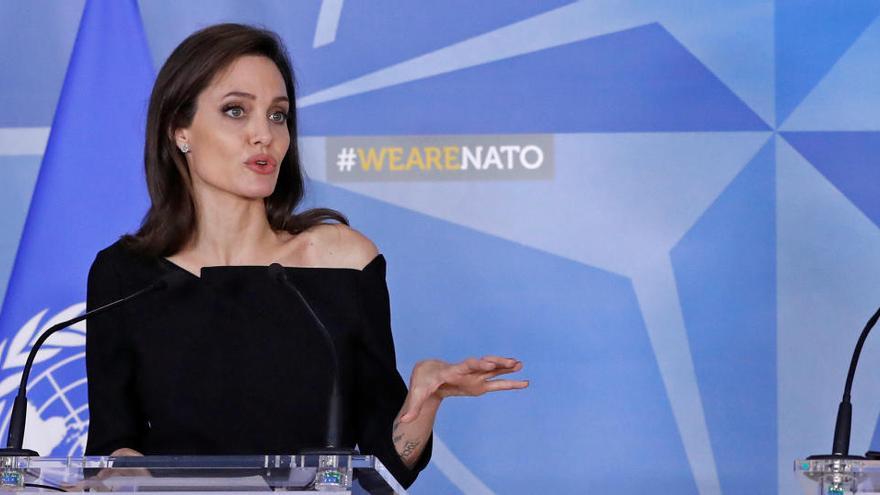 The actress Angelina Jolie will sell in March a painting that the former British Prime Minister Winston churchill painted as a gift for the former president of the United States Franklin D. Roosevelt, as announced Monday by the auction house Christie's in London.
Considered the only work that the 'Premier' completed during the Second World War, the painting will be offered to the highest bidder with an estimated price of between 1.5 million and 2.5 million pounds (between 1.7 million and 2.8 million euros/ between 2 million and 3.4 million dollars).
The painting, which depicts a 12th-century mosque under a Moroccan sunset, was a gift from Churchill to Roosevelt after the Casablanca Conference in 1943, where they agreed on a strategy to defeat Nazi Germany.
After the event, the British leader invited his North American counterpart to walk through Marrakech to show him the views of the city and the evening light, a scene that so impressed Roosevelt that Churchill decided to immortalize it as a memory of the conference.
After the death of the American president, in 1945, the work went through several owners for decades until it fell into the hands of the couple that previously formed Angelina Jolie and Brad Pitt
When they separated, the painting was in limbo immersed in speculation about the distribution of the extensive art collection that the marriage treasured.
Now, Jolie Family Collection will sell the landscape work, baptized as "Tower of the Koutoubia Mosque" ("Tower of the Koutoubia Mosque"), as part of an auction of modern British art at Christie's on March 1.
"[El cuadro] it is possibly Winston Churchill's best painting due to the importance of the subject for him and the fact that it highlights the magnitude of the friendship between the two leaders, "Christie's representative Nick Orchard remarked in a statement.
Churchill began to recreate Moroccan scenes from 1935, when his painting tutor, John Lavery, encouraged him to visit the country.
The painting to be auctioned by Jolie, one of the fifty that Churchill dedicated to Morocco, aims to reach one of the highest prices for the 'premier' paintings at auction, according to the note.
It will not be the first Moroccan sight, a gift from Churchill to an American leader, to go up for auction: in 2007 the "Marrakech" landscape was sold, a gift to President Harry S. Truman, with a starting price of between 431,000 and 720,000 euros ( between $ 521,294 and $ 871,000).