Angela, the ubiquitous guardian of Tinder's bad appointments | Society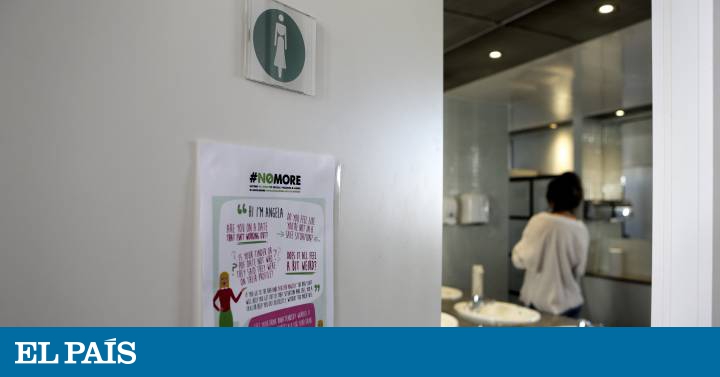 A full bar on a Friday night, a Tinder date that is twisting or a man who has just met and who is closer than the woman in front wants or touches more than she allows . It could be any pub any night, but if it happens in certain places in the United Kingdom, France, the United States, Portugal, Australia or Spain, that woman can go to the bar and ask for Angela, who is not someone but something, a code for the waiters know that the thing is going wrong, help the woman out of there and identify the person in question. It works the same way — with a sign in the bathroom that explains the initiative, Ask For Angela [Pregunta por Ángela, en español]- in establishments on several continents since the campaign, born in the United Kingdom in 2016, went viral.
In Spain it works in nightclubs in Barcelona, ​​Ibiza and Tenerife, as explained by the employer of nightlife last year, Spain Nightlife, when they published a report on the attacks on the premises. They said they were "residual" and, according to their data, concluded that the harassment had fallen by 11.84% in the last year, from 2017 to 2018. "Obviously we will work so that there is no harassment against women when they are having fun, but, fortunately, these cases constitute something isolated," said José Luis Benítez, president of the employer's association last March, aware that the nightlife is associated to a greater likelihood of women experiencing some type of sexual violence. In 2018, which is the last year that there are consolidated data, the crimes around sexual violence were the ones that grew the most: 23.2%, according to the Prosecutor's Office; Interior data include 1,702 crimes of rape and 12,109 attacks and abuses without penetration.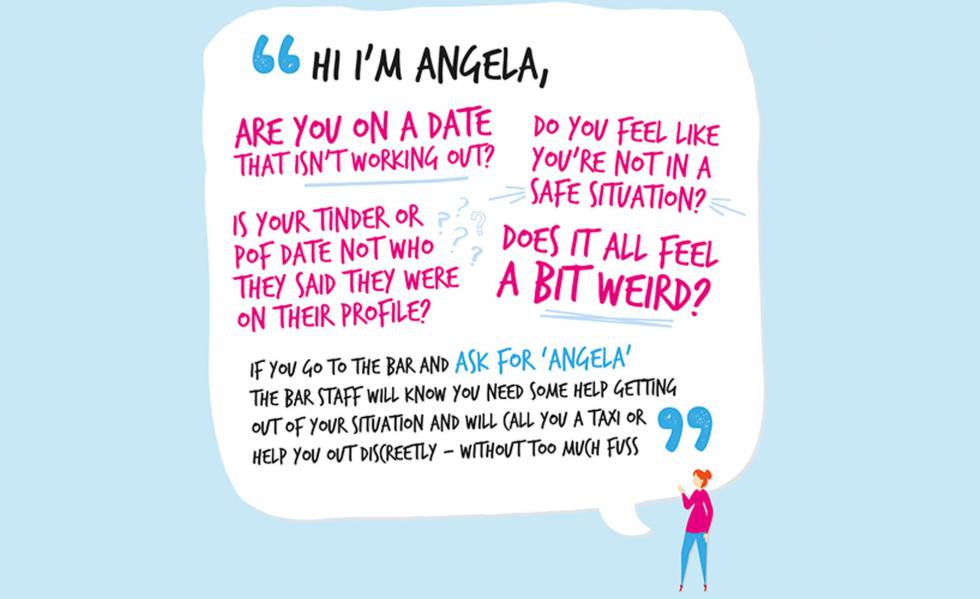 This reality is familiar to Adela Martín, a teacher from the Madrid neighborhood of Carabanchel about to turn 34. For her, "the message of 'I have already arrived home" is not optional. It always sends it. He grew up in a town in Ávila and remembers his mother with the constant chant of "don't come back alone, be careful", he has been in Madrid for over a decade and believes that his fear of going alone at night comes from that education and also of the growing awareness of what happens. Think, for example, in the increase in group violations, something that the Fiscal Ministry marked last year as a "worrying" trend together with data on crimes against sexual freedom committed by minors, not for absolute numbers (648 cases) but for growth, 43% more than in 2017. Although the initiative Question by Angela is not extended in Madrid – which aims Being an international code for the field of nightlife—, Martin recalls that the protocols against harassment in nightclubs and parties are widespread in the city. But not only in Madrid.
In Spain, for several years, the premises are entitled to the prevention and denunciation of sexual violence and are defined as "free from sexist harassment"; the parties have violet dots, which serve as a measure of prevention, surveillance and assistance to women; They have started circulating in capitals like Bilbao o Madrid municipal buses with stops on demand for women; self defense and self defense courses grow; and there are dozens of mobile applications that locate and send location or serve to warn that something is happening, some created by the municipalities themselves, as in Durango (Bilbao) or Manzanares (Ciudad Real).
To Martin, who walks when he goes back home with the keys hanging on a long key ring to move in quick circles if something happens, these projects seem good, "but you have to go to the bottom, to solve the problem." He assures that in the talks with friends, at some point, always, a "yesterday happened this happened to me or the other happened to me", related to some episode of harassment in the street or in a bar or pub. "When it's not worse", snap. That's why he walks with his key ring on his wrist, that's why he learned some self-defense, that's why he insisted on the meetings of his community of neighbors to leave fixed lights on in the entrance portal and, also for that reason, he knows it's better take a taxi from downtown to your neighborhood if it starts to be late.
Yolanda Besteiro, the president of the Federation of Progressive Women, for whom these ideas have two meanings, falls throughout this ideology. A positive one, that "the importance and awareness of this reality, of the magnitude of the problem, have been penetrating into society, especially regarding sexual violence" And another negative: "That the focus is put back on the victims, they are held responsible for their own protection and other types of measures such as sensitization, important now that it is growing, are put aside. the denialist discourse of sexist violence"
Besteiro believes that the solution is to take a double path in which these types of initiatives converge and not forget the root: "We forget a little about the nature of the Integral Law against gender violence, that in addition to punishing the guilty, he tried to combat the ideology that makes this violence exist ". And that speech is also that of the feminist jurist Octavio Salazar, who says that "going outside with fear, with that feeling that limits and restricts, makes women not live in a space of freedom. And these actions do not contribute to ending that fear, but rather reinforce it in a certain way. " And ensures that "it is a slab, and is a slab to be removed, between all and all and now."
Other countries
For several years, ideas such as Question by Ángela and products such as the long keychains of Professor Adela Martín for the protection and self-protection of women have multiplied and adapted to the problems and specific needs of each place. One of the derivatives that spread rapidly was the shot Angel, in the United States. A sign, also in the women's bathroom of the bars, specifies that if you need help you have to go to the bar and ask for it. If asked alone, the waiter knows that he has to accompany the woman to the car, if it is with ice, that she has to ask for a taxi, and, with lime, that she has to call the police.
In Mexico, one of the countries where violence against women is most widespread, the shot Double Diana does the same function in the capital; #Micasaestucasahermana serves to warn on social networks that the doors of the house of those who post with the hashtag are open to any woman who does not feel safe when returning home by taxi or Uber, something common among Mexican women, especially after the murder in 2017 of Mara Castilla, in Puebla, by a Cabify driver; and throughout the country there are different mobile applications that record the user's activity, send alerts to favorite contacts when they arrive at the destination and even allow them to send complaints to the Public Prosecutor's Office virtually if something happens.
Ask for Angela [Pregunta por Ángela] It is the name of an initiative that was born in 2016, framed in the No More campaign in Lincolnshire County, east of England, against sexual violence and abuse It occurred four years ago to Hayley Child, the coordinator of that program, when she thought about how they could do prevention from the leisure industry, especially at night, and remembered her adolescence and blind dates, to which she was accompanied from a friend who watched her from the other side of the room. He explained it a few years ago in several interviews, when the idea was launched.
Child, who no longer works for the county, wondered what was happening to those who could not drag someone to those appointments, developed the idea and named it Angela Crompton, a woman she knew and whom her husband hit with a hammer until he was unconscious, died two days later in the hospital, on June 13, 2012. The poster in question says: "Hi, I'm Angela. Are you on a date that is not going very well? Do you feel that you are not in a safe situation? Your Tinder or Plenty of Fish appointment [otra app para liga] Isn't it like it said on your profile? Does it all seem a bit weird? If you go to the bar and ask for Angela, the waiters will know that you need help to get out of that situation and they will call a taxi or they will help you with discretion, without much fuss. "
It went viral that fall after a tweet with 34,800 retweets and more than 50,000 likes and after that actor Ashton Kutcher would write on Facebook "this is a great idea" And the initiative began to replicate