Ángel Rafael Cerdeño, Telecinco correspondent in Venezuela, dies at 38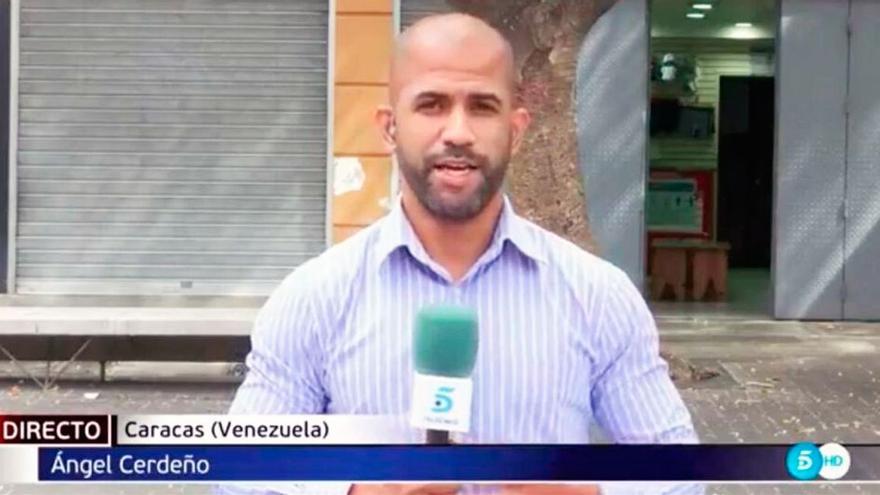 Angel Rafael Cerdeño, Telecinco correspondent in Venezuela, has died at age 38. Journalist has passed away suddenly, as explained by his partner in Nius Diario, Esther Yanez, which has explained on the Telecinco page how the fatal events in Caracas happened, in a text that shows the bad situation in the Latin American country.
As the journalist reveals, to Sardinia "nothing was wrong, apparently"It all started last Thursday, when he began to feel discomfort and fainted. At that time, his partner" embarked on the usual journey of looking for a hospital to treat him in Caracas. "
Ángel, who had been married to his wife Viviana for 20 years, had three young children. Journalist he did not find a hospital to be treated in Caracas, with two unsuccessful attempts to find a hospital. "I couldn't breathe, I thought I was going to die. And so I had to go to other hospitals until I reached the University Clinic where they treated me for the kicks and in subhuman conditions. There, Covid and non-Covid patients remain in the same place (…) Venezuela is facing a collapsed health system. It is one thing for us to say it in a report and another for us to experience it firsthand "relates her friend Esther, who told her the same day she fainted.
Finally, the journalist got them to attend to him, but then they told him that they did not know what was wrong, they didn't do any tests and sent him home so that he could rest and take amoxicillin, "one of the few medications found in pharmacies," they explain from the 'Informativos Telecinco' website.
Monday was the last time that Ángel and his partner spoke: "I asked him how he was doing, what he needed. He sent me an audio message because I didn't have the strength to write, he told me. When I heard him, my hair stood on end. Something strange was happening, I could see it in his voice, in his breathing, making an effort to communicate with me, because Angel always thought of others, because he was too generous not to answer me. He would just tell me, "Esther, I'm feeling really bad." An hour later they informed me of his death", the Mint.