Andreu Buenafuente: "We will do the Goya with self-criticism and love. This is not Hollywood "| TV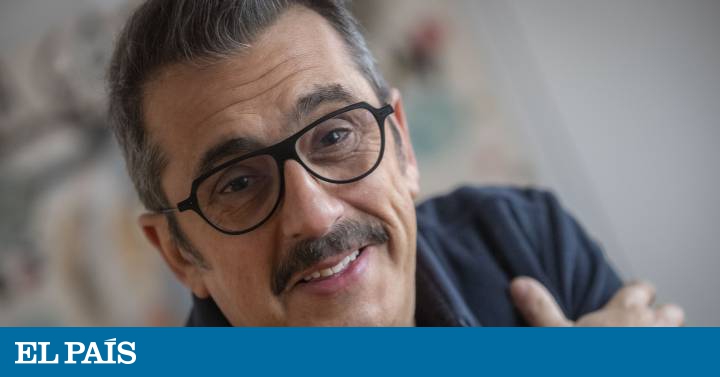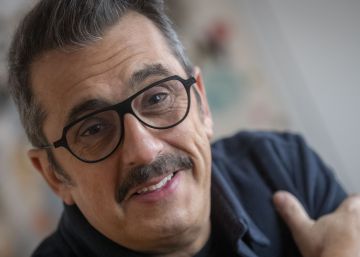 The offices of Buenafuente in Madrid occupy a high floor in the middle of the chaos of the Plaza de Callao. It rains, there is traffic jam, I'm late, I lost my phone and I can't tell you about the delay. He waits for me downstairs smoking a cigarette between a scaffold and construction containers. The day we meet just returned from his discharge for a back operation, in a few days the sale of his production company will be made public, and in a few others he will present the Goya gala, but the head of the crew looks very serene. Zen, inclusive. Partly to excuse me, partly to break the ice, I confess my morning drama. Ice? What ice?
I get hysterical about going without a mobile. Are we stupid or what's wrong with us?
Yes absolutely. And notice that at this moment, without mobile, you are free. You are enjoying a freedom that at the same time is tormenting you, that is paradoxical. Freedom begins to turn off the mobile, not being geolocated. Do you remember when you left and said I'll be there? I miss.
I think in his convalescence he has been on a digital diet.
Well girl, a little. I decided not to be in social networks, with which I have a relationship a little tired. One of the things I have discovered is that reading is returning to a value we thought was forgotten. I have recovered that pleasure that seemed old, old man. It has some antisystem. I am reading like never before.
Between your back operation and the sale of your company, 2020 begins by releasing ballasts.
Well, let's say I have reaped the fruits of so many years, but I can't retire to the Caribbean either, because in the end the company is you and you have to keep working. I have the destiny of being a working class. Now I can work calmly, protected. If the world sinks, I don't sink.
As a film awards presenter, is it more of Billy Cristal or Ricky Gervais?
Andreu Buenafuente (Barcelona, ​​54 years old) and actress Silvia Abril, her partner, will present the Goya gala for the second consecutive year. The director of 'Late Motiv' (Movistar) has just sold his production company and from now on he will dedicate himself exclusively to his own: to make others laugh.
Well look, Crystal. We can't look in the deformed mirror of the Oscars. This is not Hollywood. You can't say the same to Antonio de la Torre than Johnny Deep. Here there is an 80% unemployment in the profession. We will do some Goya with self-criticism and parody, but also affectionate and supportive. They called me shit To say this. Well look: for you the fat bitch.
Évole, Berto, Broncano, Bob Pop. How many disciples are missing for the 12?
I have more. When I retire, they will know me, more than what I did, what I helped them to do. Deep down is healthy selfishness. I became a producer by obligation. I like to surround myself with talented people. I have been a fool anyway, but if I have been able to help them develop their ideas, I have done so. That's how I built my career for 30 years. Suddenly, one day I turned, as in Forrest Gump and there were 100 great guys and guys behind me laughing, deep down because I have encouraged him. And I love it.
Don't have professional jealousy?
I have a dark side, I am not a guardian angel. I don't know if they are jealous, but I try to redirect on motivation. I learn a lot from my classmates, I say it honestly and without false modesty. If they are doing well and they are my friends, I am doing well. Man, sometimes I think I could have made movies of prota, those veleities that we have in the artisteo, nothing serious.
With 54 years and 30 ex officio. Have you been told about 'ok, boomer'?
No, but sometimes I see the look of 'oh, the veteran', and I don't know how to fight it. You are not old or young: to be young is to be 18 years old. For one, fuck me a little. I am happier and fuller than when I was trying to show things all the time. I notice something similar to serenity, and I think I am up to date. When I grow up I don't want to be modern or important, but current.
Now that he sees less people, he is perhaps more popular than ever
I had a fucking stretch. I felt unloaded from the consumer TV. And it was nice because I planted in Madrid with my carpet in 2015 and in Movistar they let me make a beats, I had to pinch myself to believe it. They said I was going to crash, that I was going to disappear. But I have always followed my intuition. And the payment, without being a supremacist of the payment, that there are, seemed to me a good refuge for the good contents. I was no longer successful on free TV, and the lottery has touched me a bit, I also tell you.
From interviewer to interviewer, what are your tricks?
None. That is like the Holy Grail. If I find out, I patent it and leave. I never liked it, with time I have only learned to conform. What I do know is when someone is interested and when not. People say that they are my hoaxes, but I know how to read the silence on the set, that sometimes it is concentration, and sometimes, selflessness. A guy who generated a silence that was cut was Eduard Punset. It had a magical lake that suddenly got 150 people connected to it. Others, no.
Like who?
I will not say it, for elegance, but noticing the lack of interest live is terrible. The other person still thinks that he is at the zenith of his career and you know he is not connecting, you have to carry out twelve minutes of interview, and it is very hard. There the perfect interviewee is Ricardo Darín. Have fun, interest, play with you. When people come like this I say: I don't work anymore, you do it all by yourself.
Who costs you more than laugh?
My daughter, I have a hard time getting a smile. It is very serious, my most demanding audience. I get home after trying not to fall asleep and 150 people laugh, and I get into a room to try to make a single person fall asleep and not laugh. Sometimes he neither sleeps nor laughs. It puts me in my place. I leave with her. I am your fan. Children are pure humor.
Santiago Abascal has rejected the invitation to the Goya. Does he miss it?
I have a habit of not talking about Vox seriously, and it scares me.