Andrés Trapiello, Inés Artajo and Emilio Morenatti, Cavia, Luca de Tena and Mingote awards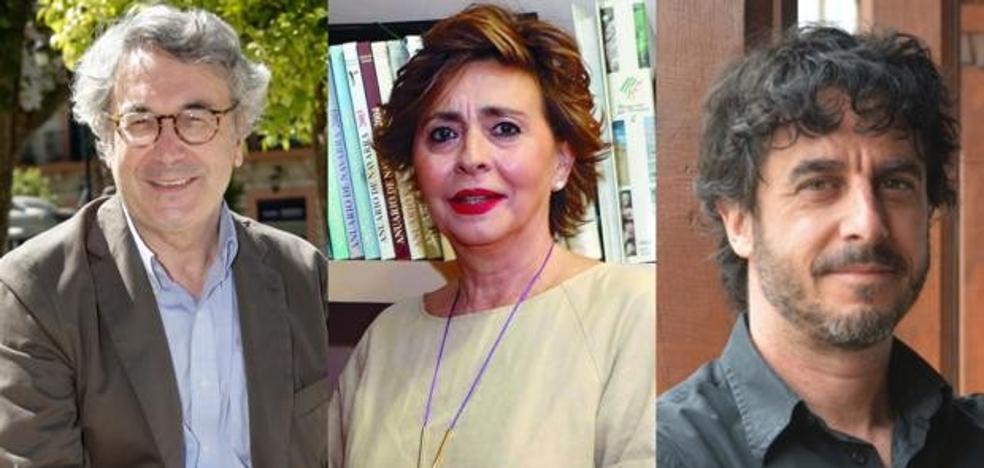 The jury, chaired by the director of the RAE, Santiago Muñoz Machado, was made up of Pepa Bueno, Francisco Rosell, Jordi Juan, José Miguel Santamaría, Xosé Luís Vilela and Julián Quirós
The writer, poet and columnist Andrés Trapiello, the former director of "Diario de Navarra" Inés Artajo and the prestigious Associated Press photographer Emilio Morenatti are the new Mariano de Cavia, Luca de Tena and Mingote awards, or what is the same: these three names are already part of the golden history of Spanish journalism. This was decided this Wednesday by a jury chaired by Santiago Muñoz Machado, director of the RAE, and made up of the director of 'El País', Pepa Bueno; the director of 'El Mundo', Francisco Rosell; the director of 'El Correo', José Miguel Santamaría; the director of 'La Vanguardia', Jordi Juan; the director of 'La Voz de Galicia', Xosé Luís Vilela; and the director of ABC, Julián Quirós.
When Trapiello, who is in Poland, was quickly asked how he received such an important announcement, he explained to us on WhatsApp: «I see in this award something mysterious and happy that sometimes governs life. And of course I receive it as if it were given to those like my father who entered his conscious life through a door as narrow and tragic as war. I am in Krakow and this is a good day, despite being at the very gates of another war as bloody as that one. That's how strange everything is."
Andrés Trapiello, Cavia Award

Andrés Trapiello (Manzaneda de Torío, León, 1953) is a novelist, diarist, essayist, editor, columnist, poet and even an original translator (with his 'Don Quixote' updated to current Spanish). The author of the monumental 'El Salón de Pasos Perdidas', self-classified as a novel in progress from memory of which more than 20 volumes have appeared, studied Philosophy and Letters at the University of Valladolid, where he also worked for the newspaper 'Pueblo' until his transfer in 1975 to Madrid. He has worked in art magazines, on Spanish Television, directed the Trieste publishing house and has published novels and collections of poems for which he has received multiple awards, such as the Nadal Prize for 'The Friends of the Perfect Crime', the Critics' Award for his fourth book of poems, 'Perhaps a truth', or the Don Juan de Borbón award for his renowned essay 'Las armas y las Letras. Literature and civil war 1936-1939'. Also noteworthy is his recent 'Madrid', a biography of the city in which he has lived for almost 50 years and which was a great bestseller. He has been writing regularly in the newspapers for half a century, where he tries to give his vision of reality, his commitment to it. He is currently a columnist for 'El Mundo'.
With the award-winning article, entitled 'Tal día como hoy', published on December 24, 2021, Trapiello evokes a trip to Teruel precisely 23 years ago, the place where his father fought in the Civil War and which serves as an excuse to highlight the unreason of the battle, of the boys there sent to the cold and to death, while recalling the father figure, who died shortly after that stay in the Aragonese city, and all this, beautifully written, as is usual in the author, to end with a corollary that is quite a pacifying declaration of intent: «On such a day as today only one has lived for twenty-three years for the truce. One would want to extend it to the whole year, to all life, a sacred truce that no one, least of all oneself, had the right to break.
Inés Artajo, Luca de Tena Award

Inés Artajo (Pamplona, ​​1956) joined the 'Diario de Navarra' after graduating from the University of Navarra, and in this newspaper she has developed her entire journalistic career; the last sixteen years, as director. Last September she passed the baton to Miguel Ángel Riezu due to retirement. Artajo is one of the few women who has been in charge of a printed newspaper, in which she has also worked as a political columnist and as an in-depth interviewer. Some of these interviews were compiled in the book 'Interviews with Navarra in the background: people and moments' (Basic Library Navarra, 2003). As director, she has had the responsibility of leading the transformation of a centennial newspaper into the new digital ecosystem. Her last challenge at the head of the 'Diario de Navarra' had to do with the coverage and management of the pandemic. In all these years, moreover, she has had to face the threat of ETA terrorism.
"I can only say thank you. I am sure that behind this award, so great and so valuable in the world of journalism, is the affection of my colleagues in the profession and that my recognition is that of the same merits that they have. Not one more", says Artajo. «That Luca de Tena reaches a regional press journalist is to value a way of working and honors hundreds of colleagues. Those who stick to their community every day and revalidate the pact with their readers, which is to inform them in a close, deep, rigorous, always independent and also critical way, without complacency or other ties than honesty in the profession.
Photography on the island of La Palma after the eruption of the Cumbre Vieja volcano. /

Emilio Morenatti

Emilio Morenatti, Mingote Award

Emilio Morenatti (Zaragoza, 1969) has been honored with the Mingote 2022 award. The photographer, who has received awards such as the Pulitzer, the Fotopress or the World Press Photo (on two occasions), has been awarded this time for a photograph carried out on the island of La Palma after the eruption of the Cumbre Vieja volcano. In the image chosen by the jury we see a house buried by ash: the top floor barely stands out, a couple of windows. It is a photograph that sums up the drama of the island, and that also does so beautifully: nature imposing its law, that wild beauty.
Morenatti has extensive experience as a documentary photographer of disasters, wars and conflict situations. He grew up in Jerez de la Frontera, and started taking photos for a local newspaper. At Expo 92 in Seville he began to stand out, but it was his coverage of the Perejil crisis that made the US news agency The Associated Press (AP) notice him. With them he has covered armed conflicts in the Middle East, Afghanistan, Pakistan and North Africa. He currently heads AP's photography department in Spain and Portugal.
"It is a great honor, a luxury," celebrates Morenatti on the other end of the phone, from Ukraine, very close to kyiv, where he is working to cover the Russian invasion. Regarding the winning photo, she recalls: «It is a very special job: my first volcano. It was tireless coverage, in which I was lucky enough to be able to get on the front lines with the scientists."