Andrés Suárez: "When one risks everything, cries and bleeds, the true verses come out"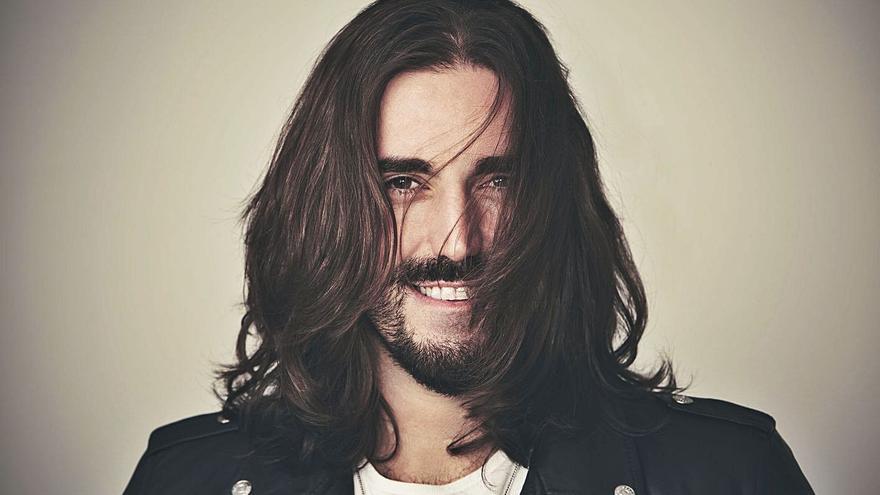 How is this eighth studio album different from the previous seven?
It is a self-titled album for a reason. It is the most personal, where I dared to tell absolutely everything, which brought me more than one problem because when one undresses so much, sometimes it unintentionally hurts the protagonists of the song. It's not just me, there are always more protagonists. I dared to tell myself, to look at myself, to pay tribute in life to many people who surround me and they did me good. I believe that the tributes have to be in life and it felt good to have been sincere with the public but, above all, with myself.
It became number one in sales in its launch week …
I am very grateful that I had released records, but not in a global pandemic. I have such a wonderful audience that they made the album number one in the middle of this crisis. People left their homes to buy the album and sell it out and that makes it forever indebted to them. It has been very exciting that in the most horrible days that we all remember, people have remembered culture, which in the end, we really need to escape from the reality that so disappoints us.
What do those ten songs contain "full of light where one gets naked emotionally"?
They contain love, heartbreak and anger at times, melancholy or pain. The songs suit this. The more melancholic, the better. When I am happy, I dedicate myself to it, but when one is left and loses his house, he risks everything and cries and bleeds the true verses come out. The songs, the more passed through the reality that sometimes cries, the better.
What is the most special?
It is very difficult to answer. They say that music is a woman, so I have daughters. Every song and every album is a daughter. In this album there are very special themes. One, in particular, moves me a lot because I dared to sing it to the one who was my best friend in the eighth grade of EGB. He died of a cocaine overdose. It's titled I can still hear you and it hurts to write and sing it. However, it does me good. There are songs that heal.
These are personal stories with a universal message that we can all identify with. Explain this to me …
In these times when a group of friends get together they talk about layoffs and deaths. The universal language of songs is love, even when they are about heartbreak. We need to see people cry or laugh, mothers hug their children at concerts …
How are your live shows? It is said to have a powerful acoustic direct …
I'm very intense, but I think it's not all bad. I need to be intense, I live on the edge in every way. If I want to, I do it to the end and if I cry it is until I run out of tears. If I laugh it will be until my body hurts. I don't know how to be otherwise and in direct I behave the same. I leave my back, throat, skin and voice because I think that someone who pays a ticket to see you, and more these days, deserves everything. I try to be speechless and exhausted because if you have traveled miles to see me I will make every meter worthwhile.
Does your songs reflect the well-known Galician nostalgia? That somewhat melancholic feeling of his land?
We Galicians also have a sense of humor, but it is true that one is where one is born and grows up and I did it with rain and seawater. My garden was made of beach sand with sea water on the walls. I grew up on the beach in Pantín. And that I take to the grave. It is my accent, my way of thinking and being, that kind of memory in which I permanently live from my land. If I could choose the end of my days it would be in Galicia. I am more Galician than a singer, although I appreciate all the places where they love me.
"I am very intense, I live on the edge; if I want to, I will do it until the end and if I laugh it will be until my body hurts "
How has it turned out, in just a decade, to go from playing in the bars of your native Ferrol or in the Madrid metro, to filling the Wizink Center and cramming theaters and stadiums?
It was in more than a decade. I can boast of slowness because I think the rush in my work is horrible, that is, wanting to sell, cover, fill and please the public. I think it is wonderful to sing for three people and that two are the waiters, I mean by that, if you know how to sing for a few and you value it, you will do it when you sing for a hundred. What's more, I don't think you know what it means to sing for 5,000 if you haven't done it before for five. Now that the hoteliers and gambling dens are suffering so much, I remember fondly those places where there were four of us. I remember the Cholas, the Paper, the Cuasquías… places where we were very few and I was intensely happy.
He considers himself a singer-songwriter, but also a transgressor. Why but? Can't both things be combined?
I use the but for the label, something I hate. I understand that sometimes it has to be used, but the singer-songwriter is thought to be a boring person. There is a label in this country that is harmful, reviled and hurtful towards the word singer-songwriter when I think that the best in history are in Spain. We live in the country of Aute, Sabina, Serrat, Pedro Guerra and Rosana. It seems that you cannot say that you are a singer-songwriter so as not to be boring. Well, blessed word! I am the author of my music and my lyrics, but I also like rock and roll, I have an electric band and I jump on stage without boring anyone.
What has been the evolution of your music since your first albums?
I'm not the same as yesterday, so neither am I ten or fifteen years ago. People change, but luckily, every time I see my mother she tells me that I am the same. I do not care what the social networks express but my family and friends. I am still just as intense and in love and passionate about my work, which is music. As they evolve, new records are born.
What have authors so different from each other such as Juan Luis Guerra, Rosendo, José Afonso, Sabina or Milladoiro, among others, contributed to you?
My grandfather and my mother sang very well. My father was to listen, to put the cassettes in the car. He liked the Galician folk of Milladoiro, but also Metálica, Extremoduro, Bethoveen, José Afonso, Franco Batiatto and Juan Luis Guerra… In the end what was heard was music. We go back to the cursed word. What music do I make? I have no idea. I do pop, rock, jazz, blues… Songs, in short. If you only listen to singer-songwriters or jazz, you're never going to be a musician. You will be very specific. It is interesting to hear about everything.
It is considered a mixture of sea and music, he says …
I am obsessed with the sea. I am a coastal person, the son of a sailor, but I am also a musician. At home there are guitars and pianos, but I haven't seen the sea for a long time. So when I go to the Canary Islands to give the concert, the first thing I will do is visit the beach.
I have seen that you have multiple concerts planned for this year. How is that possible in these times of the coronavirus pandemic?
I defend a safe culture, that is to say that all kinds of toilets come to my concerts who tell me that they have not seen so many measures anywhere. I establish four meters of separation between people. Some measurements are somewhat surreal. For example, in the Murcia bullring, where 14,800 spectators fit, I gave a concert for 350. In my events, with so much separation, mask, gel and bleach it is impossible to catch it. I am not complaining that the capacity is so small, as long as they let the cultural people work.