Andrea Sánchez Falcón: "Hopefully they don't put a roof over women and we can continue"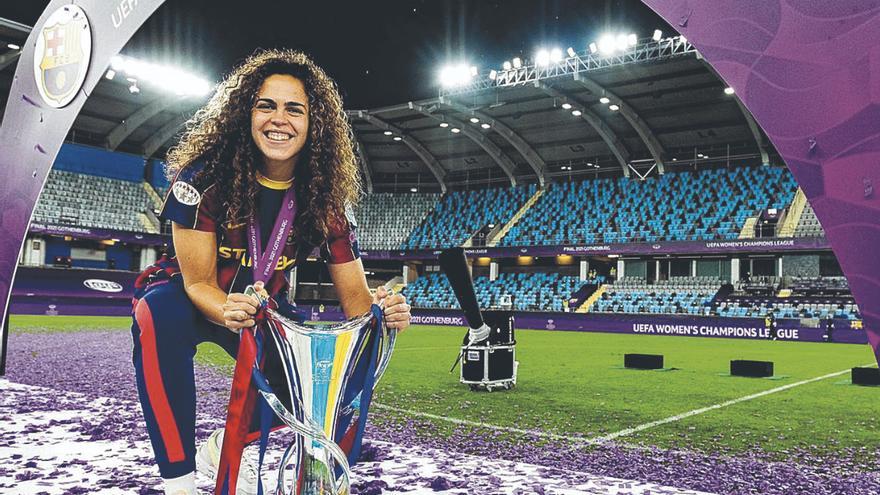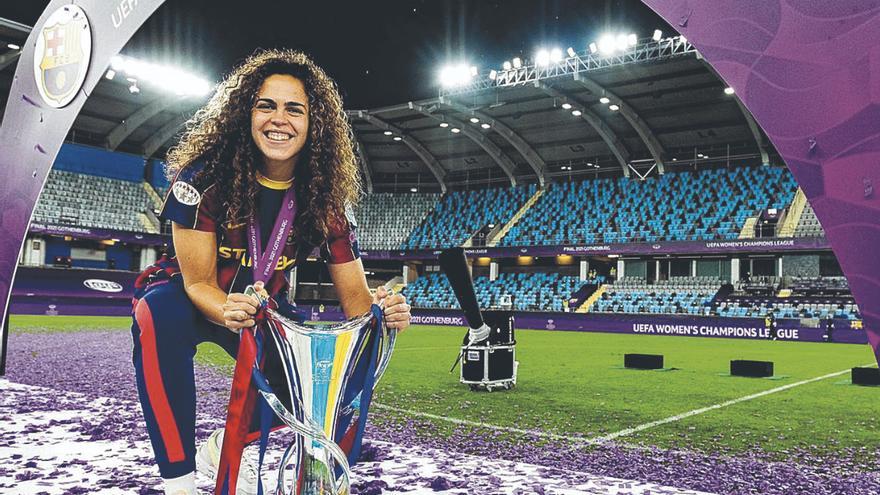 I have not assimilated it yet. Everything has been very fast. We stuck together all night flying, we arrived very early … After the final it was crazy, with the emotion on the surface, but we have not assimilated it. We are not aware of what we have achieved. It was a crazy weekend. Thanks to the great work of the team, that we got the game on track quickly, we were able to handle it better.
Did anyone sleep on the plane?
Some tried, but between the music and the headache, I don't think anyone succeeded [Risas].
They won at 37 seconds and at 36 minutes 0-4. Did you believe what you were seeing?
The truth is, no. We knew we had a great team, that we were very prepared, but we did not expect to be able to score so soon, get the game back on track so quickly … From the first to the last, we would have signed that before we started. We knew what we were going to do, to win, but we didn't even consider a game that was like that.
You were not on the squad, but you already knew many of your teammates after your previous spell at Barça. Was this team very hurt after what had happened two years ago against Lyon in their first final?
That was a very tough stick and I know that from that day on they set out to reach another final, show their face and fulfill a dream again, but in a better way. It has been more than fulfilled: you reach another final and you win it. That would be signed by everyone. And more with how we have achieved it. The other time they had to receive a hard blow, but we left psyched that it was a final, that every second matters and that until the last moment there is a game. With 0-4 I was still nervous in the stands until minute 89 [Risas].
Did you ever think that that girl who left Arucas to the Barça quarry was going to achieve everything she has achieved?
Never. I never thought of being able to enjoy football so much, of living so many beautiful and special moments. It was impossible for me to believe that one day I would leave the Canary Islands to play for Barça, much less enjoy and achieve everything we have conquered. But I didn't imagine being part of this growth in women's football either.
Does that surprise you almost more?
None of us imagined that women's football was going to grow so fast. In these years it has risen in an incredible way. And hopefully so, that they do not put a ceiling on women and we continue to grow. Not in my best dreams did I expect to enjoy this sport at such a high level, to be in such great teams. I have enjoyed the best players, both in clubs and in the national team. That's what I keep.
How many clichés are left to break in women's football?
Many, much remains to be done, much to create and achieve. We are not lacking in desire and strength and we will continue to fight for it. We are on the right track, I do believe that.
There is a lot of talk about the budget that Barça manages, but almost everything is a product of either the quarry or the national team.
If I'm not mistaken, there are only four foreigners. It is true that yes, we have more budget and everything that is wanted to say, but the bet has been for the quarry, for the recruitment, for the national players, for people who have been here for many years. Barça opted for values ​​and for the same values ​​that have made it get here. It would be very easy to sign players from outside, but no, Barça has bet on what they have created, on players who will give their all.
How are you on a personal level?
Well. It has been a roller coaster this season. This injury has been a hard blow, I am not going to fool myself. I was just starting to feel good again, to enjoy football and it's like they take it away from you again. But from the first to the last of the club they have helped me from the beginning, I have felt like one more. And that's to thank. At no time do you feel different or out of the team because I have lived it all with them. In a different way, but with them. It helps a lot. And getting these titles is an overdose to enjoy this sport again, to be with them again.
He even allowed himself to jump on the limp …
[Risas] How not to? I hope that next week when I have to go through a check-up with the doctor, he won't scold me, but you don't win a Champions League every day. I lived it the best way I could. In all the photos I go dodging companions. I lived it to the fullest within my possibilities.
He broke the crusader in 2017 on one knee. In 2019, the other. And now in 2021 back to the operating room. How does it not faint? Where do you get the strength to start over from scratch?
There are times when you give up. I'm not going to lie because that's the way it is. Yesterday I read comments on the networks that said that I never lost my smile, but of course I have lost it. I have had very hard moments, moments of wanting to leave it, but my desire to continue fighting for this, to give everything, is greater than those thoughts. And then the help of my family, team, coaching staff and doctors, who encourage me to continue on those days of downturn and to be able to see the glass half full. Sure there have been moments of losing the smile, but they are moments. Then you think about what you are fighting for and moments like yesterday make it all worthwhile.
Even what he suffered since he left to go to Barça when he was so young?
It makes up for everything. You put a balance and the good always wins the bad. Happiness bends sadness. This effort makes everything worth more, that everything multiplies. I left home when I was 15 years old and I know that my family is happy seeing me happy. When I made video calls with them yesterday, they were happier than I was and that feeling is inexplicable.