Ancelotti: "We're very close, but it's not over yet"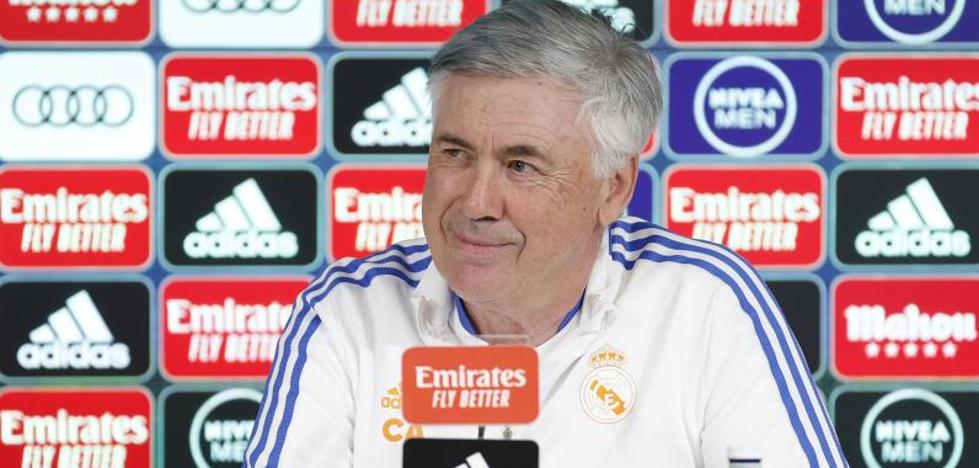 Day 33
Despite the comfortable income of his team, the Real Madrid coach still does not feel like a league champion and prefers to go game by game
Carlo Ancelotti is allergic to the euphoria that has settled in much of Real Madrid. Despite the comfortable lead of fifteen points that his team has over their immediate pursuers, the Real Madrid coach still does not feel like a league champion and prefers to go game by game. "We are very close, we are doing well, but it is not over yet. Tomorrow we have a great opportunity to get closer to winning », he explained in the preview of the clash that will measure the whites with Osasuna on Wednesday at El Sadar.
The Italian coach assured that he has not changed the speech to his footballers. «The same message from all the parties. We are close to winning the league, but we still have games to play. Tomorrow is a game on a very difficult field and we are going to try to win it to get closer to the title », he pointed out before remarking that he does not want to make any kind of guesswork. «The account we do is quite simple: make three points against Osasuna and then three points against Espanyol. If we need more, three against Atlético. I don't need to be a mathematician, I like history more », he pointed out.
What makes you more excited, win the League or the Champions?, they asked him. "Both of them make me excited," replied a technician who has no problem being talked about flower or magic. "The magic is in this stadium, this club. It has something special. Luck is a quality. If they tell me, you're lucky, I have one more quality. Napoleon used to say that he preferred generals with luck, rather than with quality", he recalled.
If the two competitions in which Real Madrid are still immersed are brought to fruition, Ancelotti would become the first coach to lift the 'orejona' four times and also the first capable of conquering the five major leagues. What is more difficult?, they asked him. "I do not know. I have to evaluate my football career. Winning is complicated, it costs you a lot and you can't do it alone. We return to the luck that I have had to train big clubs. There are coaches who are doing a fantastic job avoiding relegation. I am lucky to coach big clubs that give me these kinds of opportunities », he replied.
Rest for Modric

He praised the contribution of Rodrygo, decisive last week coming off the bench, although he also highlighted the good season of Marco Asensio, his competitor for the position on the far right of the attack. «Rodrygo is having a good season. He has made the difference when he has entered the games, he has put quality, energy and speed for the team. Marco has also done very well, he has scored many goals. We have enjoyed the quality of both », he asserted.
He announced that Modric will not be in the game against Osasuna. "Modric is a bit tired and I am going to give him a rest tomorrow," he said of the Croatian. He also confirmed the loss of Casemiro, who did not train this Tuesday due to muscular discomfort. «Casemiro had a little problem yesterday in training, like Mariano and Jovic. But I think all three will be available against City », he indicated. He ruled out rotating Benzema. «When a player is well he does not need to rest. He has good dynamics, he's fine and tomorrow I'm going to put him in », he pointed out about the Lyon striker.
He assured that Vinicius is not worried about his goalscoring figure. "I don't see him obsessed with scoring goals. He wants to help the team. He does it from the beginning of the season, but he keeps doing it. Scoring is not the most important thing." And he finally eluded Gerard Piqué's controversial business on account of the Spanish Super Cup. "I don't want to talk about this matter," he cut short.