Ancelotti: "The midfield is very strong because we have everything"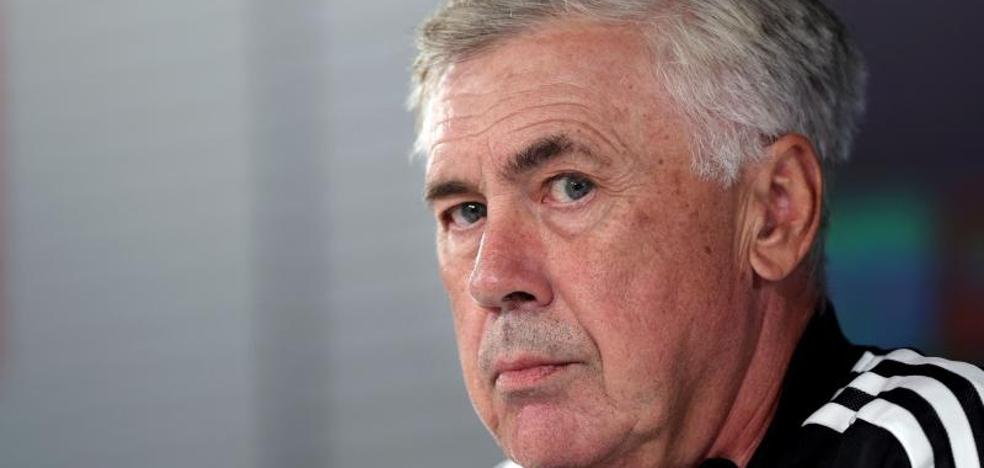 Matchday 4
The Real Madrid coach boasts about the variety of alternatives available to him in his engine room, before taking on Betis
Carlo Ancelotti is very pleased with the variety of resources available to him. Especially in the engine room, where he combines the class and handling of the times of his incombustible classics with the strength and physical power of the vigorous young talents that Real Madrid has been incorporating in recent years. "The midfield squad is very strong, we have everything there: youth, intelligence, quality, energy, positioning... The problem is choosing the three that are going to start the game. But this is not so important, because with the changes and the means that we have we can change the dynamics of the matches at any time, "said the coach in the preview of the duel that will measure his team with Betis, corresponding to the fourth day of League.
Real Madrid returns to the Santiago Bernabéu 106 days later with a summit clash between the two teams that share the championship lead. Therefore, Ancelotti predicted a thorny clash. "We started with a complicated game, difficult, against a good team that is going to compete," said the Italian, who recalled that Betis "play very well, are in good dynamics and are confident."
The confrontation with the Verdiblancos is the first for Real Madrid after the full number of away victories with which they have started the season. "Our idea does not change. We want to keep the same system and the same identity. It may be that at home we push a little more. We will try to play more intense and aggressive, "explained the coach about that return to the Chamartín Coliseum.
The transalpine predicts a League "more competitive than last year" and considers that in the Champions League, which kicks off on Tuesday, "there is currently no favorite", since everything "depends on what happens in March and April. He acknowledges that Real Madrid has "less doubts now than last year", since it has a "very good squad in all positions".
"Hazard is going to have a more important role than last year"

He stood up for Hazard. Although the Belgian does not finish recovering his best level, he sees him in good physical and mental condition. "He is not touched. He is working fine. He is going to have a bigger role than last year. After three games it is difficult to make an evaluation. I am convinced that he will have an important role in this season », he assured.
Praise for Ceballos

He pointed out that Tchouaméni is, due to his characteristics, the player "most suitable" to perform the tasks that in past courses corresponded to Casemiro, but explained that everything depends on the conditions of the matches. «Camavinga played there last year. Kroos is reliable in this position. He depends on how we want to play the games. If you have a very controlled game, Kroos can give us much more there. If more energy is needed, Camavinga and Tchouaméni can do better », he limited.
Of the former Monaco player, he commented that his rapid integration has not surprised him because they had studied him very well. "He is showing everything we thought." But he stressed that they are working on linking him to the conditions of his colleagues. "He defends very well, but we need him to get used to the characteristics of the other players. Playing with Modric and Kroos is different for him than playing with Valverde and Camavinga », he stressed.
"Much of the success of last year was due to players who changed the dynamic when they entered"

Regarding the transfer market, which closed smoothly for Real Madrid, he was happy because he knows he can count on the players whose future was up in the air. "There are many players who only have one year on their contract, but this is not a problem for any of them," commented the Reggiolo coach. Regarding Asensio, he recalled that "last season was important" and was convinced that "this season will be again." "In this squad they are all motivated, because there are players who have played very little and have been decisive. Much of last year's success was because of players who changed the dynamic when they came in," he added. He praised Ceballos. «We love him a lot because he has quality and that is why he has decided to stay. He is a player that we like and that completes a very good spinal cord », he remarked.
He admitted, finally, that the Premier League plays at a different speed with its financial muscle. "I don't know when it will stop. The objective, for each league, is to try to get closer to them, improving the quality of the game, the atmosphere, having new stadiums, avoiding violence... The Premier has come a long way in this regard. With the sale of television rights, he has won against the other leagues », he said.