Ancelotti: "Modric is a fantastic leader"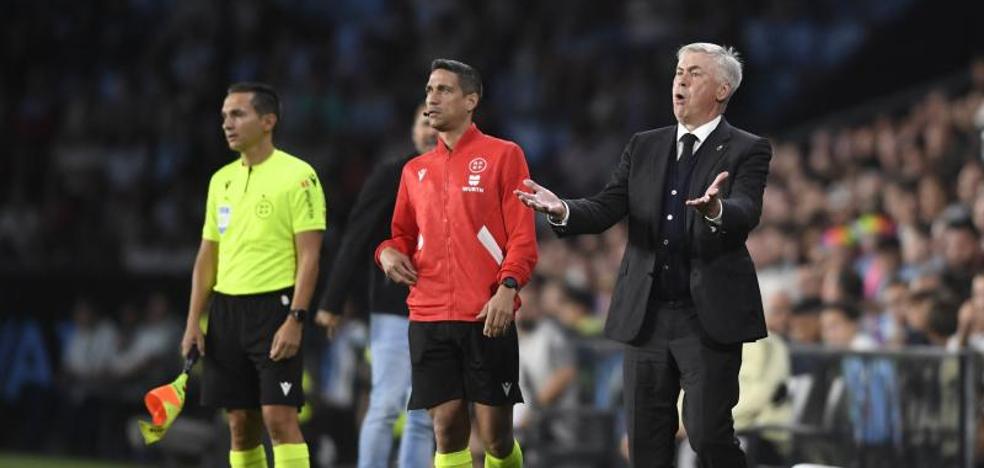 Matchday 2
The Italian coach had words of praise for the Croatian's umpteenth exhibition of play and also positively valued the performance of Tchouaméni, called to replace Casemiro
Carlo Ancelotti was no stranger to the proper name of Real Madrid's victory against Celta in Balaídos. Modric was the absolute protagonist of the game, due to his role in the game and also because of the symbolic ovation that the rival fans gave him, acknowledging his enormous talent. "Modric is a fantastic leader for us, he scored the most important goal of the game because he got ahead of us and from then on everything has been easier, with Celta suffering with our transitions," acknowledged the Italian coach, who breathes easy with the Croatian genius on the lawn.
The Italian also had words of praise for Tchouaméni, the man who monopolized all eyes in the run-up to the match, for falling on his shoulders all the weight of being the natural substitute for Casemiro, a heavy task for a young footballer, who debuts in the League. «He suffered a bit at the beginning but in the second half the ball came out very well, looking for the counterattacks. All three have been very good, "Carletto detailed about the French defensive midfielder and in relation to the role of his midfield in general.
«We try to maintain a 4-3-3 although it is true that Valverde is not a typical winger. It helps us a lot in this position because we are more solid, when Rodrygo is there, the 4-3-3 is more visible, "concluded the white coach in reference to the drawing used, the same with respect to the European Super Cup and before in the final of the last Champions.
Modric himself, chivalrously recognized by Balaídos after being substituted, which shows his stature as a footballer, acknowledged his satisfaction with the gesture: «An important victory in a field where it always costs us. When people recognize you in other stadiums it is something very nice, it makes me very happy and I thank them for applauding me.
"The Casemiro thing is a shame, we have made history here with him, he has been a fundamental piece for us and we are going to miss him a lot as a footballer and as a person. I am sad about his departure but it is part of football », he then added in reference to the departure of the Brazilian midfielder to Manchester United, the earthquake that has shaken Real Madrid in recent days.