Ancelotti: "It's very difficult, but also an incredible opportunity"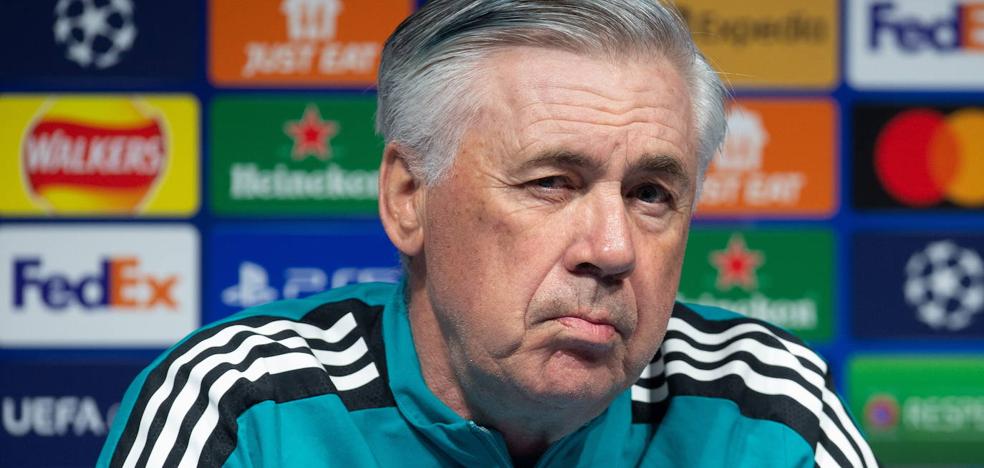 Semifinals | Lap
"The heart is important, but quality and collective commitment are needed", underlines Ancelotti on the eve of the second leg against Manchester City
Aware of the difficulty involved in eliminating a great team of the caliber of Manchester City, but with full confidence in a group that has just lifted the League title. This is how Carlo Ancelotti faces the second leg of the Champions League semi-finals, where Real Madrid aspires to come back from 4-3 in the first leg to open the doors to the final in Paris. To achieve this goal, the Italian coach has a clear recipe book. "Two teams that have great quality, although different, are going to face each other. If you reach a semi-final or win a Champions League, you don't win it just because of your heart. Personality is an important part because it allows you to show quality. The heart is important, but quality and collective commitment are needed. Only part of this does not allow you to be successful in a competition as difficult as the Champions League. If we win tomorrow it will not be only because of the heart, but also because of the quality and collective commitment, "said the Reggiolo coach.
"The team is well, motivated and focused. We have an important challenge tomorrow which is to be able to play another Champions League final. There is a very good atmosphere. We know about the difficulty, but we are very confident. The tie is open, we have a small disadvantage and we want to fix it tomorrow", explained an Ancelotti who highlighted the need to correct defensive errors after his squad has received 99 shots in their last five Champions League games, but who appealed to the bravery of his pupils to confront City. "If we put the block low we are not going to concede 99 shots. If we get inside the penalty area they will shoot us 99 times. Sometimes you have to risk something. We have done it because in these games we have scored three goals against PSG and five against Chelsea. We have the quality to risk », he emphasized.
He welcomed the return of Casemiro, who missed the duel at the Etihad through suspension. "Casemiro is going to help us. His return reinforces the defensive aspect. We have to improve collective commitment, move better as a block, be more compact, avoid problems when they cross. We have worked on the defensive aspect and I think we are going to see improvement", Ancelotti said.
The transalpine is not too concerned about Pep Guardiola's good data at the Santiago Bernabéu, where the City coach has achieved six wins, two draws and only one defeat. "I don't see history going to influence tomorrow. Every game has its story. They have an advantage and we have to do our best. It is very difficult but we have an incredible opportunity to play another final. After winning the League, the atmosphere is very good and we can do it", stressed the Real Madrid coach.
Low of Praise

Ancelotti confirmed the loss of Alaba, who has not been able to overcome the adductor contracture that already caused him to miss the last league game against Espanyol, and elaborated when assessing the improvement that Vinicius has experienced this season. «Vinicius has not changed his position, what he has improved is the finishing. He is much cooler, calmer and takes the time to make the right decision. He has matured in this period and I have given him the confidence to put him in. It may be that this trust that I have given him has allowed him to be more mature in decision-making », he stated about the carioca.
He assured that he has no doubts about the eleven and stressed that it could be a long game and "it is not as important who starts the game as who ends it." He showed his full confidence in Nacho, who will replace Alaba in the rearguard axis. «Alaba is an important piece, but Nacho has also done very well. He is a player who has experience and is going to do well tomorrow », said del Alcalá.
Contrary to what he has expressed about Benzema on multiple occasions, Ancelotti does not see significant changes in the current Modric compared to the one he supervised in his first stage at the helm of Real Madrid. "Modric has not changed. If I had to compare Benzema with him, I think Karim has changed more. Especially when it comes to leadership. It may have changed the perception that the other players have of Modric, who is a fantastic, extraordinary professional with tremendous physical, technical and tactical quality », he pointed out about the Croatian.
Finally, he spoke of the need to play a complete game to beat City. «The low block has to be better than in the first leg, the pressure has to be well done to avoid passes between the lines and transitions. We are not going to plan the game with a low block, but there are moments in the game that you have to defend with a low block », he proclaimed.