Ancelotti: "Casemiro wants to try a new challenge and we understand"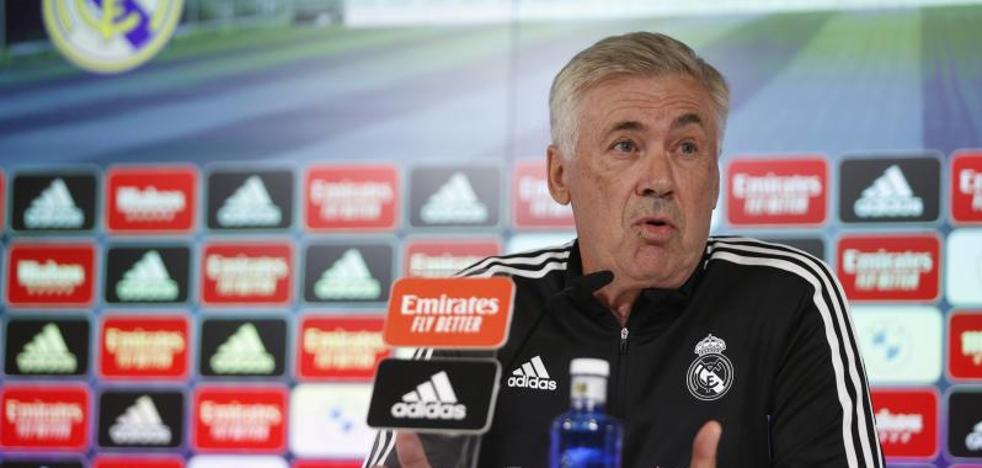 Matchday 2
The Italian coach was transparent in the press conference prior to the duel against Celta and clearly explained the situation of the Brazilian footballer, determined to accept Manchester United's offer and leave Real Madrid
Carlo Ancelotti confirmed the open secret. Casemiro has the firm intention of leaving Real Madrid and has thus transferred it to both the club and the Italian coach, who preferred to avoid hot cloths and explain the situation as it is right now, when in the absence of official status and with negotiations underway Everything points to the departure of the Brazilian towards Manchester United.
"Casemiro wants to try a new challenge, a new opportunity, and both the club and myself understand that. Because of what he has done in this club and the person he is, we have to respect this desire that he has », began exposing the transalpine coach in the press conference prior to the match between Celta and Real Madrid, without hesitation.
"There are negotiations at this time, nothing is official, he is still a Real Madrid player, but it is clear that his will is to leave and if he leaves and they find an agreement we have recourse to replace him," he added next, transmitting the official position of the club, which assumes the hypothetical departure of what has been its defensive midfielder of reference for almost a decade with his back covered after the signing of Tchouaméni.
During the last hours there was speculation about Carletto's ascendancy in the player, as well as the friendship of the coach's son and assistant Madrid coach, Davide, to end up convincing the midfielder to continue wearing white. "No," he answered categorically when asked if he would have tried to persuade Casemiro. "I have a lot of confidence in him, he has helped us a lot and then, listening to his will, there is no way to go back," he added in this regard.
"I think that the fans understand it because to make an evaluation we must take into account the affection and respect that everyone has for a player. We are not angry or sad. It is clear that on a personal level, when you spend so much time with such a friendly and professional person, you are not happy with his departure, but you accept it and respect it, "he insisted on his personal assessment of the footballer's decision, which he has caught by surprise to madridismo.
possible alternatives

"If the negotiation continues, it won't go," he clarified about Casemiro's presence in the call for Vigo. "Within the squad there is a replacement, we have many good players who can play in this position. Tchouaméni has been signed for this position and is one of the best defensive midfielders on the market. Then there is the option of Toni Kroos, who can play in this position, as he has played my second year here. We have Camavinga too", explained Carletto about the options that remain for the position once the idea of ​​​​not going to the market is imposed on the club.
«There were rumors that this could happen but I did not pay much attention to them until yesterday, when I realized that this could happen. Things change, but Real Madrid's plans don't. These plans are to fight and compete for all competitions, "concluded the white coach, who once again served as the perfect ambassador for the club.