Ana Tijoux's loaded hip hop and Dubioza Kolektiv's Balkan party, on Saturday at the Womad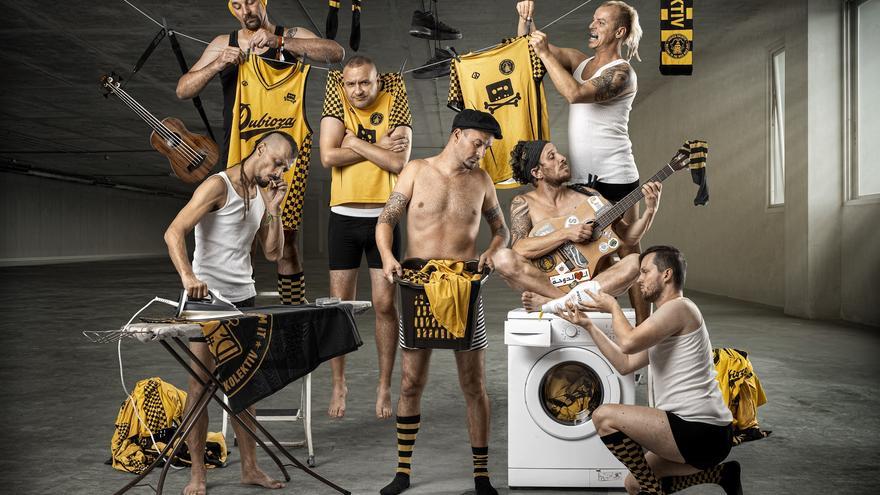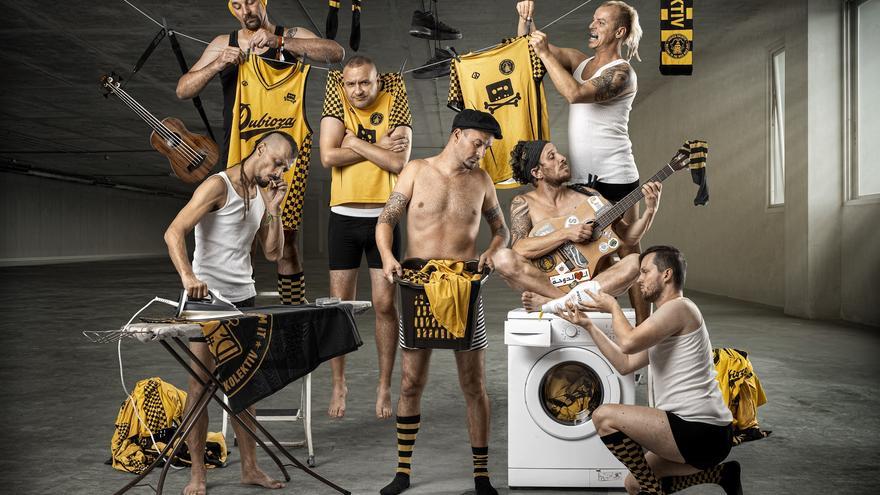 The Chilean Ana Tijoux and the Bosnia and Herzegovina combo Dubioza kolektiv will be the references of the third night of WOMAD Gran Canaria-Las Palmas de Gran Canaria, which will be completed with a rich selection of cultural proposals and emerging local, national and international bands tomorrow, Saturday. Dutch people My baby with its most danceable proposal, the innovative and personal rhythms of Lova Lova from the Congo, the griot culture of Mali that Trio da Kali proclaims, the psychedelic Maghrebi blues of Bab L'Bluz, the electronic dub of Tenerife's The Conqueror Project, the rock without concessions from Gran Canaria Foxy Mammals, the guttural arctic sounds of the Norwegian Vassvik or the transatlantic tropicalism of the French The Bongo Hop will converge on the three stages of the WOMAD, concerts again punctuated by the workshops for children and adults and the literary encounter ' World of words'.
Canarian Television will offer from today Friday the concerts of Said Muti (17.00), Baikamara Jr. & The Voodoo Sniffers (19.00), Oumou Sangaré (21.00) and Amparanoia (23.00) through its YouTube channel. In addition, Radio 3 RNE will offer a special program dedicated to WOMAD this Saturday, November 13, from 8:00 p.m. to 12:00 a.m. Canarian time, with a special hosted by José Manuel Sebastián and Constan Sotoca, with live performances from the festival and a review of the best moments of WOMAD 2021.
ANA TIJOUX (Santa Catalina, 21.00)
Initiated in hip hop, something that has marked her and has transformed her into the Chilean figure of the greatest international relevance of her generation, she uses her music in a highly topical sound exercise, full of urban rhythms that do not forget her roots, and with the that Ana demands the world emergency from us, to be one in all and all in one, to the anti-fascist struggle that, no matter how unthinkable it may seem, is once again necessary.
DUBIOZA KOLEKTIV (Santa Catalina, 11pm)
Among the Balkan styles, the band's musical influences come from all over the world: ska, punk, reggae, electronic, hip hop. Still, there was no music industry and no space for cultural expression and youth. From this oppressive environment the band was born, beating and screaming, generating an authentic phenomenon. History has shown it, these guys stop at nothing to achieve their goals and they do it through the use of traditional musical forms and enrich them with their unique perspective which they deliver along with a positivity that is a breath of fresh air. . Abita, Mattia Schirosa Julien Chanal, Ivan Kovačević, Stelios Togias, Dani Carbonell, Oleksandr Sora and Pere Nolasc Turu, eager to discover and investigate new sounds and always ready to open up new musical horizons.
MY BABY (Santa Catalina 19.00)
It hasn't taken long for the Amsterdam-based group to build a formidable reputation on stage thanks to their unique and unrepeatable sound. Not only do they create a fusion between rock and music, but their hypnotic roots have cast a formidable spell that has taken the world by storm. A sound also mixes between gospel and blues fused with folk melodies from their land and, if to all this we add the funk of the 70s, African blues, Moroccan gnawa, Indian raga and a touch of EDM, all Performed with guitars and percussion without using computers or samples, it remains an explosive group full of sound surprises.
THE CONQUEROR PROJECT (Santa Catalina 17.00)
This Canarian group based in Tenerife was born in 2012, made up of various musicians who decide to take a step forward with a proposal to perform Dub live. The path they have traveled leads them to an unusual live performance: with the basis of reggae they have developed a Dub concert in which they develop their own songs that they compose, giving them a freedom and development that make both the public and the audience enjoy. group.
BAB L'BLUZ (Plaza de Canarias 22.00)
Bab L 'Bluz is bringing the blues back in North Africa. Led by a Moroccan woman in a traditionally male role, the band is dedicated to a revolution that dovetails with Morocco's 'nayda' youth movement: a new wave of artists and musicians drawing inspiration from local heritage, singing words of freedom. Ancient and current, funky and rhythmic, animated by Arabic lyrics, soaring vocals and heavy bass rhythms, the Nayda definitely seems to be beating from the heart of the Maghreb.
TRIO DA KALI (Plaza de Canarias 20.00)
It is a group of prominent musicians from the Mande culture of southern Mali, and although they are of recent training, their objective is simple: to put in the spotlight the forgotten repertoires and styles of performance of the griots. Trio Da Kali takes us back to the roots of this great tradition that, without a doubt, is one of the finest, most subtle and sublime music on the African continent. But they also bring a fresh, contemporary and creative twist to their music in subtle ways, giving this old music new life.
LOVA LOVA (Plaza de Canarias 00.00)
Lova Lova has been constantly evolving within the alternative scene of Kinshasa (Democratic Republic of Congo) as a musician and artist. His musical style is a multiple one: mainly rock, sometimes punk and often inspired by traditional Congolese music. He sings in Lingala, Kikongo and French and in his texts he describes the urban life of Kinshasa with humor and intensity. Sometimes his words leave this reality and fly into ghostly universes and delusional landscapes.
FOXY MAMMALS (Plaza de Canarias 18.00)
Foxy Mammals is a rock group with English, French and Spanish roots, moving between American rock with Blues influences and more garage sounds, with powerful and direct riffs. "Take a dash of The Kills, sprinkle on some old-school Big Brother, and mix well with Black Keys. Foxy Mammals could lead the rock revolution and return it to its rightful place ", as Nick Page himself defined the band.
THE BONGO HOP (Miller Room 21.30)
For an artist like him, who sees himself more as a craftsman rather than an artist, everything revolves around dancing and sharing while reaffirming his Afro-Caribbean roots. Still oriented to provide reminiscences of Latin America and Colombia to his listeners, thus creating new transatlantic horizons that he himself tries to surpass. Somehow, he always manages to make each inspiration of his serve to express the spirit of this multicultural ocean through infinite variations.
VASSIVIK (Miller Room 23.30)
It is the band of deep-voiced experimentalist Torgeir Vassvik, the Sámi artist developing new visions of the lively Joik, a vocal art from northern Europe. In 2016, Vassvik meets the young brothers Rasmus and Hans Kjorstad, whose background in folk music joined his style; a style marked and characterized by not using electric instruments for their songs. Music that is usually described as powerful, dreamy and innovative, with which it creates an unrepeatable experience for the public.
RAS SOS (Miller Room 01.00)
DJ and producer from Almería based on the island of Gran Canaria, with a career of more than 15 years on stage and with presence in numerous national and international festivals. His sessions are a sample of his passion for music with his peculiar, careful and dynamic mix of genres and styles from different corners of the world.
WORKSHOPS
The Miller Building will once again transform its stage space to become a classroom open to learning new ways of understanding music. The workshops of the WOMAD Gran Canaria-Las Palmas de Gran Canaria 2021 program will offer, both for adults and children, a series of activities that will bring us closer to Afro-Latin instruments and rhythms, to southern Italian rituals and a carnival of the Marine life. From Saturday at 4:00 p.m. to Sunday, the day on which it will house the elements that will be part of the final parade, attendees will live new experiences in which they will be able to combine art with critical awareness, through actions that will reflect on change climate and the most ancient traditions.
LEANDRO CHARANGA (Saturday 18.00)
An exceptional professional dancer and teacher who was trained in Havana while leading a company that already has several years of experience. He has mastered and danced in all forms of Cuban dance such as Salsa, Son, Cha Cha, Rumba, Reggaeton, and Afro-Cuban. Leandro's charisma, his sense of humor and his enthusiasm for dancing are electric and in his inimitable style, he makes the best dancer out of each one of us.
CANZIONERE GRECANICO SALENTINO (Saturday 7.30pm)
Created in Puglia in 1975 by the writer Rina Durante, Canzionere Grecanico Salentino is the first and most important group to produce popular music from Salamanca. The fascinating dichotomy between tradition and modernity characterizes the music of the CGS, as the group reinterprets in a modern key the traditions that revolve around the famous pizzica tarantata ritual. A true trance full of dance and music that looks forward, but remembering the tradition.
URBAN OUTDOORS (Saturday 1pm and 4pm | Sunday 10.00)
It is a social company based in London and they specialize in combining art and nature to create enriching experiences, performances and celebrations. They have chosen to explore the themes of marine life and climate change, drawing thanks to their carnival skills, a setting in which they will make sea creatures stand out through the creation of large-scale puppets, headbands and beautiful hand pieces.
IOIO PUPPETS THEATER (Saturday 1:00 p.m. and 4:00 p.m. | Sunday 10.00)
Gilberto Conti spent his youth in Rio de Janeiro, in the international focus of the carnival arts, and there he developed a passion for creating cardboard marionettes and masks. Now with his group, IOIO Puppets, he joins the local artist Miguel Medina from Purple Moon and will focus his workshop on bees and pollination, since the bee is an essential animal for life on our planet. In the workshop, attendees will learn how to create their own jointed bee, flowers, and many other treasures.
The WOMAD Gran Canaria-Las Palmas de Gran Canaria 2021 Festival is organized by the City Hall of Las Palmas de Gran Canaria and the Cabildo of Gran Canaria, with the collaboration of Canary Islands Government, and is directed and produced by WOMAD, DD & Company Productions and Promotion Las Palmas de Gran Canaria.
The Compañía Cervecera de Canarias, through its Tropical brand, supports one more edition of the WOMAD Festival on its return to the city of Las Palmas de Gran Canaria.