Ana Rosa comes out in defense of Ayuso after Aguado's criticism: "His decision is logic"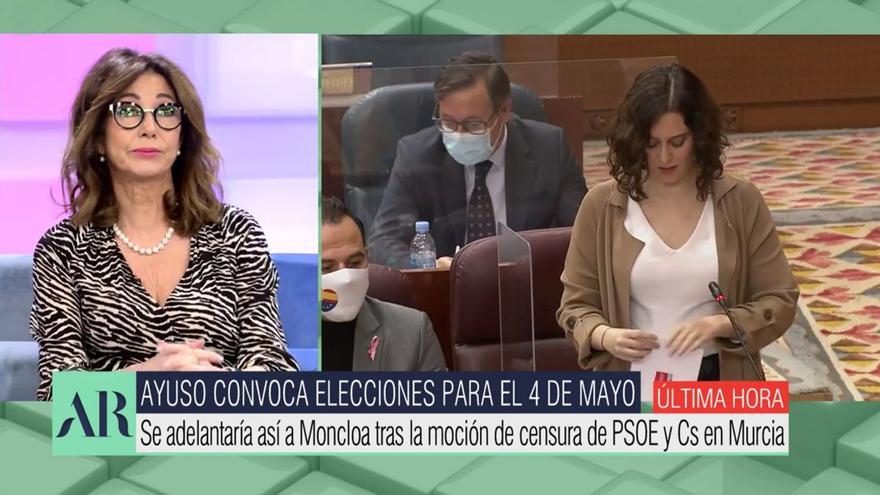 The call for early elections in the Community of Madrid has shaken the rankings of the main television programs this Wednesday. 'Ana Rosa's program' has broadcast live the reaction of the vice president of the region, Ignacio Aguado, who has harshly criticized the decision of Isabel Diaz Ayuso: "The president once again puts her electoral interests above the general interest."
"The president, unilaterally, has decided to break the word given, the Government's agreement and send six and a half million Madrilenians to the elections," Aguado commented before the journalists' microphones: "It seems reckless to call elections the way the situation is. Open the door to an instability that can lead the community to derail in the health, economic and social issue ".
Ana Rosa Quintana He has given his opinion after hearing Aguado's statements, stating that "this is going to get very emotional." "Citizens did not think that Madrid could make this movement after seeing what happened in Murcia? The arguments that Aguado has given are the same that the president of Murcia could have given," he launched before stating that "the solution is to call elections".
"The question is also for Inés Arrimadas. Is this a global negotiation with the PSOE or is it limited to Murcia?" Asked Ana Rosa before sharing her prediction with the audience: "It's like when you put the dominoes, one falls and all fall".
"With the particularity that we are in a pandemic and stability is more necessary than ever and we must think about the citizens," he said. Joaquin Prat, which has not convinced the host of the space: "There have been elections in Galicia, the Basque Country and Catalonia at much worse times." "If you are Ayuso, this is the logical political movement", has defended.