Ana Peleteiro assures that she suffered sexual abuse by a former partner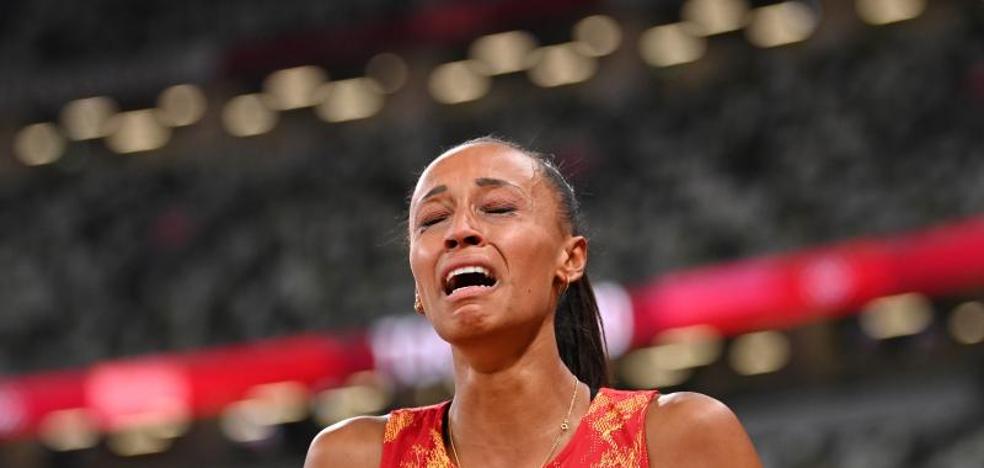 Athletics
"I had already been in a manipulative relationship, very bad and toxic, but up to that point of realizing that the person with whom you have lived has done that to you, it is 'heavy'", confesses the Galician athlete
The Spanish athlete Ana Peleteiro, triple jump bronze medalist at the 2020 Tokyo Olympics, confessed on Sunday that she suffered sexual abuse by a former partner, although she did not give more details about one of the hardest episodes of her life, which It affected him "quite a bit" during his sports career. «I had already been in a manipulative relationship, very bad and toxic, but up to that point of realizing that the person you have lived with has done that to you, it is 'heavy'. It affected me a lot, although I had suffered it before. In my life it was a shock of reality that freaks out, "said the Galician jumper in the program 'The nails' of Atresplayer.
As a result of a previous program, in which personal issues are usually discussed, Ana Peleteiro revealed that she had been a victim of abuse in the past. «I was training in Portugal, watching that interview, and suddenly I started crying. I have experienced what this girl comments on and I did not know it was sexual abuse. I was in total shock and had a hard time digesting it. In fact, I talked about it with my parents and told them what I had suffered, what had happened. In that conversation with my father I did not see his face, but I could feel him like: 'Oysters, I am her father and I have not been able to mediate what was happening,' "explained Peleteiro, 26.
The athlete from Ribeira announced two weeks ago that she is three and a half months pregnant, the result of her relationship with the French athlete Benjamin Compaoré, with whom she says she fell in love "many years ago" and with whom she met again five years ago. On December 6, Ana Peleteiro publicly defended her current partner after various media echoed an alleged conviction for ill-treatment of the French jumper. «Currently Benjamin does not have any open cause or judicial procedure. The complaint to which she refers in the article was precisely withdrawn a few weeks after being filed », she then settled through a statement made public on her social networks.
Ana Peleteiro also referred to her adoption process, "with two days of life." «I thought that my mother had died in childbirth and that is why my parents had adopted me. In 2016 I asked my mother: 'What did my mother die of, due to childbirth?' And she answered me: 'But what do you say? Your mother is not dead. She abandoned you. She gave birth at home by herself and took you to minors in La Coruña. The only information she gave was that she did not want anyone in her family to adopt you and that you had a sister », revealed the Galician athlete. "Suddenly finding out that your mother has abandoned you is more 'heavy' with the 20 years that she was at the time. I took it very bad. It was like… 'in the end I'm adopted because they abandoned me,'" she added. Until now, Ana Peleteiro had only revealed that she had not met her biological parents.