Ana Malcolm and Iñaki Sintes reign in the first round of the Rafa Cabrera Bello Circuit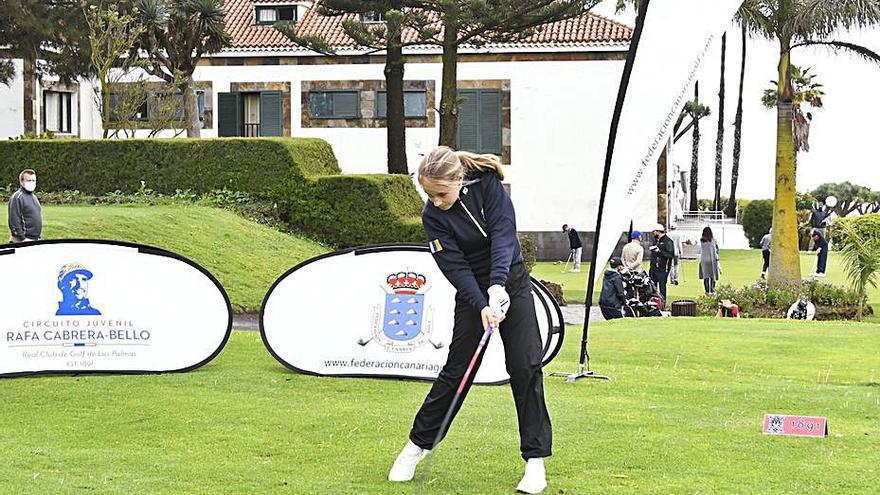 The III edition of the Rafa Cabrera Bello Youth Circuit got underway at the Real Club de Golf de Las Palmas with a day marked by harsh weather conditions. The best ones to acclimatize to the wind and the prevailing rain during the day were Iñaki Sintes and Ana Malcolm, winners of Absolute Scratch of this first test of a circuit that, in 2021, will visit several islands of the Archipelago, and which had the participation at its start of 80 players.
Iñaki took the victory thanks to a return of 75 gross strokes, while Ana presented a card of 79 at the end of her tour in the capital field, which was in excellent condition.
The Scratch winners of the different categories were: Iñaki Sintes, with 75, and Bárbara Rodríguez, with 81 strokes, in junior; David Vega and Ana Malcolm took the infantile category, both with 79 strokes; the fry winners were Álvaro Febles, who presented a score of 85 strokes, and Minerva Sintes, who prevailed among the girls with 90. In the youngest category, played over 9 holes, José Gómez and María de Vicente won.
Regarding the Handicap classifications, the first classified in each category were: Javier Martínez and Catalina del Castillo in the junior category; in infantile the victory was for the brothers Ana Cumplido and Javier Cumplido; while Miguel Álvarez and Paola Galván were the best in fingerling. The winner in the youngest was Francisco Delgado.
The second round of the Rafa Cabrera Bello Circuit will be held on April 2 and will coincide with the Canary Islands Youth Championship, taking place at the Tecina Golf course in La Gomera; while the third appointment will be on April 24, coinciding with the passage of the European Tour through Gran Canaria and the presence of Rafa Cabrera and other stars of European golf on the Island.