An obituary notice: "Family that has not worried in all these years, do not bother to come"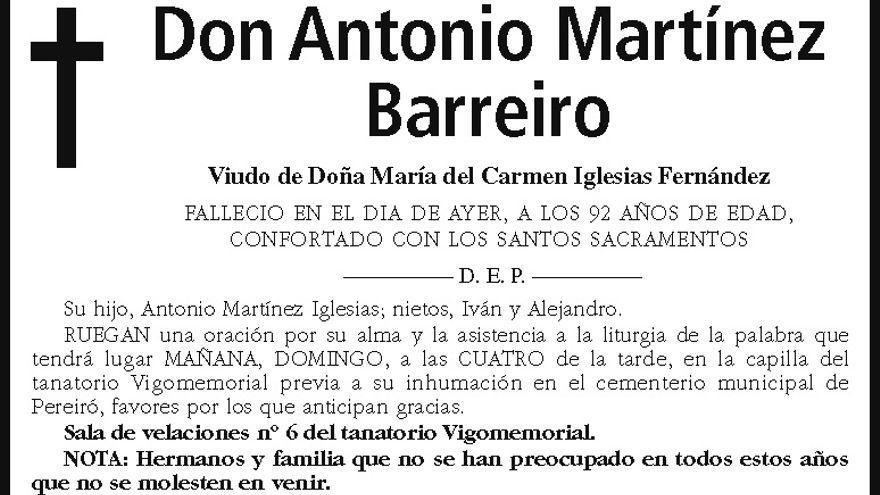 Clear and forceful message from the late Antonio Martínez Barreiro for those who want to understand it. The obituary, published in Faro de Vigo, a newspaper belonging to the same communication group as this medium, is developed according to the usual parameters, with basic information about the wake and the burial. Until a note arrives at the end, a sentence that contains a story that only the protagonists will know: "Brothers and family who have not worried in all these years, do not bother to come". The 92-year-old man seemed to be aware of that famous phrase by Alfredo Pérez Rubalcaba, who once pointed out that "In Spain they bury very well", alluding to the praise and attention that is granted after death or figurative), when in life the treatment was not of that tenor. If the Hereafter exists, surely man will be vigilant so that his last will is fulfilled.
It is not the first time in recent times that obituaries with unusual messages have been published in the pages of the dean newspaper. At the end of February, a Vigo man who died in Beade showed his particular way of showing affection: "They never told you to drink polo when I didn't love you." This "tireless fisherman" fought all his life "ben against canker ben poles seus dereitos e os dos outros" can be read in the obituary. "Family and friends can never thank you for everything or for teaching us."
The previous month there were those who chose to turn the last goodbye into an act of celebration. It was Alfonso Senra Vazquez, whose curious obituary His family and friends beg that he drink (and a lot) in his honor. And, also, that nobody worries about the bill. It's all paid. Sooner or later – they joke – the deceased will take care of the bill. "Pregan unha borracheira that xa will happen to pay it", is collected in the text.