An ironic anti-dictionary of the world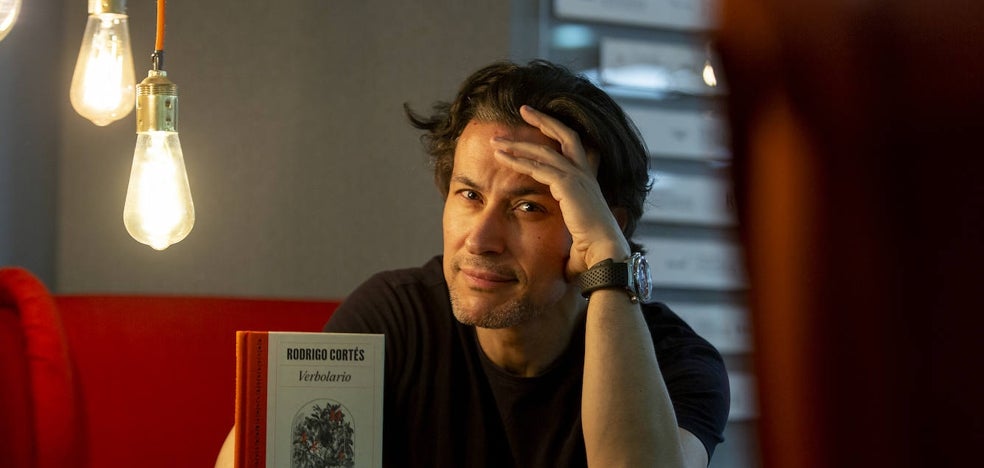 The filmmaker and writer Rodrigo Cortés publishes 'Verbolario', a glossary of definitions crossed by humor and the absence of solemnity
More than a dictionary, Rodrigo Cortés has composed an anti-dictionary. In the same entry, the writer and filmmaker offers definitions that can even be contradictory. 'Verbolario' (Random House), a section that appears every day in the 'ABC' newspaper, is also the name of the latest work by Cortés, a multifaceted man who throws a lucid, poignant and humorous look at things. From A to Z, from "abandonment" to "zuzón", the writer displays high doses of poetic and philosophical ingenuity. "I try to look at the world in a very dispassionate way. Reality is sometimes cruel because it is implacable », assures Cortés about his book, edited with care and in the old way, with an artisan invoice. The author is aware that he is treading on slippery ground when he tries to grasp reality and reduce it to its essence, as poets do. For this reason, to take the gravity off what he deals with, he brings an ironic vision. "I try not to fall into gravity or solemnity."
It was Juan Gómez-Jurado, a friend and colleague on the podcast 'Here are dragons', who sent a sample of his work to the director of 'ABC' without Rodrigo Cortés knowing. Since then, this cultivator of the art of brevity sharpens words. His proposal was well received by the editor of the newspaper and since August 1, 2015 he has illustrated a page with a flash of insight. This is how he has written 2,500 entries in his particular dictionary.
Readers encounter one or more meanings that dazzle and for a brief moment dislodge the reader's mind. Brain synapses come apart, for example, when reading the definition of "chess": "A game that consists of squeezing your temples while time passes."
The author, turned into a lexicographer, starts from the premise that «language serves more to hide than to reveal». The intricacies of each word, the true meaning is often the "opposite" attributed to it by the Royal Spanish Academy (RAE). It is this spirit that leads him to conceive "failure" as "the verdict of the jury, even what is correct."
"Understanding smallness"

Sometimes a feeling of pessimism creeps into the book, but in the end skepticism always prevails. If he distances himself from his work, Rodrigo Cortés thinks that he never takes himself too seriously. "I understand my smallness, I contemplate the words from many points of view, all capable of provoking some kind of laughter."
The author tries to grasp reality and reduce it to its essence, as poets do.

'Verbolario' would not exist without Isabel Vigiola, widow of cartoonist Mingote. Vigiola was reading Cortés and one day he invited him to dinner and showed him his library, where he showed him a copy of Ambrose Bierce's 'Devil's Dictionary', a hard-to-find book whose acquisition requires collector's research. It is a rare work, in which the author displays his satirical and sarcastic talent to turn the world upside down. Isabel Vigiola saw the fascination that volume aroused in her guest, in which Bierce invested 25 years of his life, and gave it to her. Already at home, the filmmaker began to play with verbs and nouns and extracted unsuspected discoveries from the vein of language. Findings that, brought together in a book, work magic: the words are related to each other and reveal encrypted messages between their folds.
«Isabel Vigiola was a very special woman, a commanding officer. She wrote everything down in a notebook. She once went to buy a sole at the market and came with a ruler to make sure it fit in the oven ».
The author starts from complex information to express the highest density in the smallest possible space

Knowing that humor and current affairs go badly together, the author has fled from the journalist's job to give his work a label of permanence. «Humor and actuality are not necessarily antithetical, but they are not the best friends in the world. That which adheres to reality is generally expendable, three days later it is invalid, although strange synchronies sometimes occur». Nor has it been the intention of the writer to pursue the aphorism, a genre that he has cultivated on other occasions. "As soon as something risks being solemnized, I try to break the glass."
Unlike Bierce, who elaborated on his definitions, Cortés seeks essentiality. Part of a complex information to express the highest density in the smallest possible space. "The reader takes a pill that decompresses in his mouth and recovers all the aromas and evocations of the information." After seven years, Cortés has not tired: his vocation as a lexicographer endures and he will continue to give game.