An increasingly essential foundation to forge solid professional careers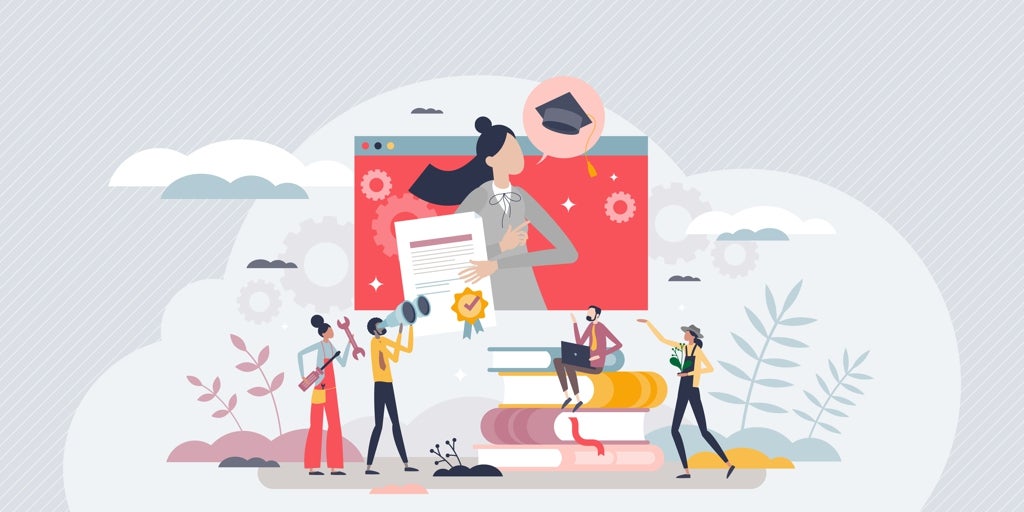 In a labor market in constant change and technological transformation, higher education is presented as a great ally and differentiating element in the search for employment. Nothing is guaranteed, but there is a clear relationship between training and quality employment. "You can join the job market more quickly and in better conditions depending on your level of studies, which continue to be an important factor in the world of work," emphasizes Alberto Riesco Sanz, professor at the Department of Sociology at the Faculty of Economic and Business Sciences of the University Complutense. "Unemployment rates are clearly lower if you are licensed and it is an easier access door to employment, and to a higher salary," adds this expert specialized in Sociology of Labor and Employment.
However, it recognizes that as access to higher education has been facilitated, pressure and demand have been created to continue postgraduate studies, joined by those who are committed to continuous training, another of the clear factors to stand out as a candidate.
One of the great changes in all fields, including work, is technology, something that students know well. «We feel a stronger pressure from the students so that the training is oriented to what the company demands, that the skills used when looking for work be transmitted to them, something that is easier to carry out in some studies than in others", emphasizes Riesco. Students who also claim to carry out internships to have real contact with companies and institutions as well as receive specific training such as English applied to the business world.
To the extent that it is a highly changing environment and we do not know what jobs are going to exist in a few years, "there is a risk of creating very specific study programs. In the degree, transversal and broader tools must be provided that later in postgraduate and own degrees (public and private) the jobs can be developed and adapted », he points out. The University is the center where "a broad general basis must be offered that allows adaptation to constant change with tools such as analysis, research, understanding and communication".
Alberto Gavilán, Director of Talent for the Adecco Group, also highlights the importance of training and qualifications to get a job. "Last year people with training higher education suffered an unemployment rate of 10.2%, while those with only primary education suffered an unemployment rate of 28.6%", he highlights. However, when analyzing the job offers published in the last year, "those aimed at university graduates are still below those that require graduates in Vocational Training."
Therefore, there is a trend of not needing the degree to have a prosperous working life, although "if we want to access the highest positions (middle management, managers and highly qualified technicians) this requirement will always be present due to the specialization that university training. And also, normally, the higher the rank and the more responsibility, the higher the salary", explains Gavilán.
double salary
According to INE data from the latest Salary Structure survey, from 2018, «a graduate earns twice as much on average as someone with compulsory studies. He earns 37,800 euros per year compared to 18,500 euros who have not studied a degree », reveals Ángel Soler, author of the report « The facets of well-being » of the BBVA Foundation and the Ivie. In the first years of professional career, the differences in remuneration between employed persons with different studies are moderate, as time goes by they become much more important. Based on the data from the previous survey, at 55 years of age, the difference in annual salary between an ESO graduate and a higher vocational training graduate is 10,000 euros, compared to a graduate it is 15,000 euros and compared to a graduate it is 25,000 euros. That is, an employed person with a bachelor's degree receives a salary that multiplies by 2.3 that of one with compulsory secondary education (ESO), while a graduate and a graduate in higher vocational training see their salary multiplied by 1.8 and 1, 5, respectively.
There is a debate about educational spending and its return. "For every euro spent more on education, more is reinvested, you earn more, you spend more, more taxes, more personal income tax, less unemployment," says Ángel Soler. From the private point of view, education has more costs, economic and opportunity. "Families must invest in education for their children. It has a private profit. Your income, in the job market, will be higher », he clarifies. And while this private return on education has fallen somewhat in recent years, "it cannot be a disincentive to study."
Continuous training
Although in some areas studying a degree is a differential and in others a postgraduate study is more so, «the current context has changed. As almost all roles must be updated, more punctual training begins to have more weight, "says Miguel Sarrión, director at Peoplematters, a Human Capital consultancy. In his opinion, we are approaching the Anglo-Saxon market where accreditations and certifications carry a lot of weight. «In Spain, accreditations, which are specific tools, have more and more weight, but the same does not happen with certifications, which allow you to be trained to practice successfully in a certain area». He trusts that there will be a change, albeit a slow one, and that certifications will be taken more into account in the selection processes.
Note a change in the candidates, better prepared "with better higher education that begins to work on soft skills tools and a reduction in the university-company gap. It is committed to communication, teamwork, critical thinking... and it goes a little better». Remember that once you enter the job market you have to continue training. «Continuous training is totally necessary, you have to reinvent yourself, but with the mentality of Spain, companies continue to doubt whether to pay for courses if they are later going to leave the company. But when you invest, it's a win-win."
Of course, he recognizes that the worker, when he wants to invest in his training, "needs support from the company, not only financial, but time to study." Sarrión also points to continuous training, within the company, as a way of looking for the most demanded profiles, instead of going to the market to find them. "Companies must commit to internal development and have an open mind. That everyone can reinvent themselves, even seniors."
As the Director of Talent of the Adecco Group recalls, in companies, workers and companies "they must bet on practically continuous reskilling and upskilling and, in addition, it would also be advisable to carry out a task of disseminating qualifications (university but also VET and training for employment) that continue to have greater employment opportunities, higher pay, and many of their vacancies remain unfilled (electromechanics, for example) and implement the extension in all territories of Dual Vocational Training as a modality with a proven effectiveness and validity in other countries around us (Germany, etc)». It is not just about choosing a career because training is now continuous, «the context in which we live makes us constantly need to be trained, to expand knowledge and work in a process of continuous training that makes our skills and abilities better than ever. knowledge become obsolete for the labor market", he points out.
greater variety
It also considers that in terms of training, with a view to the training of workers and future workers, the best thing would be to expand the training offer both in quantity (more offer in industrial, health and technological modules, for example, in some territories) and in typology of courses that allow Vocational Training to remain "aligned" with market demands (new technologies: IOT, IA, big data, drones, autonomous vehicles, block-chain, electronic commerce, etc).
health on the rise
The health crisis continues to condition the demand for qualifications and according to the Adecco 2021 Infoempleo Report: Employment supply and demand in Spain, for the second consecutive year, careers related to the field of health are the ones that have increased their weight the most in the offer of employment and for the first time they become the most demanded (46.96%) practically doubling their weight with respect to the previous year. Almost half of the job offers that were published last year in our country were looking for professionals in the field of health.
Nursing remains in second position, which two years ago was in seventh position and is establishing itself in second place in the ranking that it reached in 2020 and brings together 12.42% of the offers. In third place is relegated Business Administration and Management (5.36%). For years it has been the most required degree in Spain, but in the last year it has lost that hegemony and it is the race that has given the most weight.
«With the outbreak of the pandemic, Medicine and Nursing degrees have become the most sought after in job offers in Spain, which reflects a shortage of talent in these sectors that already existed before the outbreak of Covid. The pandemic only increased a need that already existed," explains Alberto Gavilán, Director of Talent at the Adecco Group. In addition to these degrees, double degrees such as Law and Business Administration, and the like "give access to a very wide range of possibilities," he adds. Gavilán also underlines that engineering profiles are not only attractive at a technical level, «but when they are complemented with a master's degree in finance in branches such as strategic consulting, banking, etc. they gain employability and become highly demanded profiles». On the other hand, bilingual options in English or other languages ​​also guarantee long-term employment.
As in previous years, there are still jobs that remain unfilled due to the lack of candidates with the required training. In addition to the aforementioned health branches, there are also profiles linked to the IT sector such as programmers, cybersecurity managers, AI, telecommunications... «But not only at that level, within the professionals who require VT there are several areas in which it is lacking talent. According to the latest Adecco report on Labor Market Needs, almost 1 out of every 5 vacancies that remain unfilled occurs in the Transport and storage sector. There is also a recurrent shortage of labor in the industry for technical profiles and trades, and in the Hospitality sector when they look for qualified professionals", recalls Gavilán.