An expression of art in freedom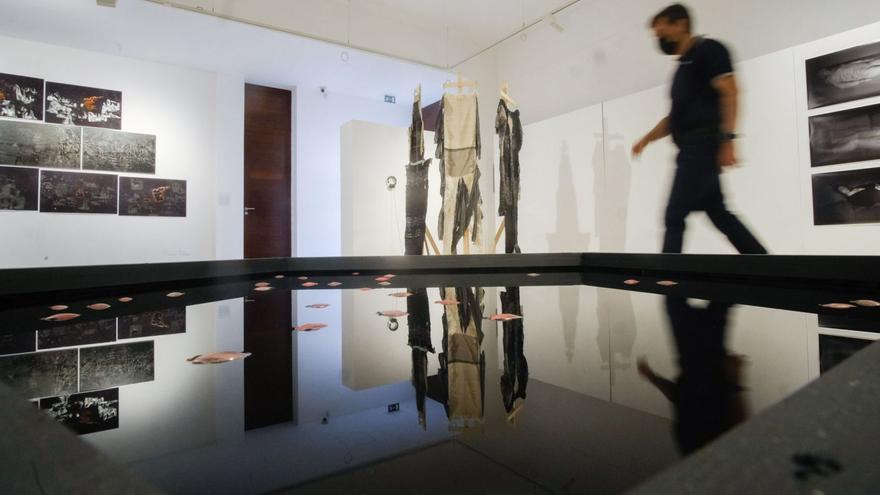 Carmona clarifies what NOmade Bienal represents. «The spirit of this exhibition supposes the convocation of artists from different parts of the world in a quite collaborative project where we are creating connections in different countries. We have already worked in Chile, Ecuador, Sweden … and now here ». Inés Artola is a Spanish art curator and resides in Poland where she met Victor Hugo. «Bienal NOmade is not every two years, but when the artists find the exhibition space and have the opportunity to show their work. It is an organic project. It is not a group of creators who move on but rather include different people who travel through different territories, which always creates new dialogues and each show is completely innovative ».
The curators Bravo and Pacurucu set guidelines, but each artist proposes a vision based on the curatorship of their country. According to Artola, this time there is a basis of freedom that normally does not exist. «Usually, the curator launches a theme and the artist has to react to it. I find it very interesting that here there are more personal contributions from the exhibitors and that they are portable works that come from a different side. The collaborations that elaborate the discourse are growing ».
Díaz has received the Marie Curie award for which he spends three years researching between Padua and Egypt. For the collective he brings his work Cromatopia whose etymology represents color and place. «These are soil or soil samples from different parts of Gran Canaria, specifically from the area called Neotamarán. It supposes everything that goes upwards by drawing an imaginary line between Agaete and Ingenio. A geologist described the island's study points last century. He spoke of fluvisol or leptosol, but that terminology didn't tell me anything, so I have collected earth and translated it into the language of color. I question the value of land in the Canary Islands, which hardly exists anymore because everything is very urbanized ».
Carmona has brought a work from the series The soul of the birds. It has two fundamental pieces, the loom fabric and a video performance. The idea encompasses "disappearances, the concealment of the body that can be taken contextually and metaphorically from my country, Chile. It also has to do with the disappearances of women throughout history. I represent a kind of shroud. I really like to link the concept of the poetic, of what does not exist and the impossible in my work, "he says.
Roitman stressed that his contribution is based on a musical score by Juan Campoverde. «I refer to the origin of life that is represented in shots of an electron microscope filming microorganisms and I make an animation of particles as if catapulting into the future. It is a work that refers to this pandemic where the covid is an invisible enemy.
Montes shows a set of small statuettes based "on the public monuments of presidents located in Santiago de Chile. They are intended as travel souvenirs, as if you could buy them in a collection that can be carried from one place to another. I was interested in this relationship with relocation, the transfer of something from one place to another where it acquires a new meaning.
For his part, Alvarado brought a piece that has a lot to do with "the breakdown of the historical process of craftsmanship as a means of representation. I have started from an artistic drawing to which I applied technology to work based on pixels and I took it back to crafts to build the work. I try to show that contemporary art does not have a history line but is a combination of all the processes that seek to contribute points of view and discuss positions in the art world, which is unique and sensorial. With the use of technology I intend to offer an idea of ​​the historical break. The artist uses green to highlight the struggle for nature.
Fuentealba-Fabio was based on the title of the exhibition, Burning up, which served as a reference. Through some canvases he explains how a monk in 1963 burned himself in Saigon. «There is a hellish scene of the burning, the shirt of the group Rains against the machine and an English car. I want to relate the migrations, burn to defend themselves against oppression and remember what happened with many Africans who travel to Europe. I did the work to represent the love of something ». Matuszak has produced a work entitled Hysterium, a combination of hysteria and mystery. "I have created a video taken from photo negative frames and related to the pandemic, trying to resurrect all those who have died from this strange situation." It also exhibits six photographs taken with an infrared camera in full darkness. «I show members of my family in relation to the pandemic again, when the confinement where nothing was done, just waiting. The eyes shine because of the camera. In animals you can see this effect more ».
For the individual exhibition Víctor Hugo Bravo wanted to show various themes. One was based on the crackle of insects, on the cracking of bones. It encompasses multiple digital images of faces. «I represent the hordes, the awakening of the peoples to avoid the abuses that, in Chile, my country, has been something very violent. I make a boiling of the dark, a construction of the most unconscious in this series ». Impaled heads also appear "that have to do with drug traffickers in Mexico and the connection they have made with ultraviolent groups in Arab countries. This violence that includes hitmen has entered my country. Bravo has some videos in which audios talk about the people, their strength, the State and the powers. "All my works always circulate around power and with violence always in between."
An image of Galvarino hangs on the wall. He is a mythical Chilean indigenous. «I enter his image framed in the Marvel world, as an element of social vindication. I return to show violence, death and migration ».