An error by Celta de Vigo enables Eibar to draw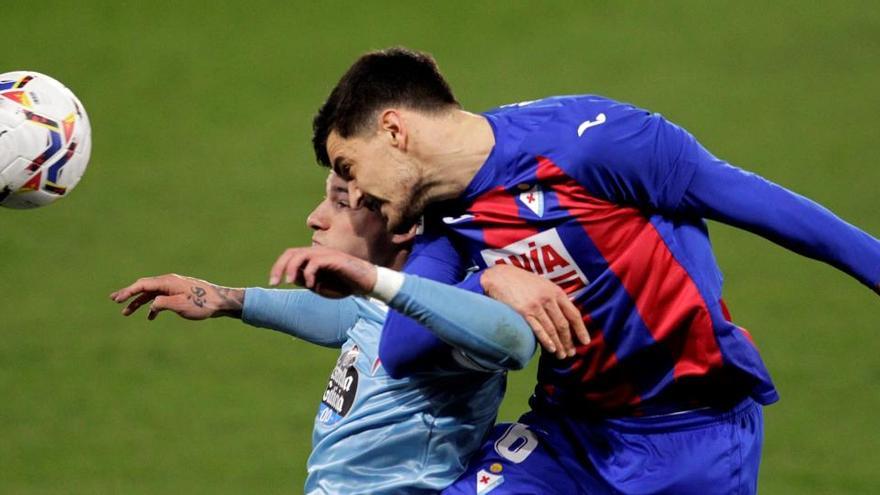 A new defensive error and the lack of hitting in attack against the absence of Iago Aspas they again limited the RC RC Celta, what tied at Balaídos before the SD Eibar (1-1) in an even game with few scoring chances. The Galician set still winless in 2021.
Celta found a carom shortly after starting the game: a heel from Santi Mina bounced off Sergio Álvarez and the rejected ball placed Brais Méndez only before Dmitrovic. That fatalism of Eibar cost him a goal, an early goal in the first half with few chances.
Without a clear dominator, and despite the push of the Basque team for many minutes, the first half progressed without major shocks for the goalkeepers. Eibar tried with a distant shot from Bigas; Celta responded with a cross from Nolito that Olaza sent to the post; minutes later, in a corner badly defended by the blue team, a bad shot from Kike García arrived; near the break, Kike Garcia tried with a deflected shot.
Eduardo Coudet reinforced his midfield with Okay, perhaps to have more control. However, the coach's plan fell through early in the second half. A loss of the ball by Okay facilitated the equalizing goal of Eibar, who took advantage of the celestial defensive error to answer with a fast Muto-Bryan Gil combination. That failure of the Galician team near their area -with a goal from the rival- is similar to those committed against him Betis and Villarreal in the two previous days.
The draw calmed Eibar and stretched Celta. Eduardo Coudet's team advanced their lines. Seized the ball, created danger. The first warning was a deflected shot from Brais Méndez; then, a center from Olaza ended with a powerful header point-blank from Hugo Mallo that Dmitrovic cleared; the goalkeeper was decisive again minutes later to cover a shot from Brais Méndez.
Celta did not slacken, despite the fact that, without the genius of Iago Aspas, he lacks punch in attack. He managed to lock up Eibar, who resisted with little difficulty, except in the last action of the match, a distant foul hanging over the Basque area that, after a header from Okay, left Brais alone near the small area to close the match with a shot loose.
Data sheet:
1. RC Celta: Rubén Blanco; Hugo Mallo, Araujo, Murillo, Olaza; Beltrán (Alfon, min. 74), Tapia; Brais Méndez, Emre Mor (Okay, min. 46), Nolito (Baeza, min. 80); Santi Mina.
1. SD Eibar: Dmitrovic, Pozo, Oliveira, Bigas, Soares; Recio (Diop, min. 75), Sergio Álvarez (Aleix García, min. 62); Muto, Edu Exposito, Bryan Gil; Kike García (Pedro León, min. 75).
Goals: 1-0 Brais Mendez (min. 9); 1-1 Bryan Gil (min. 53)
Referee: González Fuertes (Asturian school). He admonished Tapia (min. 24), Okay (min. 53), Brais (min. 65) and Santi Mina (min. 80) by Celta; from Eibar, admonished Soares (min. 1), Edu Expósito (min. 43) and Recio (min. 64)
Incidents: Meeting corresponding to day 20 of The league Santander played in the municipal stadium of Balaídos.