An armed robbery forces the evacuation of TEFAT from Maastricht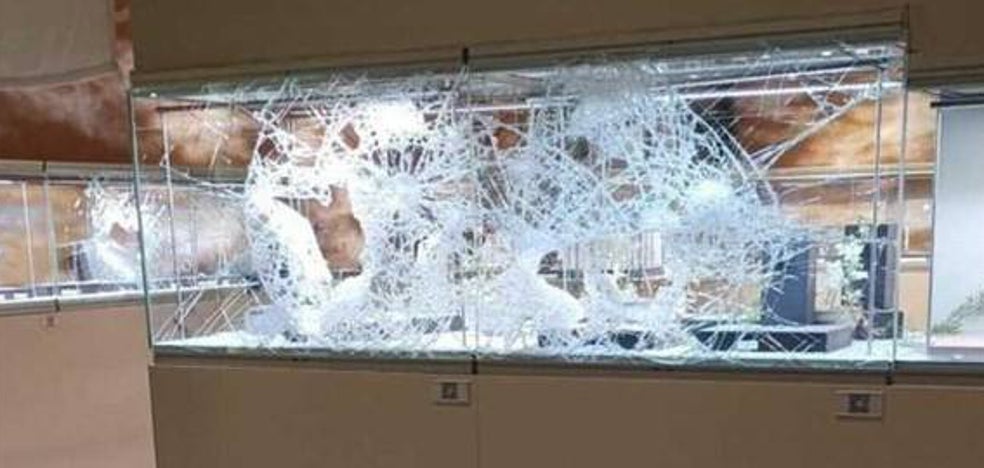 The assailants smashed some armored showcases with hammers to seize the valuable jewels of a British exhibitor
The Maastricht European Fine Arts Fair (TEFAF), the most important art, antiques and jewelery competition in the world, was evicted this Tuesday after the spectacular armed robbery of extremely valuable pieces from one of its exhibitors. , the London jeweler Symbolic & Chase. The Dutch police confirmed after the eviction that they had arrested two suspects in the violent assault, two young Belgian nationals aged 26 and 22, while two other suspects remained on the run.
"We received a report of an armed robbery at TEFAF by four people," Limburg provincial police said in a statement posted on the national police website. "No one was hurt but the thieves got their loot," they confirmed.
Images from a video posted on social media showed four smartly dressed men, one of them armed with a sledgehammer, smashing several jewelery display cases. One of the assailants appeared to be holding a gun and pointed it at a person who tried to intervene. After putting the jewels in a bag, the thieves ran out of the congress palace that houses the fair under the din of the alarms and without security personnel being seen on the video.
Open to the general public last Saturday, TEFAF is held annually in Maastricht, in the south of Holland, and exhibits tens of thousands of classic and contemporary pieces of art, antiques and jewelry, in a time span that covers 7,000 years. Almost 250 gallery owners, antique dealers and jewelers meet there each year and the fair attracts around 75,000 visitors. TEFAF celebrates its 35th edition this year, after two years of hiatus due to the pandemic.
In a statement TEFAF confirmed that the attendees had been evacuated at 11:30 in the morning due to an "incident". "The fair's security team acted quickly to disarm the criminal and the police arrived at the scene within a few minutes. No one was injured," the organization said.
"Strict security protocols were put in place," said a spokesperson for the contest. "TEFAF has robust procedures in the event of a security breach. These were followed precisely and all visitors, exhibitors and staff were safely evacuated. The fair has reopened its doors and is collaborating with the authorities. No future statements will be made in this regard, "the incident was settled.
TEFAF has suffered other thefts in the past. In 2011 they took jewels for a value never specified and the previous year the thieves stole a ring and a pendant worth 860,000 euros. In 2008, a €1.2 million diamond necklace disappeared.