An ambitious Osasuna takes the procedure before Cádiz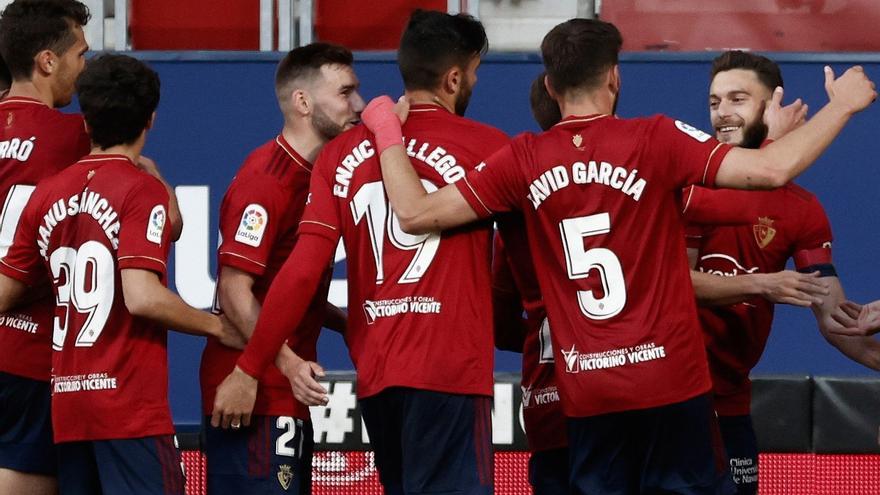 Osasuna beat Cádiz 3-2 to win again four days later thanks to Ante Budimir's brace and Roberto Torres' penalty that serve to overtake the people of Cadiz in the qualifying table.
With salvation already in your pocket, Osasuna Y Cadiz They jumped onto the El Sadar lawn with the hope of continuing to add points to their locker, something that did not seem to serve as a stimulus. Arrasate and Cervera witnessed at the foot of the field a first half lack of rhythm and chances.
A Cádiz started better than it had the first occasion. The Honduran, Choco Lozano, sped down the left thanks to his great stride before being alone before Juan Pérez. The red goalkeeper won one on one. The locals were saved.
The relaxation was noticed in the 22 protagonists and the clash seemed doomed to 0-0 until Manu Sánchez and Ante Budimir agreed to avoid it.
The youth squad on loan from Atlético de Madrid put up a perfect center from the left that the Croatian Budimir took advantage of perfectly to put the head 1-0 with 7 minutes remaining in the first half.
As soon as the second 45 minutes began, David García slapped Garrido inside the area. Jaime Latre decreed a penalty and the Serbian Ivan Šaponjić introduced the ball into the Navarrese goal with a strong and tight shot.
As the minutes passed, Osasuna took over the game and Arrasate introduced numerous changes to turn the script around. He gave minutes to Gallego and Jony, footballers who are not having great prominence this season.
A great combination between Moncayola, Jony and Budimir was culminated by the forward with a great shot at the half turn that hit the post before entering the goal defended by David Gil. 2-1.
With 4 minutes remaining, Roberto Torres scored from 11 meters on 3-1. The duel seemed seen for sentence, but Alberto Perea made up the result with his goal.
Data sheet
3 – Osasuna: Juan Pérez; Nacho Vidal; Unai García, David García, Manu Sánchez (Juan Cruz, d. 85); Javi Martínez (Moncayola, m. 64), Oier (Torres, m. 64), Lucas Torró, Rubén García (Jony, m. 71); Chimy Ávila (Gallego, d. 64), Budimir.
2 – Cádiz: David Gil; Iza, Akapo (Garrido, m. 20), Alcalá, Mauro, Espino; Jonnsson, Garrido (Pombo, m. 77), Sobrino (Negredo, m. 77); Choco Lozano, Saponjic (Jairo, d. 69).
Goals: Budimir 1-0 (m.38), Šaponjić 1-1 (m. 50), Budimir 2-1 (m. 75), Roberto Torres 3-1 (m. 86), Perea 3-2 (m. 91) .
Referee: Santiago Jaime Latre (Aragonese Committee), assisted by Buena Mateo and Tresaco Escabosa. The Aragonese referee showed David García and Nacho Vidal yellow for Osasuna. To Espino and Iza on the visiting side.
Incidents: Match corresponding to the thirty-sixth day of LaLiga Santander played in El Sadar behind closed doors.