An afternoon 'with flow' in CANARIAS7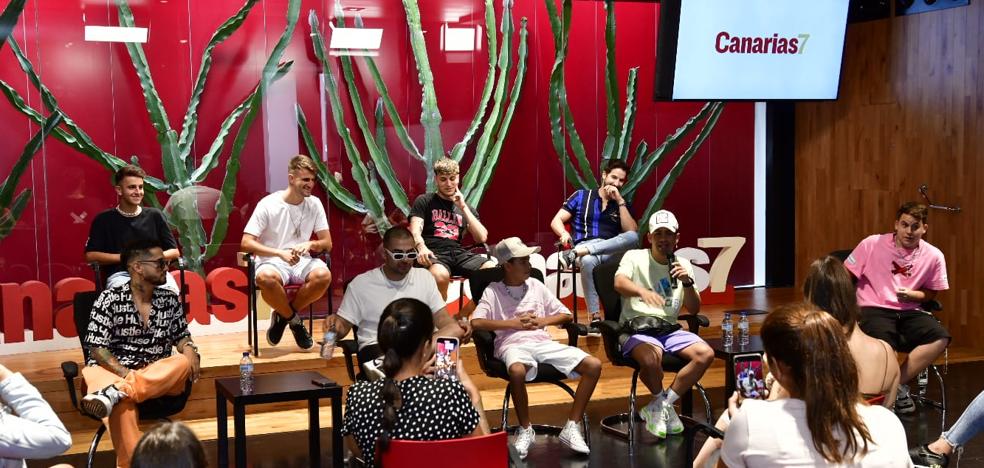 The artists were present at the newspaper's facilities to meet their admirers
Expectation, nerves, a lot of heat and, of course, 'flow'. This Thursday afternoon will be remembered by the 20 lucky winners of the draw organized by CANARIAS7 to meet Carlos Torres, Kiño, Kevin Bury and Juan Palau. All of them are part of the cast of 'La Reina del Flow', a series that continues to be the most watched on the Netflix platform in Spain.
The partners landed from Colombia at the El Sebadal facilities. There, a group of dedicated followers awaited them: "I am fifteen years old again," said one of those present. And it is that the artists have raised passions among the Canarian public of all ages.
Roberto Herrera was the master of ceremonies of the event and, after waiting, the moment arrived: the faces that they had seen through their screens materialized in flesh and blood.
Another image of Colombia

Thus, Bury, Palau, Kiño and Torres took to the stage of the CANARIAS7 assembly hall. The Colombian cast was also joined by Canarian and peninsular performers: the chicharrera duo Adexe and Nau, Juanfran and Leyvan from Gran Canaria and Carlos Heredia from Malaga did not want to miss the opportunity to be closer to their audience.
Both Kiño and Torres are happy to have drawn "another image of Colombia" in the international territory, linked to the music and the talent they show with their songs. After the recognition gained with their performance in fashion production, the artists want to continue being part of the music scene: "Thanks to the characters they were able to get to know us, now we have to have a name of our own," said Palau.
After the discussion with their followers, the attendees had the opportunity to take photos with their idols, a moment they took advantage of to convey the love and admiration they feel for them.
The artists eagerly await the meeting with their public next Saturday, July 24, in Gáldar with which, they promise, they are going "to 'break'".