Amelia Romero, the face of double vulnerability: unemployed and in a pandemic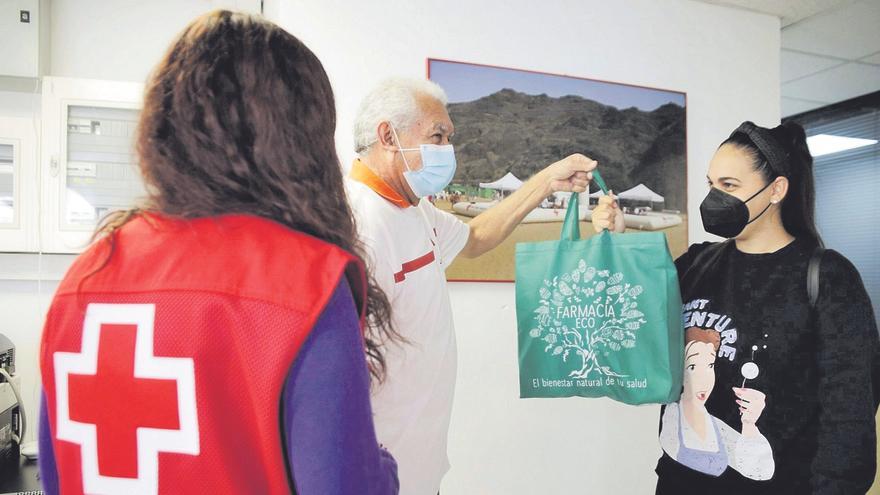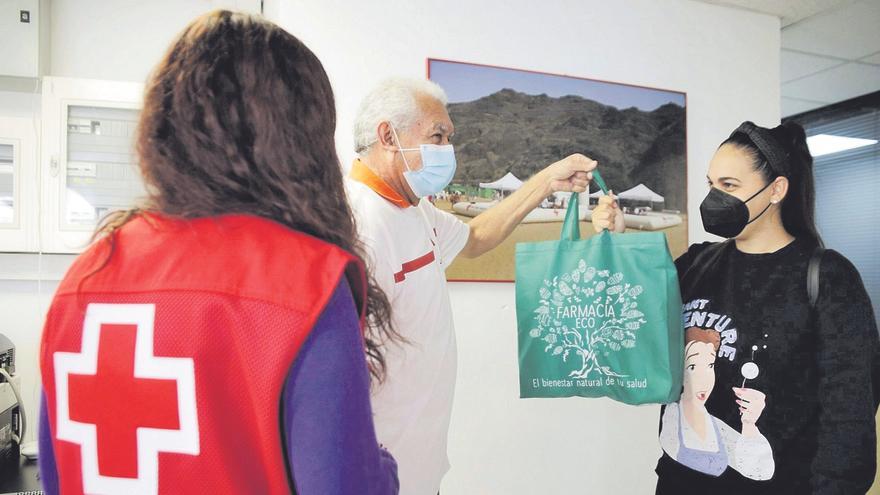 Pablo Fanjul, communication manager of the Health Area, and Vanesa Medina, project technician, have been at the headquarters of the Local Assembly of the Red Cross in the capital of Tenerife. There they wait for users who are going to collect the personal hygiene kit of the Christmas campaign in response to the coronavirus pandemic. Little by little the aforementioned appear, There is no queue – unlike just a few meters away, at the Post Office – everything is in silence because there is a weight on each of them and their stories. They collect their packages and leave. As well Amelia Romero, a young unemployed kelly, mother of four who carries the bag as a treasure for her little ones. His personal account exemplifies the double vulnerability that exists in Tenerife. He is unemployed and in the middle of the pandemic.
His face, even though life has been hard, it is of happiness for what he is going to take his children. She is 26 years old and looks even younger but she has already brought four children into the world. "Okay, that's enough" she points out laughing. Juan Luis is 7 years old, Antonio 5 -with serious health problems, in a kidney, specifically-, Isaías, 3, and the youngest, Elías, just one year old. Amelia sums up: "Antonio has this disease and Juan Luis and Isaías have asthmatics. It seems that one has everything but it is what it is. There is no other ".
Amelia She is a rabbit hutch and her direct family remained in Lanzarote, about whom she doesn't seem to want to talk much. He has lived in Tenerife for seven years. Both on her home island and here she has worked "as a chambermaid, especially in the South and in various hotels." But he has been unemployed for two years. Unemployed and in the middle of the coronavirus pandemic. A double vulnerability.
"I live as a squat"
Amelia resides in a "tiny" apartment in the capital's Los Gladiolos neighborhood. "It has two bedrooms but the kitchen and bathroom are miniatures. I estimate that it can be between 45 and 50 square meters ". The main problem is that "it is damp and it is not a healthy environment for children." He recognizes that he lives "as a squatter". "Somewhere I have to be with my children." He refers to them with enthusiasm when he shows what the bag contains: masks, hydroalcoholic gel, shampoo, toothpaste, toothbrush …, Everything will be well used. He only has words of thanks for the Red Cross: "They are already part of my life, they help me a lot in every way. I value them with a 10. For their moral support and for the material they have given me ". Special mention for Miriam, social worker, "my guardian angel and that of the children." For them, he has achieved something important in this special time of gifts: "Through the model of the godparents we have managed to get them to give them what they can from a letter to the Magi with what they ask for. I have to pick it up between December 31 and January 3 ". In addition, "for the older child they have got me a tablet so that he can study. I am thankful for that ". Amelia's current situation is very delicate: "I am with the procedures of the Minimum Vital Income worse, I have not seen a euro yet. To this day I have no income ". To conclude, a request that he repeats like a rattle wherever he goes and in front of whoever he is: "What I ask for is a job. Nothing else. I'll do the rest, but you can't do it without work ". He says it crudely but without losing his beautiful smile.
Life stories
Amelia is already on her way to Los Gladiolos with her treasure in the form of a bag. Before and after she, always with discretion, appear those who are signed up to the appointment with the Red Cross Responds, a project that the institution assumes with its own funds. A total of 30, although, explains Vanesa, "there are always those who do not attend, but they are few." Accessing the one you are waiting for is not easy. Like Lali, who in the middle of the conversation is warned by a man, who denies being a family member, to stop talking. She is South American, praises the Red Cross for the initiative and outlines that at home there are five and all are unemployed. And her name is not Lali. Noelia, who is her real name, is Guatemalan but she has been on the island for years and has Spanish nationality. You are here looking for toys for your child. Long-term unemployed also highlights what the humanitarian institution does, "A lifesaver to grab," she summarizes. In the distance a big man appears who gets lost and goes directly to the headquarters despite the fact that the capacity is limited to three people. But in the end, and it is the important thing, he comes out with his bag. And he says: "This mask thing is already part of our life and what we have left. It seems like a great idea to help those like me who have nothing ". His accent gives him away: "I am Venezuelan but my father was from the Canary Islands, from Buenavista del Norte, and I have the papers in order. I've been in Tenerife for four years ". He details that "since January I have been without work, before the pandemic. I am a bus driver, but the transport sector is fatal. A disaster. I never get tired of presenting the curriculum in a lot of places but now they don't even call you. It has stopped being something in person and online it is easier for it to end up in the trash can. In the virtual and in the real one ".
Families and individuals
The kit that is distributed is intended for families in social exclusion and vulnerable but also to individuals who make up a family unit. In Santa Cruz there have been 30 families, seven men and three women, under the coordination of the aforementioned Miriam, the social worker. In La Laguna, another 30, plus six men and three women. There they have worked from the Red Cross to make this ray of hope come true, Naima, Nisamar and Jessica. Finally, in the region of Abona, to the south, in Granadilla, Anaís has led another 30 families, seven men and four women. The basket is priceless in moral terms but in terms of material it costs 49.55 euros in the case of the family one, 32.90 for men and 31.90 for women. Inside there is everything for personal hygiene, from razor blades to compresses. Surgical masks, provided by the State, in this case the Ministry of Health, Consumption and Social Welfare, are also distributed to some 2,720 users in the province, approximately 2,000 of them in Tenerife. It has been "a complicated week." First with the delivery in the Abona region to people from San Miguel, San Isidro or Granadillla. Then in La Laguna and, finally, in Santa Cruz.
The profile
Administratively person "In an irregular situation, unemployed and often homeless". More women than men. It is the profile, explain the workers of the Red Cross, of who comes to this solidarity call. Both Pablo and Vanesa show their "satisfaction" for the duty fulfilled. It is not the solution to the social problem derived from the pandemic and its effects on employment. Users agree that it is not the solution "but it relieves". Amelia, Lali, Noelia, Alejandro … They are the faces of double vulnerability: unemployed and in a pandemic.