Amazon entered 5,400 million in 2020 in Spain, almost half that of El Corte Inglés | Companies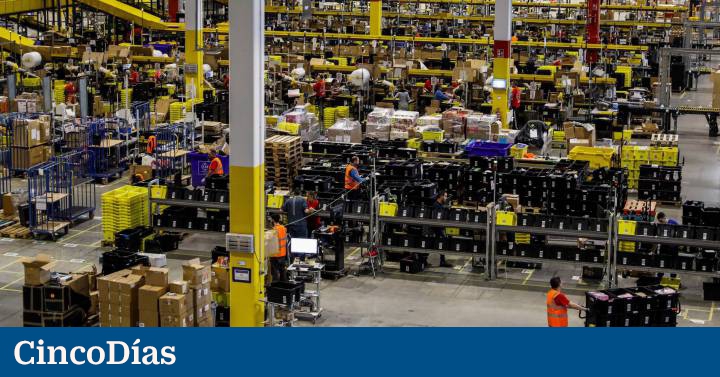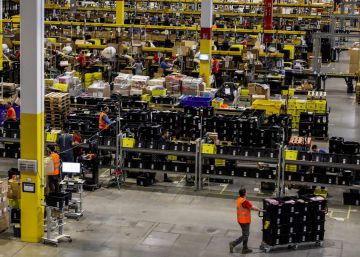 Amazon celebrates its first ten years in Spain in 2021 and does so with figures that erase the image of that e-commerce company that timidly landed in the country through the purchase of BuyVip for about 70 million euros. The US giant defends that in this time it has become a "powerful growth engine for the Spanish economy" and offers data that, it says, prove it.
Their total income in Spain (a figure that they had never made public until now) reached 5,400 million euros in 2020, almost half that of El Corte Inglés, which is expected to have closed the year with revenues of around 11,000-12,000 millions, weighed down by confinement and the economic crisis. The amount of Amazon, as explained by the company to Five days, includes both the billing of the company's subsidiaries that operate independently in Spain and whose accounts appear every year in the Mercantile Registry, as well as that of the Amazon EU Sarl branches (in charge of retail sales through Amazon.com ) and Amazon Web Services (business of the cloud), which report their income and earnings to the Spanish authorities, and pay the corresponding taxes in the country, but present combined accounts through their parent company in Luxembourg.
The company also reveals that its total tax contribution in Spain was more than 261 million in 2020, adding indirect taxes of more than 121 million (where they include VAT and withholdings of taxes paid by their employees to Social Security), and direct, more than 140 million, where they put the corporate tax, the taxes paid for the purchase of land or facility construction or payroll and social security taxes paid by Amazon.
According to the latest accounts published by the company corresponding to 2019, that year the independent subsidiaries that publish their accounts in Spain had income of 835 million euros and paid 9 million in income tax.
Mariangela Marseglia, CEO of Amazon.com, also highlights the strong investment made by the company – more than 6,800 million in these ten years -, both in capital investments (logistics centers, offices and infrastructure in the cloud) as well as operating expenses (including wages). In 2020 alone, Amazon invested more than 2.5 billion. Its logistics network ended 2020 with more than 30 centers and it plans to strengthen it this year with the opening of new logistics centers and stations, of which two have already been announced, in Murcia and Alicante. They also plan to launch a new AWS Europe region in Spain by the end of 2022 or early 2023, which will mean the opening of three large data centers in Aragon.
Enrique Dans: "Amazon has modernized the 'retail' in the country; has been the driving force behind 'ecommerce'
Other data that Amazon boasts are the number of Spanish SMEs that sell in its store (more than 9,000) and the employment it has generated since 2011: 12,000 staff positions (almost 600 are software developers, computer engineers and data scientists who work in their hubs Madrid and Barcelona) and more than 82,000 indirect jobs. According to Amazon, in 2020 they paid an average of 27.4 million per month in wages and salaries to their employees in Spain. And he points out that the entry base salary in its logistics centers is more than 20,300 gross euros.
Beyond the cold numbers, which undoubtedly show the enormous weight of the company in the country, Enrique Dans, a professor at the IE Business School, assures that the arrival of Amazon in Spain represented a brutal revitalization of electronic commerce. "Overnight, there was someone to compete against who set the standards for service excellence, with a very clear customer focus, and with very deep pockets to mark a leadership ". Dans argues that, thanks to Amazon, Spaniards have been able to begin to think of electronic commerce as an authentic alternative for more and more product categories. "If it weren't for Amazon, many other companies would not have improved in that area what they have improved. Amazon has, to a large extent, modernized the retail in Spain, and has established practices that otherwise might not have arrived ".
Fernando Aparicio, CEO of Amvos Digital, agrees with Dans's opinion, but also how he believes that all companies that grow to the size of Amazon always mark chiaroscuro. "That we consider it a dominant player with increasingly sustained accusations of monopoly is justified by the fact that it begins to dominate the consumer's mind when initiating any online purchase," says this expert.
Aparicio recalls that until a few years ago the journey of the digital consumer used to start well in Google or in social networks, as initial channels of an Internet user who was looking for information about any product, but now "the store at all It has become a mammoth search engine for hundreds of millions of products with few rivals in the online world and, much less, in the physical channel. And if we add to this that massive loyalty machine called Amazon Prime, a kind of wish list that brings together for less than 40 euros a year a package of services without competition in the market, it is obvious that it is increasingly difficult for the consumer not to fall at their feet, a situation that, by the way , the pandemic has only accelerated ".
The CEO of Amvos Digital highlights as positive how Amazon is allowing many Spanish companies (especially SMEs) to give visibility to their products and be able to internationalize for a price of less than 40 euros per month. However, he warns how companies "are simultaneously a powerful ally in the national and international digitization strategy, given the quality and quantity of services offered for its execution (Amazon Web Services, Amazon Fulfillment, Amazon Advertising , Amazon Pay, chatbot development services, etc), and, at the same time, to an opaque provider, with little transparency in its decision making and with an enormous market power that allows it to impose its own rules ".
Aparicio believes that the limits of the disruption that Amazon brings are hard to find before "the sidereal distance that it is acquiring compared to other competitors, digital or not". For this reason, Dans points out that he sees a need for higher regulation towards the technological giants, "which have proven to be very bad when it comes to self-regulation. And that greater regulation should end up being positive for everyone.
Amazon turns ten in Spain at a time when the company is dealing with an investigation in Europe for alleged anti-competitive practices, which has not yet been resolved, and where they are trying to determine if the company is taking advantage of retailers' data present in your marketplace for your own benefit to offer similar products with your white label.
But it is not the only open front. The company is having to face the new Google rate and will most likely be impacted by the imminent law of riders, after the Labor Inspectorate determined that the drivers of its Amazon Flex service are false self-employed and registered in Social Security to more than 3,000 of these professionals.