Amazon emulates Laporta with a giant canvas by Sergio Ramos in Barcelona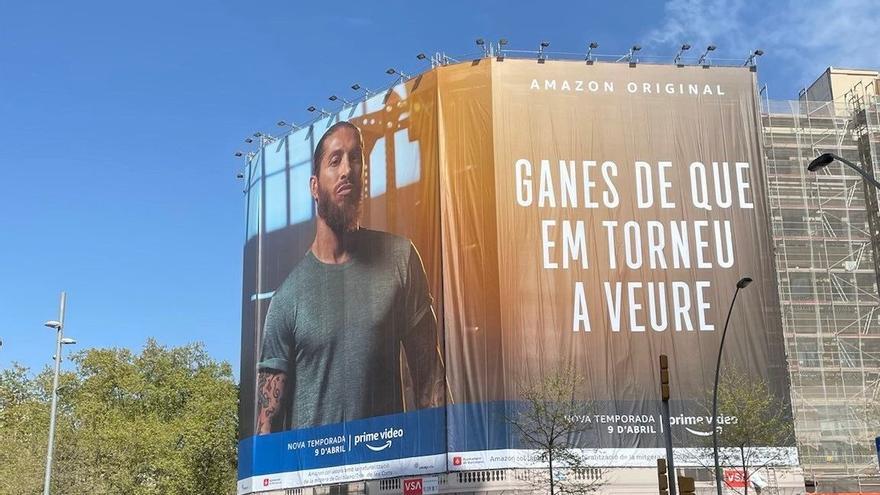 The second season of the Amazon Prime Video documentary series about Sergio Ramos, 'The Legend of Sergio Ramos, which opens on April 9 in Spain is promoting and has achieved its apex by placing an advertising banner in Barcelona, ​​in Catalan and emulating that of 'You want to see you again' by Joan Laporta in the Blaugrana electoral campaign.
'Ganes de que em torneu a veure', reads the banner hung by Amazon Prime Video in the center of the Catalan capital. A 'I want you to see me again' with a misspelling included, Well, in Catalan the 'de' is not used in this case, and it is circulating fast on the networks.
A clear allusion to the canvas unfolded by the then candidate, now president, Joan Laporta when, next to the Santiago Bernabéu, He displayed his image with the slogan 'You want to see you again', addressed to Real Madrid and its fans.
Laporta's campaign manager and one of the canvas ideologues, Lluís Carrasco, wrote in his networks this Thursday: "Gentlemen of Amazon, if you copy an idea, at least do not make grammatical mistakes ".
The second season of the 'docuserie' about Sergio Ramos, captain of the Real Madrid and the Spanish team, will premiere for the first time in Spain on April 9.
'The Legend of Sergio Ramos', directed by José Rueda, will show unpublished images of the conquest of The league, reflections on the most relevant decisions of his career, memories of great moments and future plans, with the testimony of Zinedine Zidane, Vicente del Bosque, Raúl González, teammates and selection.