Amalia Pica: art to rethink the world | Babelia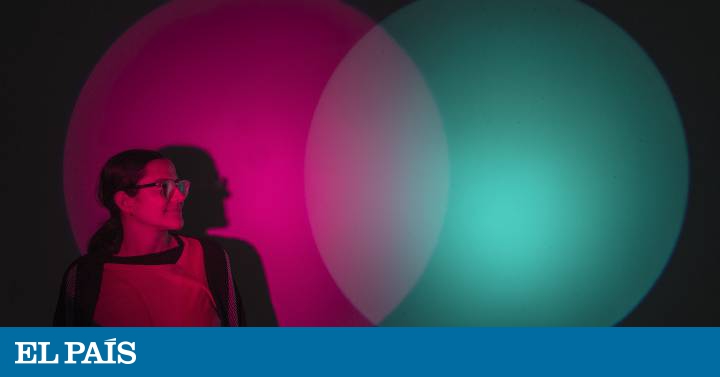 Amalia Pica (Neuquén, Argentina, 1978) is one of those people who speak smiling, narrowing any hint of distance. He does it with a Patagonian accent and transoceanic dialogue, embracing that implicit joy that empathy entails. On her turns her artistic practice. About what we have in common: collective dynamics, shared codes, the cross between stories. His, he confesses, has always been guided by a desire to be an artist much greater than his ability to be. In humility it is also generous. Despite growing up watching the theater rehearsals that her grandmother conducted with fascination, she soon ruled out the interpretation of a bodily question. Also the music for his bad ear, he says, and for art he chose to avoid all those ideas associated with virtuosity and thinking of it as an instrument to think about the world. He learned that from another Argentine artist, Tulio de Sagastizábal, and one of his clinics, which he remembers as his teacher and the perfect counterpoint to the academic and old tone of the Faculty of Fine Arts of Buenos Aires, where he trained.
Today she is one of the most outstanding artists in the international context. One of the most personal and celebrated work bodies of its generation. His time at the Rijksakademie in Amsterdam was the first step in that ascent, "two hard years of dialogue with my work in which I chose not to stop doing even if the work lived in full conflict," he says. From his first individual exhibition he was born Strangers (2008), the performance of two people holding a party banner preventing him from touching the ground, which in 2011 he presented at the Bice Curiger Venice Biennale. At that time I already lived in London and touched the 33: "There I was, between Rebeca Wichmann, Gabriel Kuri and Fischli & Weiss, hallucinating with the disparity of funds that artists handle in a context like that. I self-financed my work with the 700 euros I had to do it, trying to be the artist that I am. A humble contribution with which I still feel proud and with which, suddenly, I became, without much fanfare, an artist in the world, "he explains.
His time at the Tamayo Museum in 2013 converted another of his works, A B C (line), in icon. They are his well-known translucent forms of Plexiglas, activated by performers, which refer to his fascination with the scenographic, to that formality that looks closely at concrete painting and to that idea of ​​community with which to generate situations in which she can also be included. "That idea of ​​working from the intuition, introspection and loneliness of the workshop has little to do with what interests me: think from a collective world and inquire into what it is that leads us to want to communicate despite being something difficult" argues. Logical with that thought is that it is against Brexit moment.
He quotes the word luck every three minutes, although that success has more to do with his curious look and that distrust of him before all acquired knowledge, which strives to decode. He does it with Venn Diagram (2011), one of his best known works, which receives us in his exhibition at the CAAC in Seville welcoming your first individual in Spain. The installation is activated when two or more visitors enter the room, shooting colored lights. An action that seems innocent, but acts as an implicit criticism of the repression of freedom of expression exerted by the Argentine dictatorship, which in the seventies prohibited social groups and public policies and removed from the primary school the teachings of the theory of sets, modern mathematics, considering it a threat as a subversive thought. "It seemed to me a clear example of a broad effort to homogenize imaginary, although I am not so interested in History with capital letters as those more anecdotal episodes in which absurd situations occur and are manifested visually. We tend to believe that ideas are immovable, but there are themes, often small, in which there is no opinion of the whole formed, and that is where I find my field of action, "he explains.
In his tirade about the visual language of objects and their ability (or not) to communicate, Amalia Pica reviews the power of the saucepan as a protest tool, the drum as a vehicle for claiming or the confetti as an image of the festive. We see it in some of his best works in the exhibition. Ephemeral moments frozen in time, as if we were late for the party. The unexpected sustained the compulsive need to hold on to that fleeting moment of joy. "There is something about the celebratory event that offers resilience. Even enjoying something that is not enjoyable is a subversive act. In that sense, if someone leaves my exhibitions feeling lighter or wanting to do something, there is for me a high political potential that gives meaning to my work in art. I speak of complicity with the other, which can lead us to think that the world can be otherwise. Another possible. And I do not speak of that demand for the individual happiness used so much today even by the Government and its institutional policy. I mean something else: the possibility of optimism. "
Amalia Pica. Andalusian Center of Contemporary Art. Seville. Until March 15, 2020.
. (tagsToTranslate) amalia pica (t) art (t) rethink (t) world (t) caac de sevilla (t) dedicate (t) first (t) solo exhibition (t) spain (t) spain (t) artist (t) ) Argentine (t) Argentine



Source link