Álvaro Valles avoids the disaster of UD Las Palmas against Oviedo (0-0)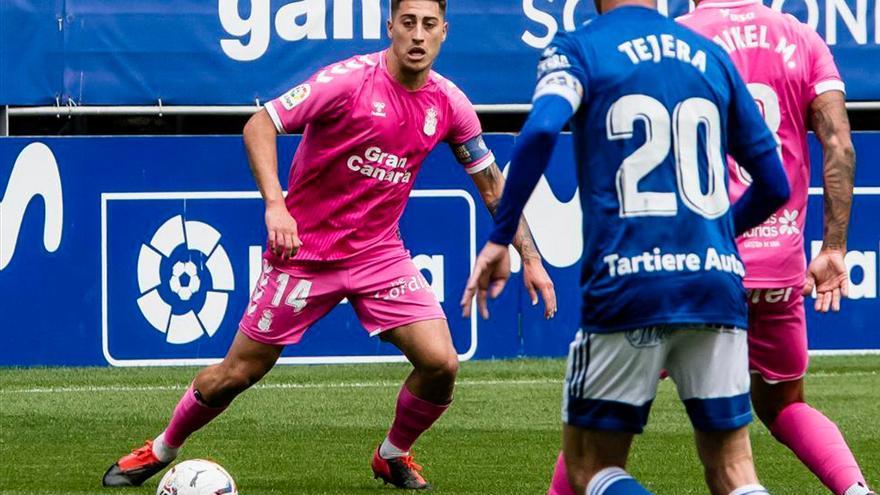 Real Oviedo and UD Las Palmas went from more to less in a goalless match, in which the home team only reacted in the end, but to crash into a good goalkeeper, Alvaro Valles, in charge of tying a point at home for an insular team that had to play half an hour with one less for the direct red from Jesé.
Oviedo soon warned with a shot by Borja Sánchez that Valles sent to a corner, and Jesé was the one who tried to reply, first in an action on the left with Sergio Ruiz who did not find a shot and then in a great uncheck in which Arribas he stole the ball when he got into the area.
Femenías hardly had to intervene in the first half, in which Pepe Mel's men had difficulties to deploy their offensive potential, and Oviedo tried to minimize risks by raising their pressure lines, so there were not too many occasions of real danger in the areas.
After the restart the rhythm of the game continued along the same paths, until after the hour of the game, an entry from behind Jesé to Sangalli after losing a ball ended with the expulsion by direct red of the Canarian winger.
Álvaro Valles saved the island team in the addition on several occasions, the first two stopping shots in the Nahuel area in which the Argentine had all the advantage to finish off and one more against Borja Sánchez, who signed one of his weakest games of the year.
The Unión Deportiva Las Palmas retreated well and did not accuse staying with one less man, which together with the lack of ideas and the precipitation of the Carbayón team caused the match to end goalless in what is already the 16th draw for Ziganda's team in 34 games.
Data sheet:
0 - Real Oviedo: Femenias; Nieto, Arribas, Christian (Borja Valle, m. 74), Mossa; Sangalli, Edgar, Tejera, Borja Sánchez; Nahuel (Obeng, m. 94) and Blanco Leschuk (Rodri Ríos, m. 65).
0 - UD Las Palmas: Álvaro Vallés, Lemos, Curbelo, Suárez, Benito; Clemente (Castellano, m. 70), Ruiz (Kirian, m. 83), Mesa, Rober (Pejiño, m. 62); Jesé and Araujo (Mujica, d. 83).
Referee: Hernández Maeso (Extremadura College). He admonished Tejera (12 '), Christian (70'), Rodri (70 ') and Arribas (75') at Real Oviedo and Oscar Clemente (23 ') and Jesé (66' Red) in Las Palmas.
Incidents: Match corresponding to the 34th day of the League played at the NMR Carlos Tartiere (Oviedo) behind closed doors.