Álvaro Barrios brings his 'Illustrated Dreams' to the capital of Gran Canaria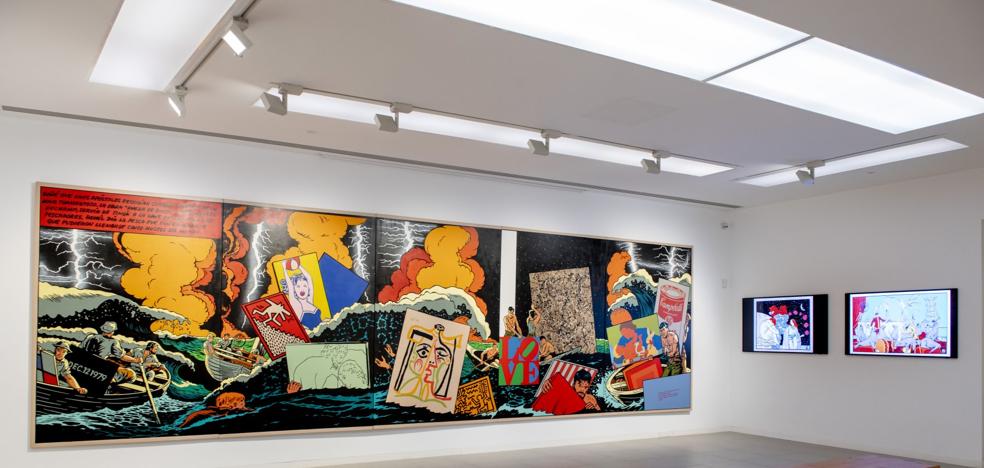 The exhibition of the Colombian artist opens on July 1 at the Canarian Foundation for the Development of Painting, in the capital of Gran Canaria
The
Canary Foundation for the Development of Painting (FCDP)located at number 32 on Calle Domingo J Navarro in the capital of Gran Canaria, will host the first exhibition of the artist from July 1
Álvaro Barrios (Cartagena de Indias, 1945) in the Canary Islands.
'Illustrated dreams' can be visited
until December 1is made up of eleven paintings and two NFTs.
The work of the Colombian artist, recognized today as seminal in the development of Latin American conceptual art, is in turn a journey through different expressions and traditional techniques of modern art -such as drawing, painting and engraving-, placed at the service of the
contemporary finds.
His emblematic series entitled
'Dreams with Marcel Duchamp' it is a symbiosis between what was proposed by the European avant-gardes of the last century and the exuberant Latin American fantasy, also masterfully overflowed by other great artists projected from its center, as is the case of the writer and Nobel Prize winner Gabriel García Márquez.
These 'Sueños' are based on short texts created by Barrios since 1980, and account for an enormous flow of ideas unparalleled in Colombian art, unexpectedly linked with
surrealism, Pop, Pre-Raphaelite, philosophy, literature, Conceptualism and the esotericamong other practices of the intellect.
The continuous surprises of Álvaro Barrios' work are expressed in this exhibition through large-format paintings formally derived from comics, as inspiration from his childhood and adolescence.
This group of works corresponds to conceptualist strategies illustrated by means of
traditional two-dimensional painting.
Beyond the obvious reference to pop culture, this type of work of his, in many cases, generates an intersection between chronologies of the history of art and sacred passages, as in the case of the work
'The Multiplication of the pictures'.
In this exhibition at the Canarian Foundation for the Development of Painting, each dream becomes a fantasy that gives rise to exploring other possible worlds. Each dream is like a planet with its own atmosphere and its own reality or
'surreality'
As the poet Gonzalo Arango said: «The arbitrary reality of poetry». This is how the universe of paintings of the
'Illustrated Dreams' it is established as paths of pictorial exteriorization of the oneiric field of Barrios's work. Perhaps they are expanded drawings or exercises of a medium that interconnects the History of Art with a very personal poetic sensibility about life and dreams.