Álvarez-Pallete, president of Telefónica, recognized as «Business Leader of the Year»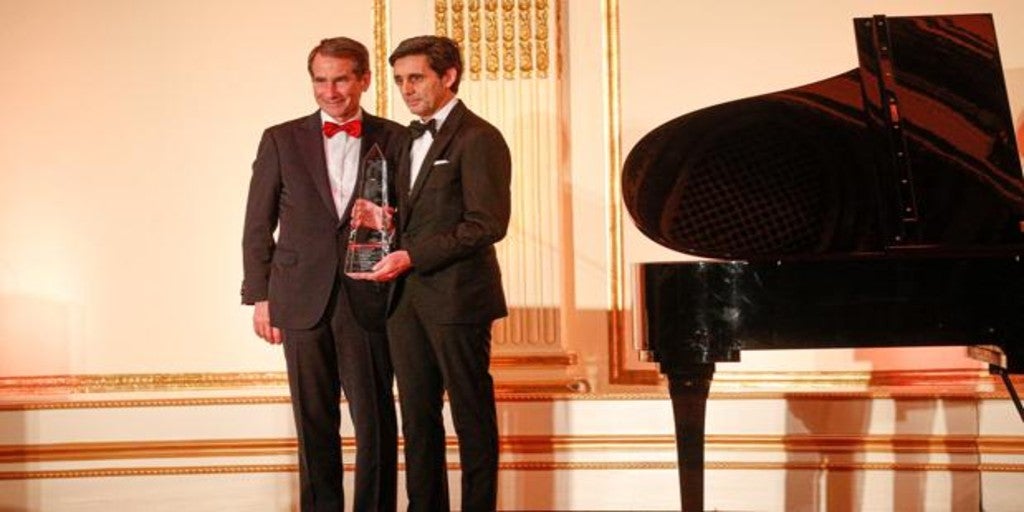 New York
Updated:
save

The president of Telefónica, José María Álvarez-Pallete, has received the prize at «Business Leader of the Year» ("Business Leader of the Year") granted by the Spain-United States Chamber of Commerce by way of recognition of "his vision and leadership at the head of the company".
The board of directors of this institution has awarded Álvarez-Pallete «for his ability to meet the challenges arising from constant technological evolution and for lead the digital transformation of the company, which has gone from being a telecommunications firm to becoming a technological group ».
In addition, the president of the board of directors of the Chamber and former US ambassador to Spain, Alan Solomont, stressed that, under the management of Álvarez-Pallete, «Telefónica has reached strategic agreements of great value and has demonstrated the business excellence, innovation and commitment to the client necessary to transform a telecommunications giant into an era of continuous technological and digital changes ».
The president of Telefónica thanked the Chamber of Commerce of Spain-United States This recognition, while congratulating the Chamber, which this year marks the 60th anniversary of its creation, for "the important work it has been doing during these years to foster economic and business ties between both countries."
Digital revolution
During his speech, Álvarez-Pallete explained how the digital revolution is changing everything and has reviewed the "huge" opportunities that new technologies open up: "Never in the history of mankind has there been such an accumulation of technology."
Therefore, it has also emphasized the challenges that all this implies and has warned that «It is now time to manage the transition to the new digital economy, to put citizens and their rights at the center of this new world and ensure that no one is left behind. "
On the other hand, Álvarez-Pallete has also highlighted the «Amazing» transformation made by Spain in the last 40 years in terms of social advances, infrastructure deployment and economic growth, which has allowed the country to "multiply the gross domestic product by 15 since 1978".
Annual gala
The award ceremony took place during the Annual Chamber of Commerce Gala held in New York, and brought together more than 300 representatives from the world of finance, business, politics, culture and social sectors, both from the United States and Spain.
The award, which has been delivered by the president of the Chamber of Commerce of Spain-United States and former US ambassador to Spain, Alan Solomont, distinguishes business leaders who have made a significant contribution to the economic growth of Spain or the United States and to the improvement of business relations between the two countries.
In addition, José María Álvarez-Pallete held the opening of the stock exchange session of the New York Stock Exchange by the name «Opening Bell».
. (tagsToTranslate) alvarez (t) pallete (t) prize (t) camaraespanausa



Source link